How many advertisements do you remember fondly? Probably not that many, considering we're bombarded with content on a daily basis.
But the ones you do remember seem to creep into your subconscious. It's like a catchy song that you can't help but remember.
Good visual content has a lot to do with psychology. Appealing to human emotions will influence people to react to your ad a certain way.
Corporate Executive Board did a survey on this in partnership with Google. They contacted marketing leaders, vendors, consultants, and over 3,000 B2B buyers to understand the rise of emotion-driven content marketing.
In their report From Promotion to Emotion, it's revealed that 86% of buyers believe that brands are all selling the same stuff. Unique value propositions are not turning out to be… not so unique. But, brands that connect with customers on an emotional level will see 2x more impact than those trying to sell based on functional value alone.
If you'd like to tap into that influence, here are 7 emotions that drive people to connect with brands—and real-world examples of each.
1. Urgency
Even when your customers want your product, they can still be hesitant. Maybe they feel like they can buy from you any time, so why spend money now? Later, they say, later.
This is when you need to infuse a bit of urgency. Add a timer or an expiration date in your email newsletter or video ad, and buyers will take the cue. No one wants to miss out on a good deal.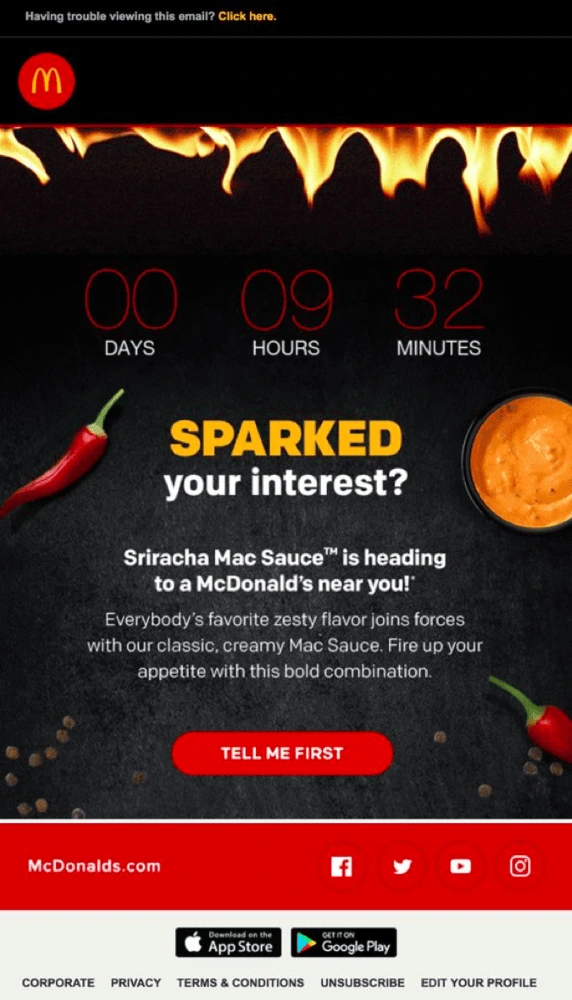 Source: McDonald's
Big retail & e-commerce brands use urgency (tick-tock) to promote instant consumer action or purchase decisions. However, make sure you have a good reason for incorporating urgency in your offer. For example, countdown timers are often used for festive occasions or limited product runs.
Urgency even works better when you pair it with scarcity. Use phrases like "limited stocks available," "limited tickets," or "first come first serve."
Source: 4YFN
A similar psychological catalyst is FOMO. Fear of missing out is a social worry that if you don't participate in time, you won't be able to enjoy the same rewards other people are reaping. One study reveals that around 69% of millennials experience FOMO when they can't attend a popular event. You can use that fear to your advantage.
2. Desire
Desire is a powerful emotion. Almost every action we take and purchase we make is driven by desire. Many brands channel desires into their visual ads to capture an audience's interest.
One way to do this is through before-and-after images. Olay took this concept even further with their "Identical Twins" campaign, where one of the twins uses the product and the other does not.
Source: Olay
But, before-and-after images don't have to be about skin care or weight loss products. Check out this GIF, for example. SiteFlood creatively uses the before-and-after concept to show prospects what kind of results their service delivers.
Source: SiteFlood
Similarly, most explainer videos use a "problem-and-solution" format to identify prospects' needs, then provide a solution to help them fulfill that desire. This video explores the desire to live in the Caribbean, the problems one faces to achieve this, and the solution.
At Lucidpress, we used the same animated format to introduce our brand management platform—complete with white knights, bodyguards and Mama bears.
3. Compassion
We're social creatures, and that's frequently reflected in our behaviors and reactions. We care about our family, our friends, and even random strangers. Doing something for others makes us feel good.
Thai Life Insurance produced a series of heart-warming videos that showcase the sentiments of altruism and care, even in adversity. In the end, it's wrapped up nicely as part of the brand message.
Attaching your brand to feelings of love, care, attachment, altruism and charity can give your visual content a strong emotional pull.
4. Delight
Humor provides more delight than almost any other emotion, but it can be difficult to pin down and execute well. You must know your audience and their sensibilities, so you don't end up missing the mark, falling flat, or even offending them instead of making them laugh.
Old Spice has perfected the art of appealing to its demographic in a variety of fast-paced, cinematic ad campaigns. It's delightful, humorous and exciting to watch.
5. Personal care
Advertising is everywhere, and it rarely feels like an ad is speaking directly to you. In this constant deluge of content, personalization is valued more and more. If you want my business, make me feel special. Show me that you care.
Starbucks is no more "special" than any other coffee brand, but they show their patrons that they care. It's a brand synonymous with warmth, comfort and convenience, and it's easy to make it your own.
Source: Tumblr
Starbucks proves that it cares about the individual experience by providing a casual meeting space, a work environment, a place to relax, free Wi-Fi and other comforts. Perhaps more importantly, they ask each customer for their name and write it on every cup of brew they order.
In some ways, Starbucks has come to resemble a hospitality brand without actually being one, simply by extending a comforting personal touch.
Introducing customization or personal touches to your brand can make you far more appealing to your audience, because they will feel special and cared for.
6. Trust
Your customers have their own personal tastes, values and opinions. Likes and dislikes. Movies or music that they love or hate.
It turns out that personality will largely determine a customer's shopping behavior. They buy products and experiences that either reinforce their personality or help them get closer to who they want to be.
So it stands to reason that if you associate your brand with a celebrity they like (or want to be like), that would give them a reason to trust in your brand and buy from you.
Source: Nike
This is why brands hire celebrities and influencers to drive brand awareness and adoption.
The idea here is to create an image your target customers will like or aspire to. Do some research on who your customers are (or who you want them to be). Once you've sketched out a buyer persona, including their likes and interests, you can solidify brand messaging that speaks to their personality and values—and earns their trust.
7. Motivation
Participating in social causes you believe in can be very gratifying. But, that gratification often comes from harrowing personal experiences, or at the very least, a visualization of others' worst experiences.
CoorDown, an advocacy group for people with Down syndrome in Italy, made a beautifully profound video featuring people with Down syndrome delivering their own messages of reassurance to a future mother who's worried about what kind of life her child will have.
The video is a rollercoaster of emotions that culminates in the promise of a happy, fulfilling life.
Find a cause that speaks to your brand values or to your employees. You can draw on personal experience or the hardships of others to create stories that inspire hope and motivation for your audience.
Key takeaway
Emotions are fundamental. You don't need a PhD in psychology to figure out what makes people tick. You just have to do some research on your buyers. Draw up a buyer persona, then create visual content that will resonate with that audience.