Brand Enablement for Higher Education
Make cross-campus design requests

obsolete.
Stop doing one-and-done designs and turn your creative into branded templates so campus clients can customize their own content.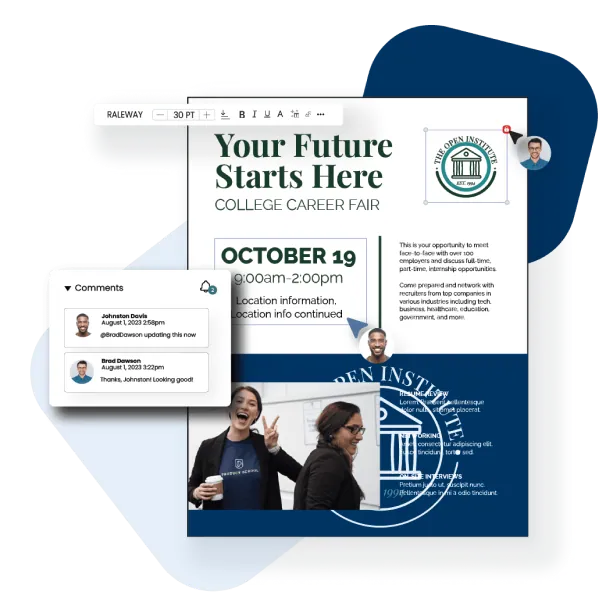 Creative teams at 150+ leading universities and colleges use Marq





Marq provides us the assets and tools that empower people to do their own thing and stay within the university's brand image.
Rick Pallansch I Townson University
Marq helped us provide our campus clients with the right assets to create their own smaller projects, like flyers and brochures.
Anna Boyle I Western Colorado University
Our faculty and staff have loved Marq. They feel like they're taken care of and my team gets tedious tasks off our plate — it's a win win.
Texas A&M International University
BUILD TEMPLATES FOR CAMPUS CLIENTS
Turn your university branded designs into a template library.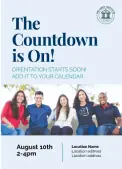 Flyers
Social Posts
Alumni Events
Career Center
New Students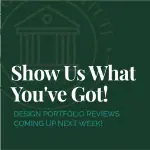 Digital Signage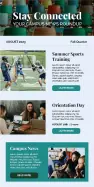 Emails
Campus Life
HOW MARQ WORKS
Design
Anywhere

Import your university assets from your favorite design platforms or create directly in the Marq editor.
Templatize
Everything
Lock down critical elements like logos, fonts, and colors, then share your template library across campus.
USER
Departments and Faculty
Personalize
Anything
Campus partners quickly access relevant templates and customize for their needs all while staying on brand.
Share
Everywhere

Users can request approval or immediately print, email, or share to social or the web based on custom permissions.

Marq made our design team of four feel like an army of 40.

Kelly Hiller
Exec. Director of Creative Services
Purdue University
WHY MARQ?
Say goodbye to stretched logos and rogue content, Marq keeps your campus on-brand.
Designers can lock down critical brand elements like logos, fonts, styles, and images.
Varying degrees of locking ensure brand consistency while empowering creators to customize.

Require approval on projects that need it and give feedback in real time.
Save your creative
team's sanity.
By making it possible for anyone on campus to customize content, your designers won't be bogged down with cross-campus requests.
Instead, they'll have more time back to focus on growing your university brand.
Schedule a demo
MANAGE YOUR UNIVERSITY BRAND
Protect your brand across campus.
Store all your brand assets directly in Marq so everyone can quickly access them as needed. Plus, embed brand standards directly into the editor experience to ensure everything stays on-brand.
Words you'll never hear again:
"Hey can you send me our logo?"
"I don't have that font."
"Can you change the headline on this flyer?"
"Are there different navy blues?"
"Do you have a photo I can use here?"
"I know this is last minute but..."
Questions? We've got answers.
Can a Brand Management Tool help higher education maintain brand consistency across multiple campuses or departments?
Absolutely! Brand Management for higher education is designed to maintain brand consistency even in decentralized educational institutions with multiple campuses and departments. Marq centralizes brand guidelines, assets, and templates, ensuring that all marketing materials and communications align with the institution's brand identity, regardless of the location or department involved.
How does Brand Management enhance higher education marketing efforts?
Marq's higher education software solution streamline the content creation process in higher education marketing. It enables the development of customizable brand templates that all departments can utilize, ensuring uniformity while allowing for personalization. This offers the dual advantage of enhancing brand awareness and saving the time spent on creating individual designs, thus boosting marketing efficiency.
Is data security ensured when using Marq for higher education?
Ensuring data security is a top priority for Marq. We implement
robust security measures
, such as data encryption, secure servers, and role-based access controls, to safeguard your institution's branding assets and sensitive information. You can trust that your data is protected from unauthorized access and data breaches.