Brand Management for Franchise
Guarantee
brand

consistency

across franchise locations.

Easily implement brand control and content consistency by sharing branded templates with your franchisees.
Marq for Franchises
Empower your franchisees to grow the brand and their business with stunning brand templates that can be used again and again.
Maximize creative resources

Spend less time on small design requests by sharing custom brand templates with every franchise location.
Maintain brand consistency

Lock logos, fonts, images and more to maintain your brand image across every location.
Easily localize content

Give franchisees the ability to personalize content for their location without losing control of your brand. 


HOW MARQ WORKS
Create
on-brand

templates for every franchise

Franchise marketing teams use Marq to maintain brand consistency and equip franchisees with content that drives growth for their business.
STEP ONE
Import your favorite designs
Upload your favorite marketing designs from any design platform or use one of our ready-made templates and make it your own

STEP TWO
Turn any design into a template
Turn designs into templates that your franchisees can use again and again. Lock logos, fonts, colors, and more in place so everything stays on-brand.
STEP THREE
Localize and Personalize
Franchisees can quickly personalize approved templates or use automation to instantly update addresses, phone numbers, and more.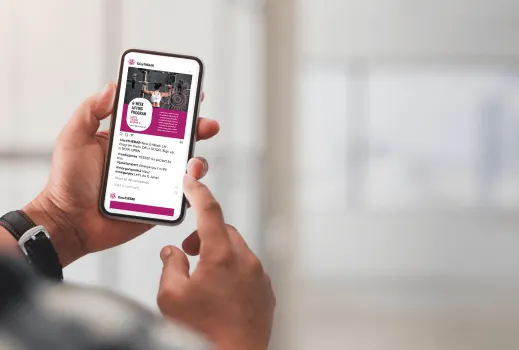 STEP FOUR
Order prints or post to social
Franchisees can request design approval, order professional prints, or post their content to social media or the web.
Why hundreds of the fastest-growing

franchise brands

love using Marq
Empower franchisees
Our franchisees have been waiting for a solution like Marq. We can create templates that keep our D1 brand elements in place and allow franchisees to freely personalize for their communities.
Madelyn Reynolds
Communications Officer
D1 Training
Grow your brand
Marq allows us to design marketing materials, lock down the brand, then share them with franchisees to update for their community. It helps our team get more on-brand content out the door.
Mike Abramson
President
D1 Training

Save valuable time
Marq helps us spend less time in the weeds, making one-off materials for each facility. Instead, we spend more time helping franchisees get more content out into their communities.
Joel West
Marketing Director
D1 Training

Up-level your franchise marketing
By sharing pre-branded templates with your franchise locations they can build brand consistent marketing faster and easier, localized and personalized for their customers.
Questions? We've got answers.
Can Marq help me save time in managing my franchise?
Yes, Marq is designed to be quick and easy to use. The drag-and-drop editor makes it easy for franchisees to create their own print and digital collateral without needing constant support from the corporate design team. This gives your designers more time to focus on bigger branding initiatives.
How does Marq help in maintaining brand consistency?
Marq ensures brand consistency by allowing franchisors to create pre-approved templates with locked brand assets like logos, fonts, images, and colors. This means franchisees can customize these templates for local marketing without disrupting the overall brand image.
What are Marq's features that allow for localization?
Marq allows franchisees to customize pre-approved templates while still adhering to brand guidelines. This empowers franchisees to create professional, yet localized designs that resonate with their specific audience, without affecting the overall brand image.
How does Marq's platform support franchise digital marketing strategies?
Marq's platform is designed to align with both corporate and local franchise digital marketing strategies. It allows you to maintain brand consistency across different digital channels, ensuring that your franchise's online presence is always on-brand. This includes everything from social media posts to email campaigns. Marq's multi-channel distribution options make sharing finished materials with your customers simple and seamless.
What makes Marq different from other franchise marketing software?
Unlike other franchise marketing software, Marq focuses on maintaining brand consistency while giving franchisees the freedom to personalize their marketing. The platform offers features like brand asset locking, intuitive editing, multi-channel distribution, data automation, and an easy approval process, making it a comprehensive solution for franchise marketing.