When Instagram rolled out Stories in 2016, it became a social media sensation. Since then, the use of Instagram stories has skyrocketed, with an estimated 500 million people engaging daily. Because of its reach, Instagram Stories are a fantastic business marketing tool for small businesses and large brands alike.
As you peruse the platform, you'll see creative Instagram story ideas on display, from quick videos to fun quizzes. Consistently coming up with fresh content for your Instagram Stories may seem like a stretch, but get into a groove and you'll discover endless inspiration to pursue. Let's explore some of the best Instagram story ideas to strut your brand's stuff.
Ready to get creating? Find the Lucidpress Instagram story template that'll make your Instagram story ideas pop.
20 of the best Instagram story ideas to engage your followers
1. Feature tutorials
The best way to gain a loyal following is to give your followers more of what they want when they want it. Tutorials describing how to make or use your product or services don't have to be lengthy diatribes. Even short videos or custom graphics offer valuable insights to your audience.
2. Offer freebies
Free is everyone's favorite word, so feature contests and giveaways prominently as part of your Instagram Stories. Create branded graphics and think outside the literal box. Free trials, consultations and even collaborations with other businesses are part of a good giveaway strategy. If you're hosting a contest, use a custom hashtag and ask participants to tag you to enter.
3. Polls, polls, polls
Instagram offers quite a few stickers to make stories sing and increase clickability, and poll stickers are one of them. Providing choices makes your followers feel like part of the conversation and boosts audience engagement. You can use polls to gather feedback, highlight a product or just spice up your profile with a little fun for everyone.
Get this Lucidpress Instagram story template HERE.
4. Show off the before and after
You don't have to download a fancy photo editor to do before and after comparisons in Instagram Stories. Simply superimpose text on images and string them together as part of a peek at a transformation in progress. Before and after highlights can be a great strategy for cosmetic services, photo editing, home improvement projects, product or brand updates and much more.
5. Choose this or that
Give your followers a little customizable content with a fresh take on the "this or that" questionnaire. These templates work as downloadable graphics where followers can circle or cross out choices and repost the completed copy on their own Instagram story. From food to travel to memes, it's easy to populate this-or-that templates with topics that'll align to your brand and pique your audience's interest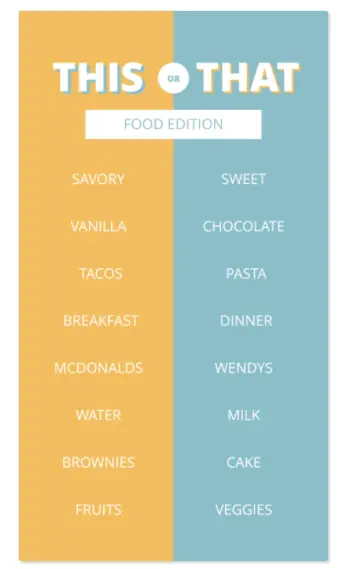 Get this Lucidpress Instagram story template HERE.
6. Stage an Instagram takeover
Move over and make room for an Instagram takeover. This Instagram story idea is exactly what it sounds like. In a takeover, your business allows someone to commandeer your account for a short period. A takeover involves allowing employees, influencers, competitors, and even customers to take the wheel. Letting someone else drive can generate clever clips to spice up your Instagram Story ideas and attract new followers.
7. Go behind the scenes
There's nothing more fascinating for brand enthusiasts than seeing how the secret sauce is made. Give them a peek behind the scenes in your Instagram stories with tours, bloopers, reels and exclusive content that lifts the veil between product and producer. Letting your audience see the mess behind the magic lends a uniquely human feel to your social media presence.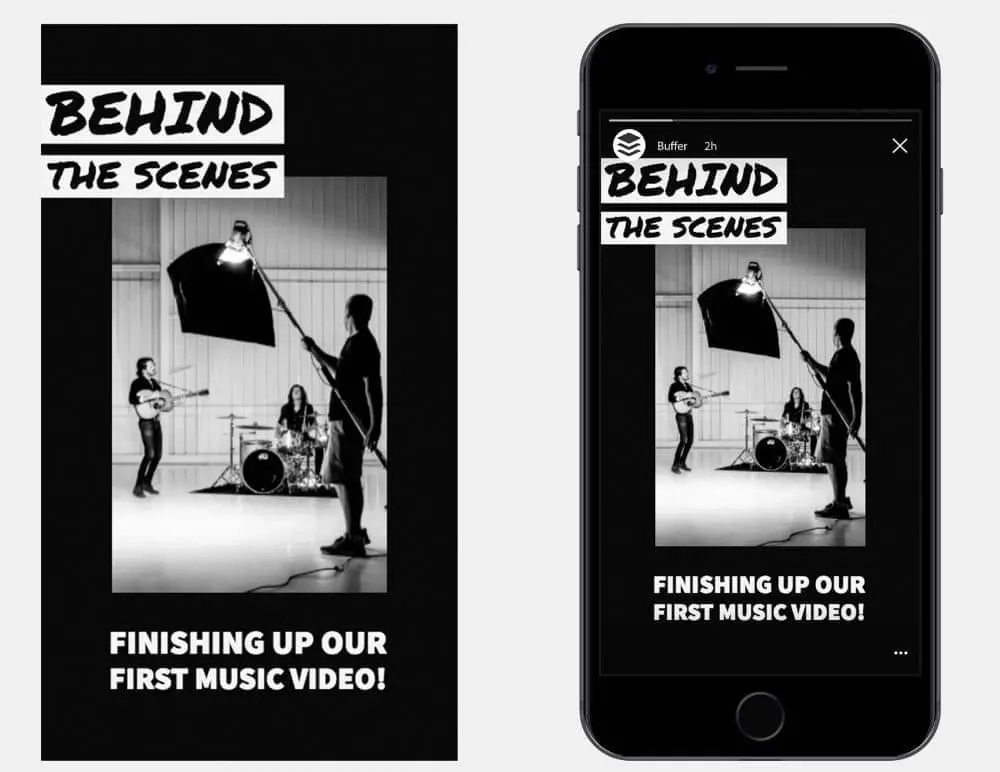 8. Interview an employee
Your greatest asset is your employees, so hand over the microphone and let them speak for themselves. Choose an employee who has a compelling personal story or insights that align well with your brand. Then step aside and let employees use Instagram Stories as a platform to educate your followers in their area of expertise.
9. Promote a blog post
Building a following on Instagram is a worthy goal, but most businesses are also looking to boost traffic to a website. Instagram Stories is a solid strategy for promoting posts and directing followers to your blog. Take a few tantalizing snippets from your latest post and pop them into a visually appealing template. Then use the Instagram story swipe-up option or sticker to direct users to your website for more.
Get the Lucidpress Instagram story template HERE.
10. Play bingo
You don't have to leave the couch (or Instagram, for that matter) to play bingo. Create a quirky, custom take on this traditional game that aligns with your brand. Books, movies, memes, emojis, food and much more are all fair game. Users upload the image you create to their camera roll, use the drawing tools (located in Stories) to mark it up, and repost to their own timeline or story.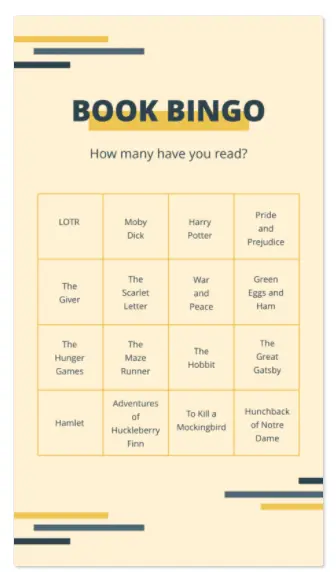 Get the Lucidpress Instagram story template HERE.
11. Solicit suggestions
Not sure what your followers want? Go ahead and ask them. Solicit Instagram story ideas, new products, or just general feedback. If you're brave, you can encourage followers to connect via direct message with their insights. Once you've gathered these fantastic tidbits, don't let them go to waste. Share them in subsequent Instagram stories so your followers can benefit.
12. Share and link to CSR campaigns
Many companies have chosen to invest in promoting corporate social responsibility campaigns, and your Instagram Stories can be a perfect spot to highlight that work. Once you've shared a branded graphic on the campaign or community action you're supporting, don't forget to use the Instagram mention sticker to direct followers to where they can learn more or donate.
Get the Lucidpress Instagram story template HERE.
13. Design a shoppable story
Embedding a shopping experience into your Instagram Stories is a surefire way to convert followers into customers. Highlight your product with a little eye candy and include an Instagram sticker to swipe up and take users off-site. Be warned that not every business qualifies for shoppable stickers. Brands must have a business profile and offer a physical product that complies with Instagram's policies.
14. Create a quiz
Enough about you. Let's talk about your followers. Quizzes give your audience a chance to weigh in and discover more not just about themselves but also about your products, services, or brand. Start a story and select the quiz sticker to create a series of questions for your followers to answer. You can customize colors and other elements for a branded effect.
15. Do an unboxing
Unboxing videos aren't just for YouTube anymore. Watching someone unpack a basket of goodies is profoundly satisfying for viewers, but it's also a creative way to showcase your products. Even if you don't offer a physical product, creative Instagram users can partner with affiliates to do an unboxing video.
16. Go live
Half the fun of Instagram Stories is that they feel exclusive because they have an expiration date. Going live in your Instagram Stories is a way to directly engage with your audience and keep them checking your social media content daily. Notifications that you're live go out once you start rolling, but for maximum impact, brands follow a consistent schedule and advertise live sessions in advance.
Get the Lucidpress Instagram story template HERE.
17. Promote a product or service
Finding unique ways to connect with followers on social media is crucial, but at the end of the day, your business exists because you have a product or service that meets a need. Show off your stuff in your Instagram Stories with branded graphics, promotional offers and periodic reminders that you take pride in the work you do.
Get the Lucidpress Instagram story template HERE.
18. Feature a testimonial
Testimonials are powerful social proof, so don't hesitate to flaunt your glowing reviews. Pick the cream of the crop and pop them up on your Instagram Stories periodically. You can give these testimonials a polished feel or a little signature flair by repurposing branded quote templates.
19. Give a sneak peek
Got something great in the can? Start generating buzz with a sneak peek on your Instagram Stories. Whether it's a new product line, a seasonal promotion or an exciting rebrand or company update, you can start creating some suspense with a teaser. If you don't have an exact launch date, maintain an aura of mystery by labeling it "coming soon" or "TBA."
Get the Lucidpress Instagram story template HERE.
20. Count it down
Instagram Stories offers a customizable countdown sticker so you can celebrate no matter what the milestone. Product launches, sales, anniversaries, holidays, giveaways and events are all good fodder for the Instagram story countdown. Followers can also click on the sticker to set up an alert for when the count winds down.
If you're on autopilot periodically posting photos to your Instagram business profile, you're missing out on the powerhouse of promotion this social media giant has become.
Learn how to leverage Instagram Stories and generate Instagram story ideas with Lucidpress Instagram story templates.