Data-driven decision making has gained increasing importance in marketing over the past few years due to the high availability of tools and sophisticated Martech stacks. The results? A level playing field that allows even small businesses to measure and act on customer data. It seems that nearly all companies are doing all they can to gather more market research and sales data — and what they can do to understand data implications better and apply it more effectively.
According to the joint survey published by the DMA and Winterberry Group, 40% of marketers said their companies intended to increase budgets for data-driven marketing somewhat and/or significantly. The most common marketing applications for data-driven decision making include customer journey analysis, A/B testing and personalization. While all of these are influenced by content, 44% of the respondents specifically chose copy optimization.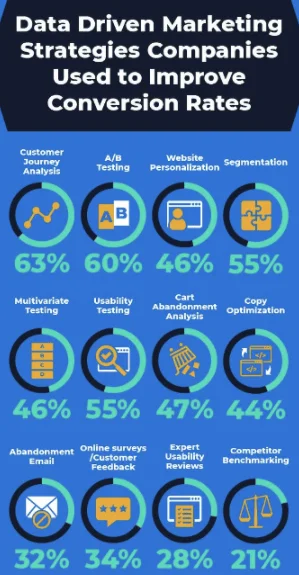 Source: https://www.invespcro.com/blog/data-driven-marketing/
There are undoubtedly countless benefits to relying on data to guide all types of strategies — but when it comes to content marketing, applying data insights can feel somewhat complicated. From what we've seen, marketers consistently struggle with proving ROI for content, and it seems that applying data insights can cause additional issues.
Before Covid-19 made a mockery of all surveys, opinions and empirical findings, the WARC reported in 2019 that big data management and digital transformation were among the top three challenges marketers faced across the board.
This finding leads many marketers to wonder — do all content marketing decisions need to be driven by data? What is the data's place in developing and executing a successful content marketing strategy?
To that end, we've compiled a list of need-to-knows that all marketers must consider when applying data to the content creation process.
Content marketing doesn't always deliver measurable results
One thing that sets content marketing apart from other strategies is its intention. More often than not, content creation aims to cultivate brand awareness and help customers along their journey rather than directly influencing sales.
Marketers use digital formats like blog posts, podcasts or content hubs to support the site's overall searchability and drive in organic traffic. The most common use cases for these platforms is to highlight best practices, demonstrate product capabilities or engage existing customers. But the content isn't necessarily intended to explicitly sell products or services — it's more so designed to educate and inform. Many additional elements in the marketing mix lead to desired outcomes, like a conversion or however your org establishes an MQL.
Keep in mind; the modern customer journey isn't as linear as it once was — it may take your customer up to seven separate interactions with marketing content before they even remember the brand, let alone convert.
Additionally, results aren't always concrete. Despite the great availability of precise data from lead gen and sales-specific digital marketing channels, attribution modeling for conversions and pinpointing the exact touchpoint where a customer makes a purchase decision can be trying due to inconsistencies between the channels' engagement data.
Content marketing is simply a building block along the customer journey — and it's not always possible to zero in on where it fits best along the way.
What kind of (and how much) data do you have?
"Let data dictate the content you create," is a frequent and over-used piece of advice dished out by marketing experts and keynote speakers in the industry.
The reality of data collection and application, as we all know, is different.
Now, this isn't to say that it's entirely impossible to utilize data when making decisions relative to content marketing. But all data is not equal — some are more relevant (and accurate) than others. Therefore, marketers must understand the difference between qualitative and quantitative data and how to use them effectively.
Quantitative data is the "hard" data points that are easily measured and organized. This includes statistics like costs, traffic numbers or sales revenue. Quantitative data is often the one that executives are most concerned with. However, quantitative data is merely just a small part of the puzzle.
Qualitative data is harder to organize, but it is equally (if not more important) than quantitative. For marketers, qualitative data points include influencer opinions, prospect intent and audience information from social media and review platforms.
Proving a direct correlation between qualitative content marketing and sales can be challenging. But other metrics like online traffic, brand recognition and customer sentiment can be cohesively and easily tied to content campaigns. Therefore, it is solidifying the importance of measuring and conveying this type of "soft" data and hard numbers when it comes to strategic planning.
One way to correlate soft data is by analyzing information like reviews or market research to measure overall sentiment before and after a campaign is completed. Using a structured process for sentiment analysis and noting any positive or negative shifts in overall remarks or ratings can be one way to prove the influence of content.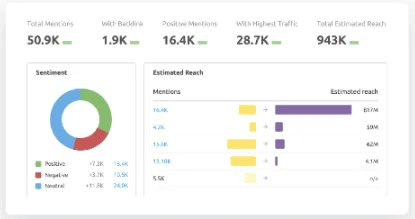 Source: https://www.semrush.com/features/brand-monitoring/
Take full advantage of technology
Thankfully, it's become easier for content marketers to utilize available technology — like AI and machine learning — to make more data-driven content strategies.
Plus, good business leaders see the true value of investing in martech. An Adobe study on digital trends noted that top-performing businesses were twice as likely to use AI in their marketing strategies than their competitors. Even in hardcore sales (which is generally considered the antithesis to content marketing), the adoption of AI and automation technologies is predicted to increase by more than 100% as per Salesforce's State of Sales report.
This is great news for content marketers who have long struggled to understand the data's place in their work. New tech platforms and measuring systems make it easy to gather, organize and track metrics more accurately. What's more — AI-enabled predictive algorithmic forecasting lets marketers precisely chart out trends and their impacts across industries in business, government and non-profit.
Correctly utilizing predictive analytics makes a content marketer's job easier. A simple example is how marketers use Google Trends today to spot upcoming keyword trends and decide topics and themes on which to create content. Another content planning martech tool is MarketMuse, which uses AI to determine the topics that might work best for your site as well as the keywords that can generate the most traffic.
Source: https://www.marketmuse.com/
Finding balance
Although technology is becoming more common and prevalent in the content creation process, marketers need to understand its place in the overall scheme of things. Ultimately, content marketing relies on creativity and empathy, which algorithms and AI struggle to provide.
Data certainly has its place, and it can be used to support content marketing, but it must not be the end-all, be-all. As data tools become more popular to use throughout business strategies, marketers must learn how to balance their so-called human skills with technology to improve the content's quality and results.
Customers want personalized and humanized content. So when content's only purpose is to sell, it will likely be unsuccessful, so companies who continually dig for ROI from content marketing in terms of dollar value may be disappointed.
After all, Gary Vaynerchuck once famously asked, "What is the ROI of your mother?"
Like a relationship, content marketing is a series of conversations, and you can never assign a dollar value to each person-to-person conversation, be it parent-child or brand-customer. Consumers can sense when a piece is merely promotional and are often turned off by it. So, although an AI tool can gather hard data to "learn" about consumer segments, a content marketer is the one who actually "understands" their audience. Ultimately, it is up to content marketers to convey the value they offer without tying it directly to monetary gain.