Telling the right story for your brand can connect you with customers and help your brand grow. But good storytelling, like any other skill, is something you have to work at. So, we asked around and got storytelling podcast recommendations from fellow marketers who love a good yarn. Here are the top 12 picks, including a few of our own favorites.
1. Building a StoryBrand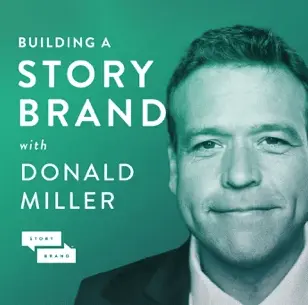 Building a StoryBrand is lauded for its entertaining episodes and inspiring insights. Donald Miller brings in big names like Matthew McConaughey and Seth Godin to talk about storytelling and crafting clear messages that will speak to your customers.
This podcast came highly recommended by Trevor Rappleye, the CEO of CorporateFilming, who said Building a StoryBrand will help you simplify your message and drive sales.
Listen to Building a StoryBrand
2. All Selling Aside
This podcast is for those who find themselves in the unfortunate position of having to sell when they actually hate selling. Host Alex Mandossian will walk you through different strategies to use the power of storytelling to achieve your sales goals.
Carol Tompkins, Business Development Consultant for AccountsPortal, recommends All Selling Aside because "it focuses on teaching consultants like myself, as well as other professionals, how to ethically influence others both personally and professionally, rather than just focusing on selling all the time."
3. Be The Drop
Be The Drop is all about the intersection of business and good communication, and it's sure to lift your mood. The show hosts diverse guests each week to hear how they inspire and motivate the people around them. This recommendation also came from Carol, who said that Be The Drop can ultimately help you manage your business more effectively by improving your communication skills.
4. Business of Story
Business of Story is another great bet for brand storytelling highlights. There are nearly 300 episodes, and the show even won a "Best Small Business Podcast" award in 2017. It comes recommended by John Peterson, editor at Safe Drive Gear. He told us Park Howell's show features "brilliant business owners and entrepreneurs, handpicked influencers, startup founders, and more. The topics are always inspiring, and it leads you to astounding discoveries."
5. Under the Influence
This popular CBC Radio program was recommended to us by Kevin Carney of Organic Growth. He says, "It's my absolute favorite podcast about marketing and advertising, as it talks about strategy, not day-to-day tactics." This pod isn't specifically about storytelling, but it offers a behind-the-scenes look at the ad industry that's sure to leave you with some interesting anecdotes.
6. The Employer Branding Podcast
The Employer Branding Podcast offers an international take on branding in business. This recommendation came to us courtesy of Dwight Zahringer, President of Pure Cabo. He says, "Weekly episodes are 20 minutes long and super digestible, covering tons ofbranding topics with a human focus. Plus, they interview some pretty cream-of-the-crop guests from Fortune 500 companies like SalesForce to L'Oreal to Deloitte. So you're really hearing the best insights."
Listen to the Employer Branding Podcast
7. How Brands Are Built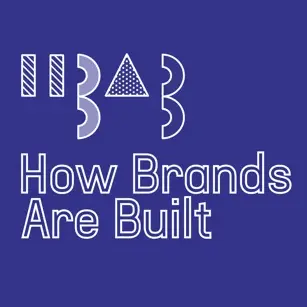 This podcast offers a view of the nitty-gritty, everyday details of branding. Also recommended by Dwight, he told us, "How Brands Are Built is fantastic for understanding how to share and build momentum around your origin story. Rob Meyerson interviews an eclectic group of folks for his episodes, from marketing analysts to logo designers. You really get a 360-degree view of what's involved in a persuasive original story, plus how to share it for max impact."
Listen to How Brands Are Built
8. Business Storytelling Podcast
The aptly named Business Storytelling Podcast hosted by content marketer Christoph Trappe will show you how to harness the power of stories to get results. Emma Bourke, CMO at Zodiac Guides, told us this podcast "provides invaluable tips … with content that's relevant, engaging and educational."
Listen to Business Storytelling Podcast
Editors' Picks
We also wanted to throw in our own top picks to get your storytelling juices flowing. Without further ado, here are some of our faves, including some outside-the-box recs and Lucidpress's very own podcast.
9. The Visual Storytelling Podcast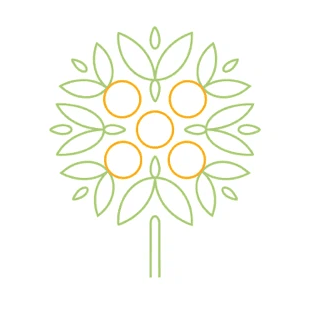 The Visual Storytelling Podcast can help you round out your storytelling skills with a fresh point of view. This podcast from Disney Artist Chris Oatley will walk you through how visual artists tell stories. Touching on subjects like children's stories and character development may have surprising impacts on your own storytelling endeavors. If anything, it's a nice break from the world of business podcasts.
Listen to The Visual Storytelling Podcast
10. On Writing
On Writing will give you a different perspective on storytelling and can help you refine your techniques. Host Joshua Pomare talks to writers of all stripes to dig into the writing and publishing process. If you want tips from the true pros of storytelling, this is the podcast to listen to.
11. Nonprofit Storytelling Living Room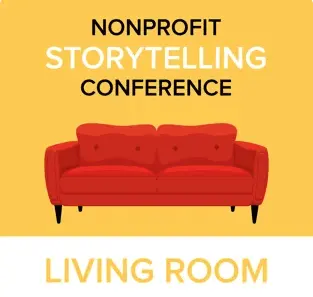 This limited series features speakers from the Nonprofit Storytelling Conference with eight different episodes doing a deep dive on how to use storytelling to accomplish your nonprofit's goals. It's one of the best industry-specific shows we've come across and can help you craft engaging stories for your audience.
Listen to Nonprofit Storytelling Living Room
12. Brand Land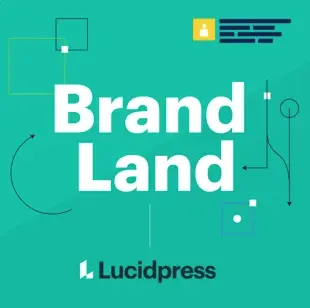 Well, well, well, what have we here? Yes, it's our very own podcast, Brand Land. Our Director of Marketing, Garrett Jestice, talks to a new guest every week from diverse fields. The show is all about how to build a trusted brand, and each guest brings their own unique insight to give you tips on brand strategy, content creation, customer experience, storytelling and more.