"Good artists copy, great artists steal."

Steve Jobs
When you're stuck on something, the best thing to do is to step away and look around. Often, the greatest inspiration comes from the world surrounding us. A great designer, like a great artist, will take in the best of what they see to make something new and unique.
Keep reading to see 21 examples of brochure ideas you're welcome to steal from. You can browse to spark some ideas, or you can edit a template to fit your creative vision of the brand you're representing. All of these brochure and pamphlet designs are available with a Lucidpress account.
The other thing that's exciting about these brochure templates is that they can be used for digital or print. Digital publishing opens up exciting new possibilities like scrolling text, links within the brochure, embedded video, and widespread distribution. For example, La Presse, the oldest French newspaper in North America, used digital publishing in Lucidpress to revolutionize the newspaper industry. Enjoy, and check out the end of the post for more design resources.
A fit for more than just floral applications, the Perennial brochure is perfect for organizations with a cheerful, springtime brand, or for any outdoor events held when the sun is shining.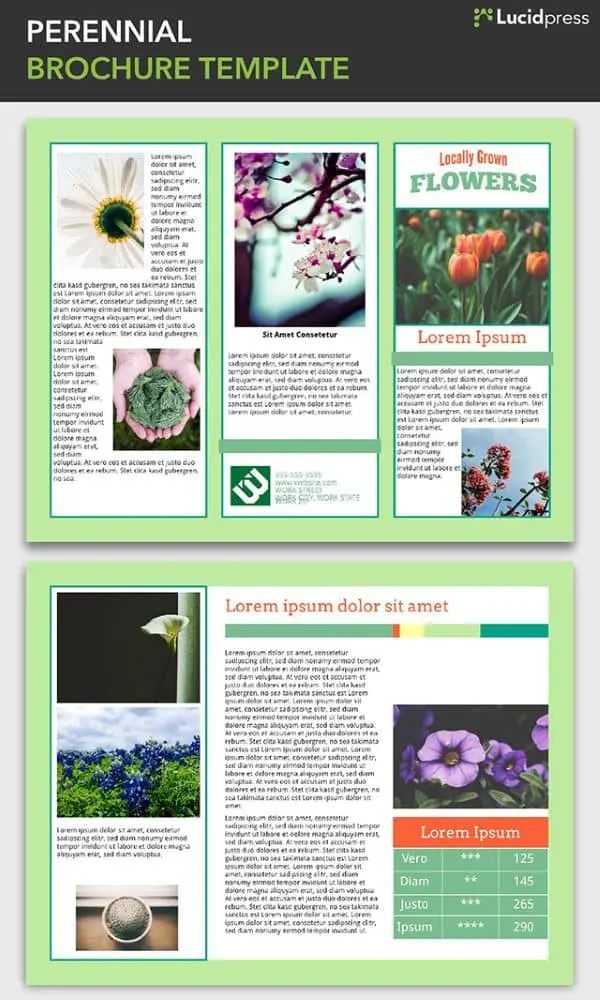 Museums, historical landmarks, and city tour organizations can use the Academic brochure to bring their unique features to life. The Academic uses a tri-fold design and a section-based layout to highlight the different sites and items of interest that visitors or tourists will want to see during their stay.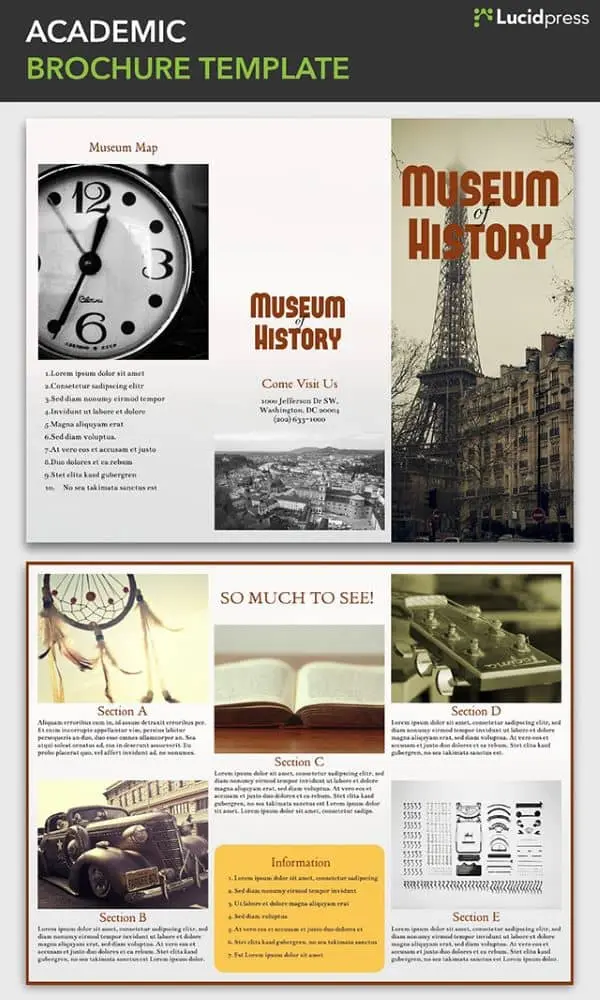 This bi-fold brochure template has ample space dedicated to photographs of the travel destination. Readers will be quickly transported there by the immersive images. The image-based cover is intriguing but not overwhelming, adding just the right touch to this beautiful design.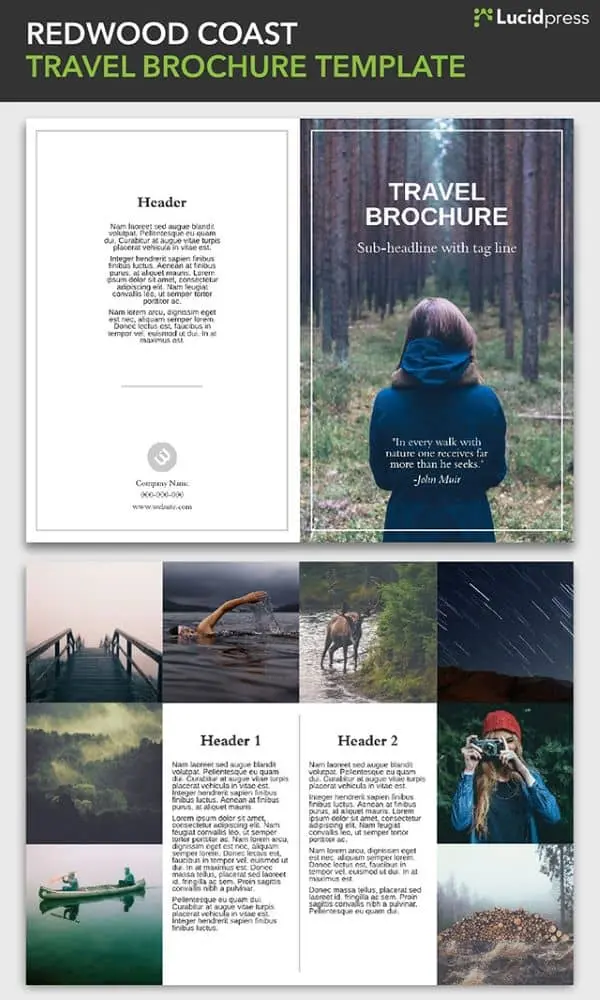 This tri-fold brochure template is particularly well-suited for agricultural or rural-oriented organizations, including wineries, family farms, and agricultural nonprofits. The elegant, clean design evokes the simple beauty of the countryside.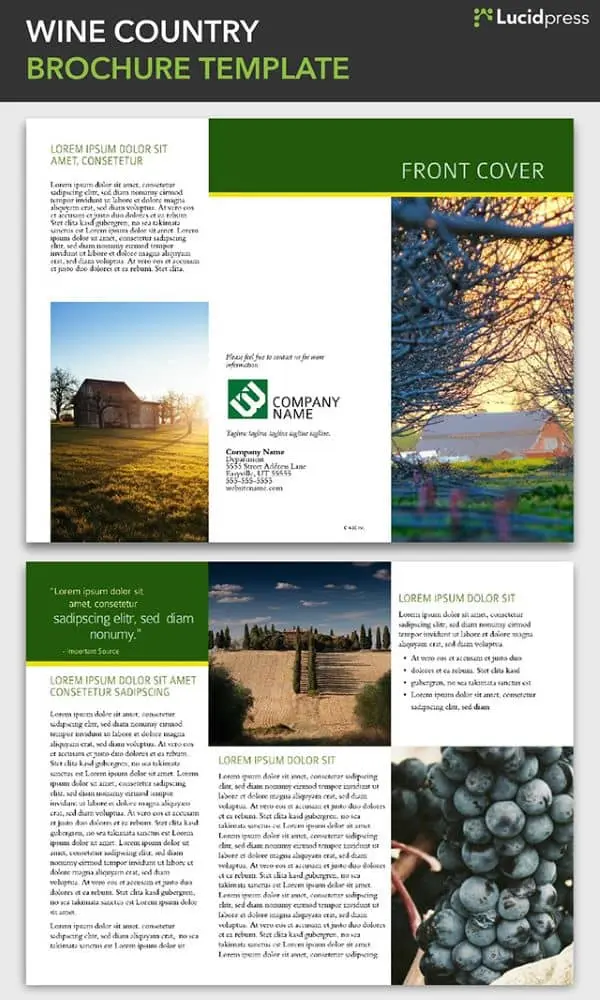 The Alpine Vista brochure has an adventurous tone perfect for companies promoting mountain sports and expeditions. A stunning photograph leads out on the cover while a yellow color scheme injects a positive, exciting energy. Also, the three divisions for different destinations makes the most of the tri-fold layout.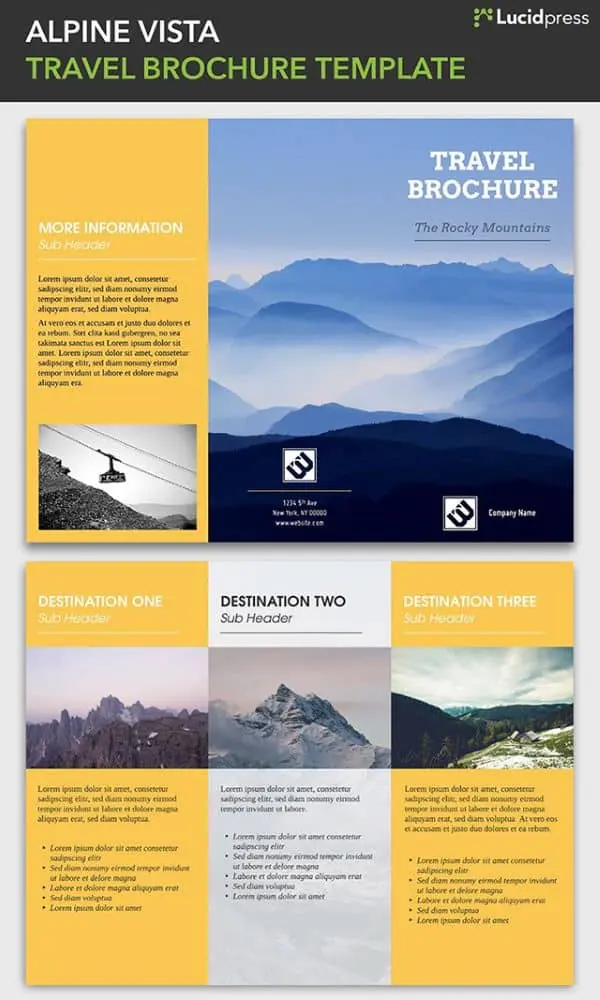 The Keynote is stylish and modern, embracing minimalist design that can be adapted to a range of industries and organizations. This template can be customized to be longer or shorter, depending on your needs. This bi-fold design lends itself well to a creative mind looking to try something new.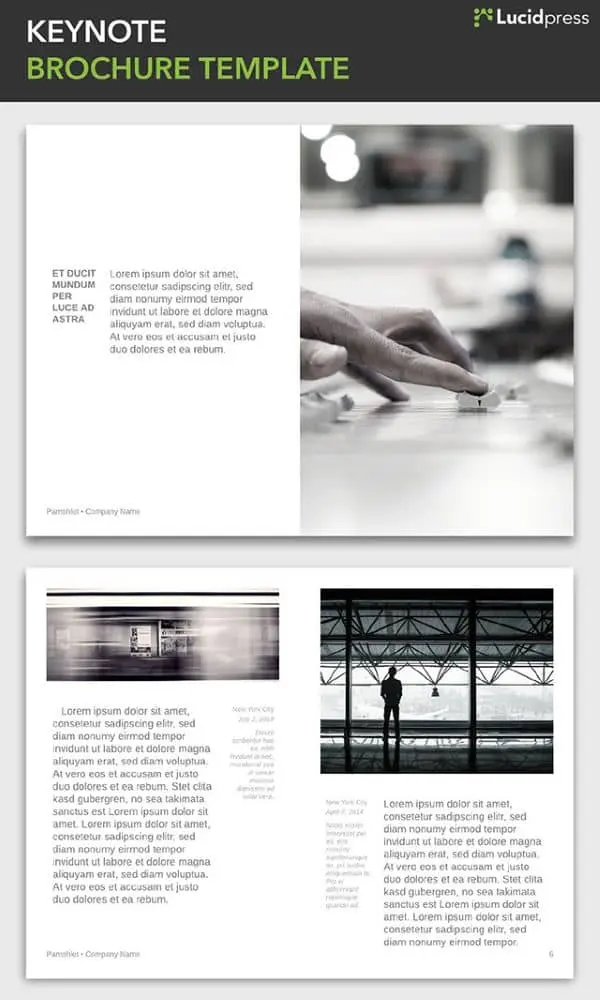 Another booklet-style brochure, the Passport balances modern sensibilities with just the right dose of playfulness, calling to mind a day spent exploring hidden wonders on New York City streets. This design separates the text and the images, giving each an opportunity to stand on their own while remaining cohesive.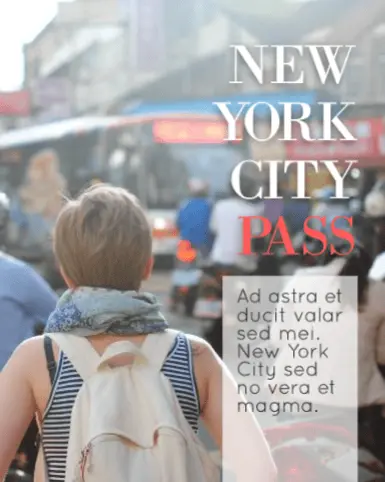 This tri-fold brochure design has elements that work in harmony with the tri-fold format to create distinct sections, each with a unique layout that keeps things interesting. It works well in a restaurant application, as shown here, but could be adapted to any business.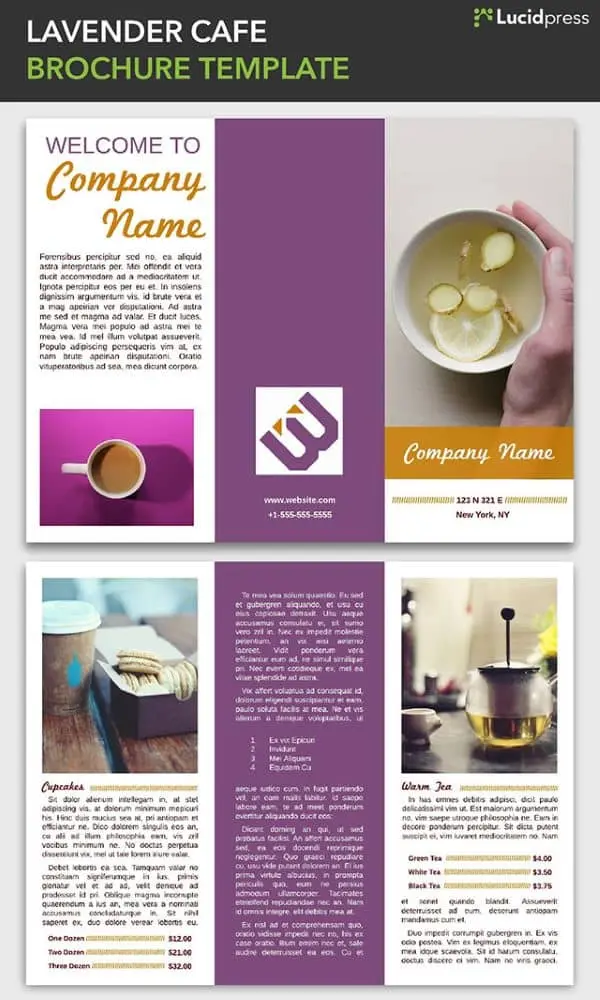 9. Melody CD Booklet Template
If you're creating an album booklet for yourself or a client, this template provides a good foundation. It can also be a springboard for out-of-the-box brochure design ideas. The image-centric, booklet-style design is a sleek, artistic format that could give your brand a professional edge.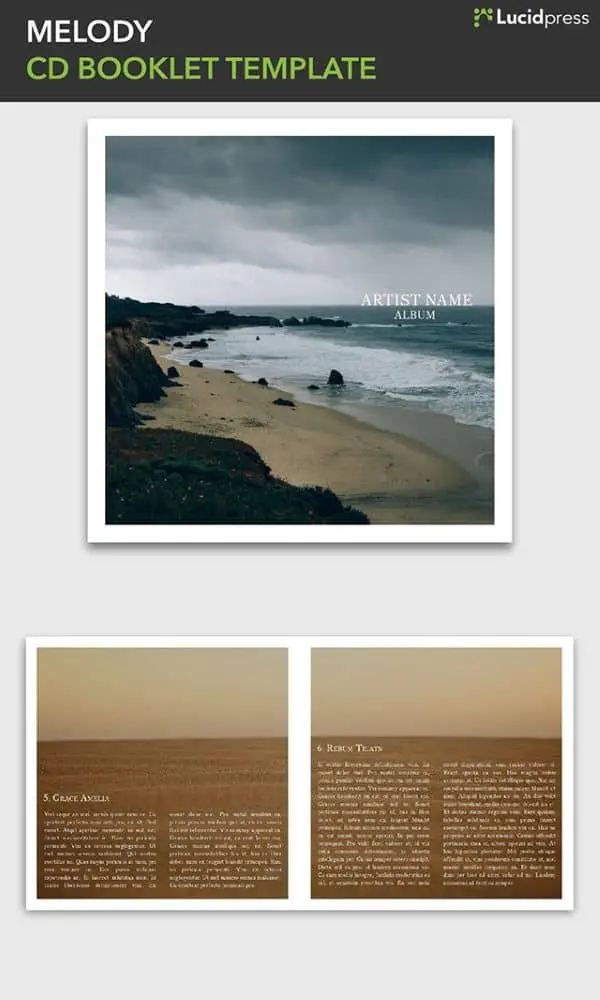 Real estate brochures are an industry standard, so you need yours to stand out. Plenty of space for images of the property as well as for your engaging descriptions makes this template a powerful tool in your real estate marketing arsenal.
This visual brochure template uses large photos through the middle of of each page and mixes regular text with bold to highlight important phrases.
The Brisk pamphlet template, ideal for both long-form and short-form applications, has a modern, edgy feel. At the same time, it's clean and professional, giving your brand room to breath. Who says business can't be stylish?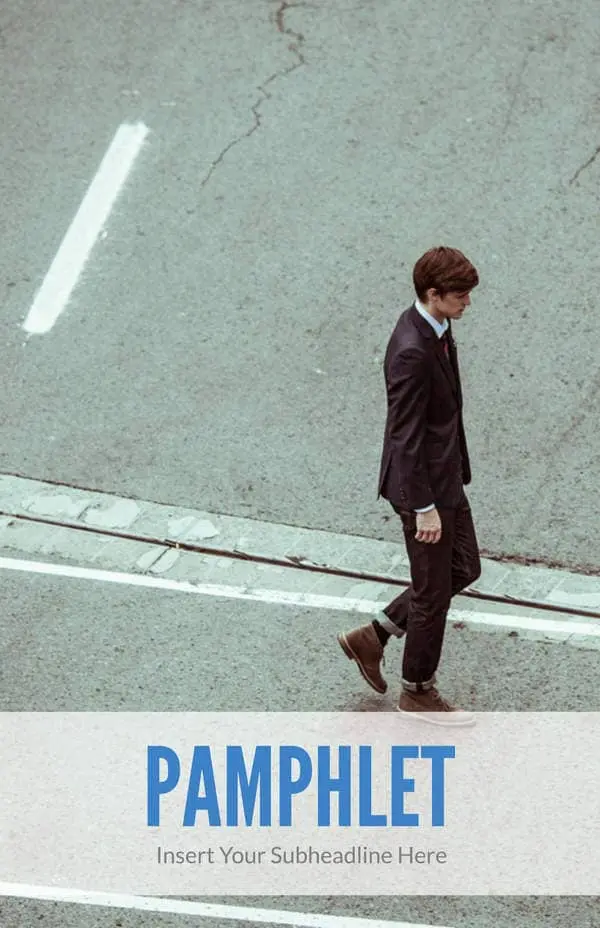 Clean lines and compelling angles define the Contempo brochure. Assert your unique brand of corporate culture with a spin-off of this design. Or insert your brand colors and use it as-is for a progressive, well-groomed brochure.
Sometimes just a little bit of text is all you need. The image is king in this leaflet design, letting you give a visual summary of your brand's core ideals. First impressions are important, and this design leaves them intrigued and wanting more.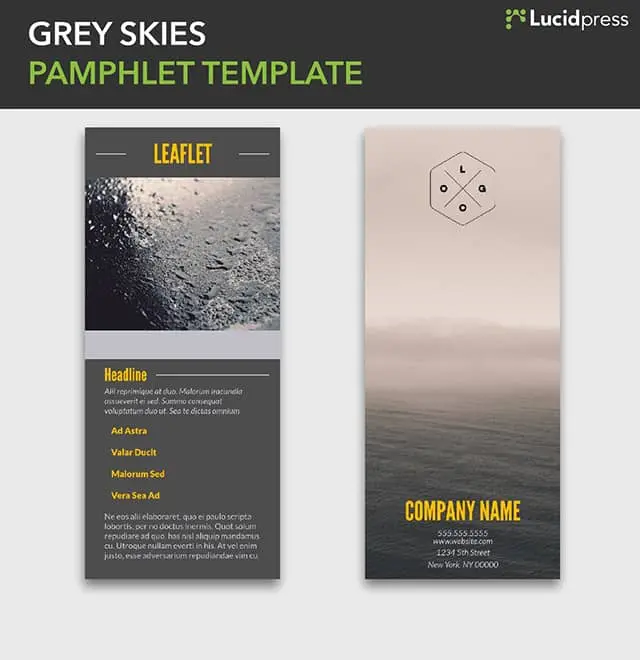 The Oceanside pamphlet template is still short and sweet, but gives you a little more room to write than Grey Skies, if that's what the situation calls for.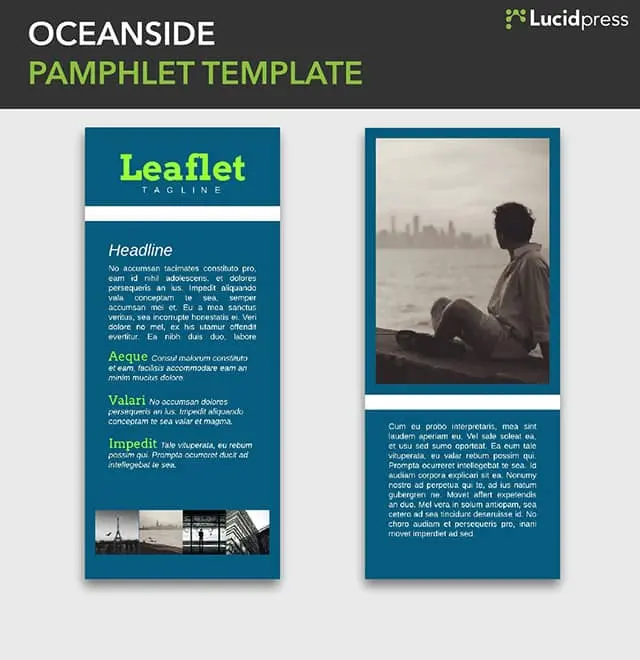 The Residential real estate template has a warm, inviting tone that also feels very fresh and current. The way the text wraps around the images resembles a tour around a property, with the realtor pointing out the highlights to prospective buyers.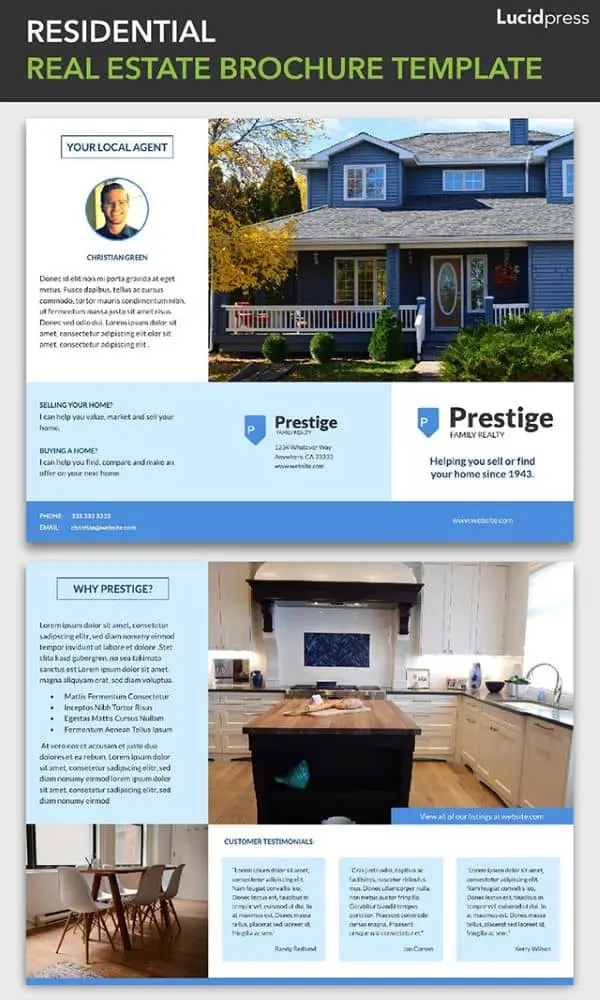 Beautiful images make up the bulk of this brochure template, giving it an immersive and open feel. Blue tones and ocean-themed photographs call to mind the gentle lull of lapping waves and warm sand. Using the design of your brochure to create a distinct feel can solidify your brand for a customer before they even read a word of copy.
The Big Sky travel brochure template is highly adaptable, with a blend of elements that are easily customized to match the look and feel of the destination. The front cover has space for three photos, immediately showing the diversity of the locale, and the layout of the text makes the most of the space without looking cluttered.
The pronounced angles of the Prism brochure template match the mountain resort imagery it riffs on. This template is excellent for relaxing spas and massage centers, tour companies and ski resorts, or for internal company announcements like an upcoming retreat.
This template captures the diverse personalities of America's favorite state (according to me). There's the crashing surf, the vibrant city, quiet vineyards, and the intriguing fog of San Francisco. The main image on the cover sets the tone, while supporting images show the range of the featured destination.
A subtle triangle theme in the Commercial brochure pulls the design together, with the three points of the triangle echoing the tri-fold style of the brochure. There's plenty of space for text, but the layout is well-spaced and clean. The highly professional look of the Commercial brochure is perfect for real estate and corporate use.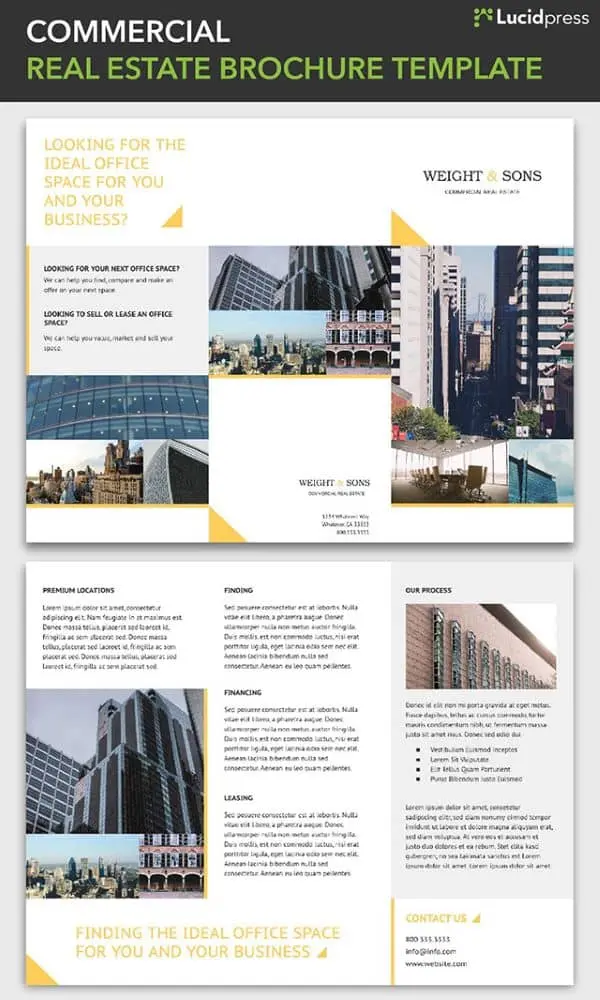 Now that you have some inspiration, or maybe picked out a template to use, a few design resources might be helpful. The first thing to consider is making sure the brochure you create is consistent with the brand you're designing it for. The color scheme, photos, and font choices will all contribute.
If you're wondering where you can find high-quality photos for your brochure, check out this post with tips for finding royalty-free images that aren't corny stock photos.
Now go make something great.