An online brochure maker for everyone
Marq makes it easy to create stunning brochures inside your web browser. With our range of professional templates and a simple drag-and-drop interface, your work is sure to impress. It's brochure design made easy.
Havent signed up yet?
Give us a try.
Smart brochure templates — smarter you.
Get started fast. Our free brochure maker software offers a selection of free and premium
brochure templates
to aid in your design. Customize by hand or upload your branding to access a collection of Smart Templates automatically customized to fit your brand. See all that Marq's brochure design software has to offer.
Feature Highlights of the brochure maker
Become your own designer. Our online brochure creator makes it simple, intuitive, and even fun to design your own brochure. From bi-fold to tri-fold and beyond, Marq has everything you need to create and share your own professional brochure.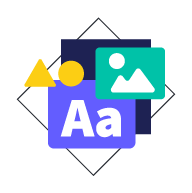 Brand assets
Store and download custom brand assets (like logos, colors, and fonts) into our asset hub for fast access as you create your brochure.
Web-based platform
With a web-based platform, no downloads or software installations are required, and you can access your Marq account from any browser or platform.
Data automation
Avoid the cumbersome process of adding your contact information to multiple brochure variations. With a premium account, you can set up smart fields to input that information automatically.
Easy import
Use our handy integrations with Google Docs, YouTube, Dropbox, Facebook and InDesign to import existing content. Need stock photos? Use our Unsplash integration to quickly search for and add the perfect image to your brochure.
Design a Brochure
How to make a brochure
Step 1: Select a brochure template
Marq has thousands of templates to choose from. Search through our brochure template category to find a layout you prefer.
Step 2: Brand your brochure
Update the color and fonts in the brochure to match your brand. You can also add your own icons and charts.
Step 3: Add interesting images
Images make a brochure compelling and interesting read. Upload your own images or choose from our thousands of stock photos to create a visually striking brochure.
Step 4: Add copy
Good copy will help your customer understand what your business is selling. Keep copy descriptive but succinct.
Step 5: Distribute the brochure
Ready to go? Publish your brochure online, download a PDF or PNG file or share your brochure on social media.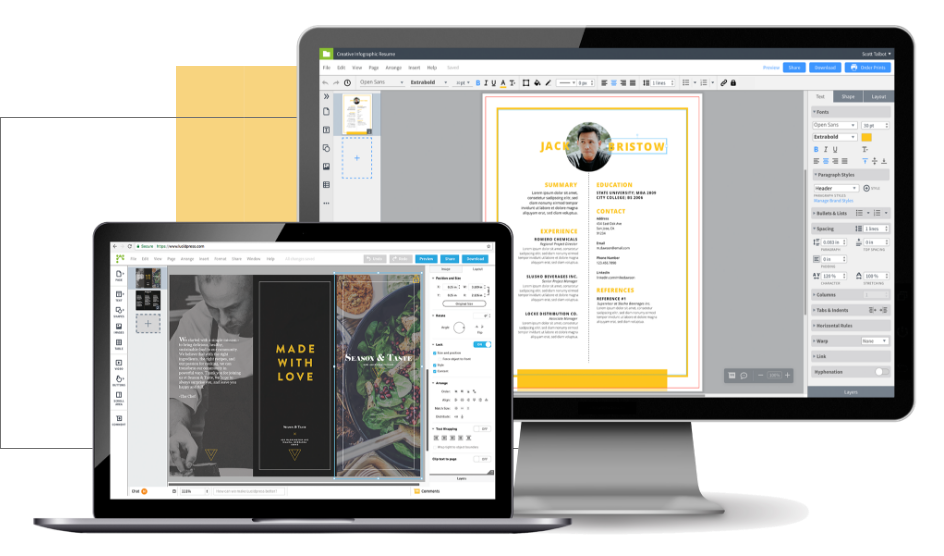 Marq brochure maker FAQ
Still have questions about how our online brochure creator works? Here are the most frequently asked questions about our brochure maker.
How do I make a brochure in Marq?
Creating a brochure in Marq is easy. First, sign up for a free account, create a new document, then choose from one of our professionally designed brochure templates. Using our simple drag-and-drop interface, customize your brochure with your own graphics, photos, and text.
What types of brochures can I build in Marq?
Can I print brochures with Marq?
Yes! No need to worry about finding a print shop. From tens to hundreds, Marq delivers high-quality printed brochures in whatever quantity you need.
Can I download brochures with Marq?
Absolutely! Download your brochure in a variety of formats: JPG, PNG or PDF. You can also select your desired quality for print or online use.
Can I publish brochures with Marq?
Of course. When you publish your brochure in Marq, you get a unique URL that you can share via email, social media, or even embedded on your site.
I have a brochure that was created with InDesign. Can I import this file into Marq?
With our InDesign import feature, you can easily import your brochures to Marq, then allow team members to make their own edits.
Quickly inform your customers with a brochure maker
Brochures are the perfect medium for conveying information quickly. Use a brochure to describe a specific product, promote an event or market your services. Distribute your brochure online or print your brochure at home or through our professional brochure printer.
Design a Brochure
Create all of your on-brand collateral in Marq
Create
Design beautiful content — whether it's digital or for print.
Create more content
Templates
Get inspiration or start from our library of over 1000+ templates.
Check out other templates
Guides
Learn how to create professional collateral with how-to guides.
Learn from a guide