According to the results of a survey conducted by the Chronicle of Higher Education, 55% of private colleges and 44% of public colleges didn't meet their enrollment goals in 2017. Was your college one of them?
With the looming threat of student debt and a decreasing belief in the importance of going to college, marketing is becoming a crucial factor for institutions who want to boost their numbers.
And it's not just about attracting prospective students, either. Engaging your current students is essential if you want to build a strong brand with a positive reputation.
In this post, we'll tackle the key tactics you need to employ as part of your overall marketing strategy. We'll also look at some of the hottest trends in higher education marketing today.
Higher education marketing strategies
When it comes to strategies for education marketing, things move quickly.
With a young, digitally minded demographic and the continual emergence of new tech and trends, education marketers must work hard to stay ahead of the curve.
These four tactics will help you tighten up your marketing plan and push it forward.
1. Think mobile-first
Today's college students live with a mobile-first mindset, using their smartphones as the primary device for carrying out a range of activities.
A recent study from the Interactive Advertising Bureau (IAB) titled Generation Z & Young Millennials: Mobile First on Campus found that 55% of students have acted after seeing a relevant ad on their mobile phone.
For education institutions, this means mobile-first advertising should be a focus in their enrollment marketing plan.
Keys to success for mobile-first higher education marketing:
Keep the creative work simple and design primarily for the small screen.
Choose the apps that students use most on mobile—such as Snapchat, YouTube, Instagram & Spotify.
Source: IAB
2. Choose the right social media platforms
That first point nicely brings us to thinking about platform choice in general.
As much as it's crucial to pick the right channels for digital marketing, it's also important to think strategically about every platform you're putting energy into.
A 2019 article from Business Insider reported that Gen Zers between 13-21 used Instagram, YouTube and Snapchat more than any other social media platforms.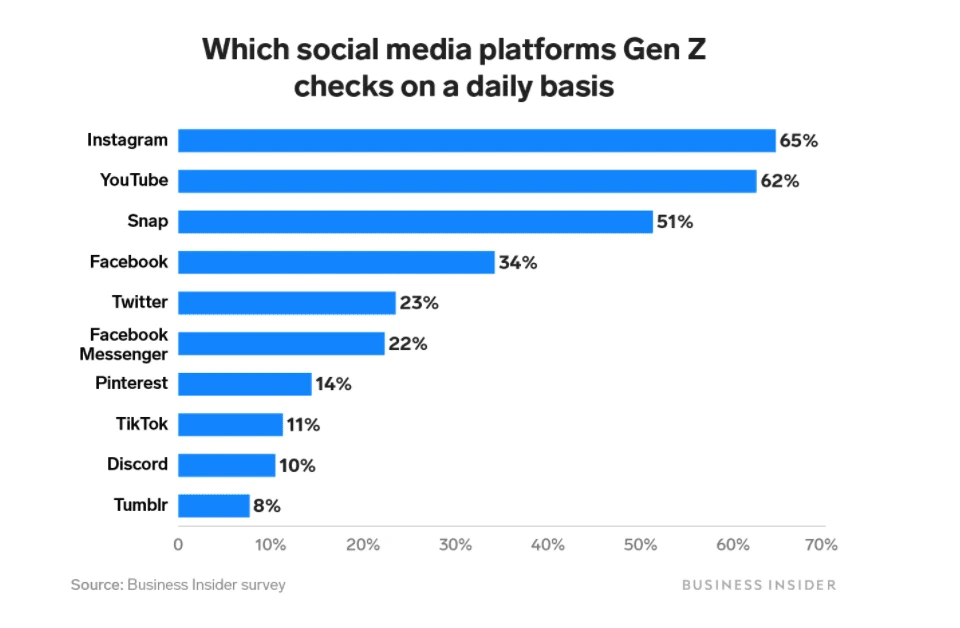 How to leverage the right platforms for successful higher education marketing:
Pay attention to the numbers and direct most of your energy where young people spend their time online.
Be creative with your approach, and look for smart ways to integrate new tech (more on this in the "key trends" section below).
Wondering what to post about? Student and faculty spotlights, alumni updates, photos of campus and event announcements are a great place to start. Creating hashtags for your school, departments and clubs can help increase engagement as well.
3. Build a consistent university brand
Your brand is more than just a logo and a set of colors. It's the impression you generate from every interaction you have.
As Jeff Bezos, the CEO of Amazon put it: "Your brand is what people say about you when you're not in the room."
Source: Lucidpress
Brand consistency, then, means maintaining control over the way you're viewed. It should be a central focus in today's digital landscape, where the number of channels and touchpoints is continually growing.
If you want a recognizable and trustworthy brand, uniformity is essential.
Tips for building a consistent higher education brand:
Think beyond the visual aspects and consider messaging and tone of voice, too. How does your content make people feel? How would you describe your brand's personality?
Take advantage of a brand templating platform like Lucidpress. Users can easily access and edit branded templates all in one place, and your marketing team will have much more control to lock down brand elements before access is shared.
4. Answer key questions
Using the institution's website, blogs and emails to answer key questions from prospective students is a tactic that should feature prominently in every enrollment marketing plan.
Research from mStoner found that, contrary to what education professionals believe, most teen college prospects (64%) prefer to consume college website content through text and articles.
Rather than answering the most obvious questions, think outside the box and dive deeper into exploring what's on your prospects' minds.
What are they typing into Google? What are they asking their friends? What information are they looking for when they visit your site?
Targeting long-tail keywords in the form of specific, beyond-the-obvious questions will help you increase your search rankings. For example, rather than "student accommodation Chicago," target search phrases like "what's it like to live in Chicago as a student" or "where is the best area for students in Chicago."
How to effectively answer key questions in writing:
Know the audience you're speaking to and direct the content to them. Use the type of language they'd use, and make sure any references or explanations are relevant and appropriate.
Keep it brief and concise, and make sure it's easy to read and scan through by using clear formatting such as subheadings, bullet points and numbering.
5. Centralize your marketing
With departments spread out all over campus, it can be hard to know what marketing tactics everyone's using and what's been effective or not. A centralized marketing department will let you track spending, various campaigns and their results.
With a centralized approach, you'll be able to align KPIs, standardize your marketing and in turn, standardize your brand. Scheduling regular syncs with each department will help all stakeholders stay in the loop with your school's central marketing goals.
6. Optimize email campaigns
Marketing automation tools can help you optimize email and reach more prospective students. Email automation platforms will let you personalize messages and send emails at the right time, when they're most likely to be read. Plus these tools will make sure your emails aren't routed to the spam folder.
You can also do A/B testing to see which messages your audience responds to better. With A/B testing you can narrow your focus and continue to sharpen your brand's voice and messaging to appeal to different student groups.
Key higher education marketing trends
Now that we've talked effective strategies and overall approach, let's look at some of the hottest trends you could incorporate into your next campaign.
1. Micro-influencers
Influencer marketing has taken the world by storm, and it's expected to continue growing over the coming years. An industry already worth $2 billion in 2017, predictions say it could be worth between $5-10 billion in 2020.
But, it's not all big numbers and big money.
Micro-influencers are on the rise, and while they won't have the same reach as celebrities or big social media stars, they do have highly targeted and engaged audiences.
Source: Pulse Advertising
In practice:
To incorporate influencers into your next higher education digital marketing strategy, look for socially savvy and well-connected students in your community.
How can you create a win-win situation where they'll talk positively about their experiences attending—or working in partnership with—your institution?
2. User-generated content
To reach a demographic who yearns for connection and places a high importance on authenticity, social proof is paramount.
More than ever, young consumers look to their peers or influencers in the online world before making decisions.
And when you consider that they spend up to 11 hours per day on social media, it's clear that's where you need to be showing up.
In practice:
By encouraging students to share real-life experiences under a common hashtag, you can generate a go-to online community that will increase awareness and engagement.
Beyond that, enable online reviews and share positive data, feedback and authentic stories on social media.
3. Augmented reality
Augmented reality makes real-world experiences interactive, and it's expected that higher education institutions will begin to adopt it more over the coming year.
A good starting point for some might be Snapchat GeoFilters.
Almost 90% of Snapchat users say they enjoy GeoFilters. A spin on a regular filter (which is a design you can overlay onto a photo you take in the app), GeoFilters are only available in certain locations.

Source: Touchpoint Digital
In practice:
Beyond Snapchat, interactive campus tours, maps & brochures can have a big impact.
Contractors working for The University of Washington built a mobile app that allowed users to explore the new $105-million computer science building before it was built.
The Savannah College of Art and Design boldly embraced virtual reality (VR) back in 2015, sending out Google Cardboard headsets that let 30,000 accepted students explore campuses virtually.
It moved on to augmented reality (AR) next, adding interactive features to a course catalog. The institution has seen a 26% increase in admissions applications after introducing VR and AR recruitment tools.
4. Livestreaming
Livestreaming is being broadly touted as the big must-have for marketers in all industries today. No longer a novelty, it's changed the face of marketing and the way brands and consumers interact.
When you take a look at the numbers, it's not hard to see why.
According to Dartmouth, 86% of colleges and universities have a presence on YouTube. That makes sense when you consider that 71% of teens' typical entertainment consumption is streaming, and one-third is viewed on apps from a mobile device.
Source: Livestream.com
In practice:
The most common and beneficial use of livestreaming is to broadcast events.
Education institutions can set up livestreams—broadcast either by themselves or by an influencer—to showcase events held throughout the year.
Real-world example
In terms of real-life examples, Western Colorado University struggled to manage their marketing properly for quite some time. It wasn't until they implemented brand templating software that they were able to keep their brand consistent and save their creative team loads of marketing time.
Sometimes reading the stories of other universities can help shed more light on your own situation. Read Western Colorado's full case study and see if your creative team has had any of the same struggles.
Key takeaways
In summary, you'll need to incorporate the following tactics into your digital marketing strategy if you want to hit your enrollment goals:
Think mobile-first
Choose the right platforms
Build a consistent brand
Answer key questions
To push forward with creative and innovative marketing, the following trends are key:
Micro-influencers
User-generated content
Augmented reality
Livestreaming
What's the next big move you'll make to drive an increase in awareness, enrollment numbers and engagement?