Here's the thing: the in-person experience isn't dead. And furthermore, direct mail marketing isn't dead. It's an audacious statement for sure. But like the in-person shopping experience, direct mail marketing is just different. It's not the norm anymore. But that's what makes it all the more unique and effective.
That said, there's no doubting that online marketing has taken the world by storm. Not only is online video consumption reigning supreme over traditional TV viewership, but it seems the world has gone mad for — and forgot about — the value still held in offline marketing.
Direct mail marketing happens to be an excellent example of offline marketing. Think of direct mail marketing as you would letters, postcards and brochures landing right in the mailbox of your ideal customer. That's pretty spiffy!
What is direct mail? Direct mail is a form of direct marketing where promotional materials are sent to prospective customers in the mail.
Your mailbox — you know, the metal one with your address on it — has a bad reputation. Meanwhile, your email delivers discount codes for your favorite shops and other exciting tidbits of information. But that IRL-mailbox space is filled with bills, junk mail, earwigs and who-knows-what-else, right?
Sometimes, but not always.
While you're certainly bound to receive bills, junk mail and find the occasional earwig in your mailbox, you can also count on uncovering letters from family members or collateral that's seemingly custom-fit for your needs. It's almost as if those ads you've been seeing all over social media popped up in your mailbox, which is pretty cool, right? That's what direct mail marketing has the capacity to do.
So, what can direct mail marketing offer that online marketing can't?
Direct mail marketing gives customers a tactile, interactive experience that they (perhaps unknowingly) crave and miss when they get a coupon emailed to them or when they are bombarded with an ad on social media.
But direct mail marketing doesn't stop there — it delivers three other noteworthy factors.
Direct mail marketing is easy to understand
One reason direct mail marketing is more effective is because it's easier to understand. One study found it takes 21% less cognitive effort to process, meaning your audience (or prospective customer) don't have to invest time or extra brainpower into your postcard, mailer or any other type of direct mail marketing campaign.
The success of any marketing campaign — whether it be direct mail marketing or an online campaign— is contingent on whether or not it resonates with your customers. Because, if your target audience is finding the content difficult to understand, or if they feel confused or lost at any point in the content journey (or hile reading the collateral), your campaign is unlikely to meet success objectives.
Direct mail marketing feels more memorable
Forgive us for being a tad melancholic, but, there's something incredibly heartening about receiving a letter or a package in the mail. It feels very human — as if there's another person on the other end of the care package or neatly tucked behind the envelope. Someone had to go to the effort to writing said letter or find knick knacks to stuff into a box. You remember mail — along with the person who sent it and why they sent it along.
Plus, studies show that millennials who spend more time with a physical ad in hand have a stronger emotional response to the marketing campaign, lending a stronger overall memory of the ad. Who knows, you could be on the list of the next generation's most-loved advertising campaigns by optimizing your use of direct mail.
Direct mail marketing has stronger response rate
Direct mail has a better response rate than email marketing, with 4.4% of campaigns receiving a response when delivered through the mail, compared to just 0.12% online. [

]
For example, for content (in a campaign) that's delivered to 1,000 people, 43 more people will interact with your direct mail than your emails.
As in, you're missing out if you push your entire marketing budget into email — especially when direct mail can be more cost-effective.
The Do's and Don'ts of direct mail marketing
Want to stand out from the crowd and make sure you pull off a marketing campaign that drives a high ROI? Here are three tips.
DO proof your stuff
Typos or misspelled names are a surefireway to undermine your authority or make a customer doubt what you have to bring to the table. Proofread your stuff before sending it out. And make sure you get the customer's name right.
DO have fun — Get creative
Get creative with you direct mail marketing campaigns! Don't just fire off a boring letter that could get mixed up with a prospective customer's bills. You want to create something memorable — something that familiar or maybe even something nobody has seen before. Don't be afraid to throw a proverbial party in their mailbox!
You can do this by sending:
Foldable origami
Interactive letters, where your audience needs to do something to reveal a message
A fantastic example of creative direct mail marketing comes from the team behind World Water Day's campaign. Their aim was to raise awareness about the event, but they opted to create a direct mail with words that only became visible when soaked in water.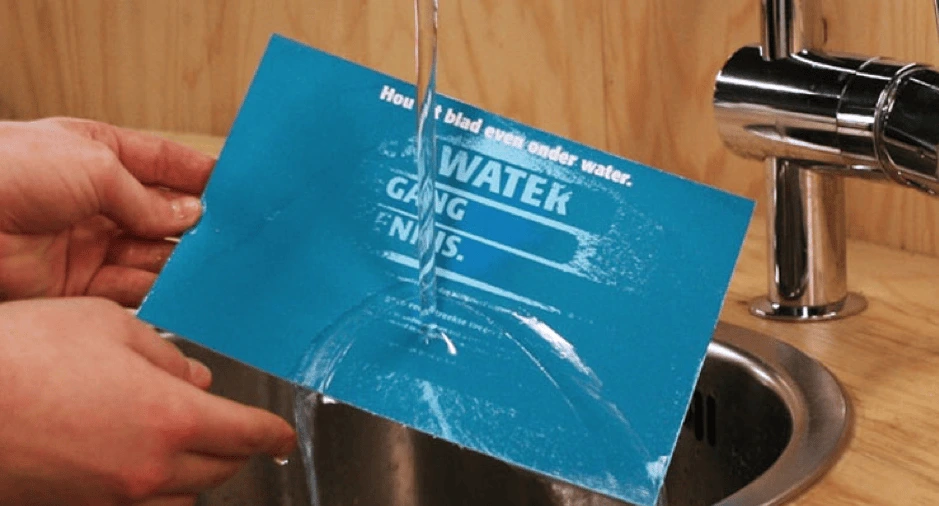 Not only did this direct mail campaign explain World Water Day's campaign aim creatively, it also became an interactive piece of content. Interactive content has been proven to generate 2x more conversions than the alternative. That's pretty genius, right?
Lucidpress: Click the image to use the template
Use one of our direct mail templates as inspiration for your own direct mail piece. Switch out colors, fonts and texts to create your direct mail postcard or flyer in seconds.
Browse all direct mail templates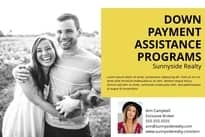 DO emotionally engage customers
The second way to ensure your direct mail marketing campaign is a success is to make your audience feel something — any type of emotion. After all, there's such a wide range of them. Emotion has been the marketer's secret weapon for years. Various studies show that people rely on emotions, not just logical information or data, to make buying decisions.
Feelings of anger, disgust, affirmation and fear often top the list of emotions that work well in advertising.
A fantastic example of this comes from the Natural History Museum. In an attempt to educate local people about the danger of animal extinction, they sent an eraser to their audience with a quote about the topic.
Because their audience could see a visual representation of extinction in their daily lives, it made them stop to think about how serious it is… and want to act.
Pick an emotion and drive it home through your next direct mail campaign. You'll soon see the impact emotion has on marketing—but the victories will be for your own brand.
DO put your own spin on it
For the most part, mailboxes aren't fun environments. Bills, bank statements and lonely newspapers often clog up the mailbox marketing route. But, you can stand out by making your direct mail marketing campaign a little unique.
A fantastic way to achieve a little uniqueness is through juxtaposition. Can you think of a smart, innovative way to show how powerful your offering is by comparing it to something completely different?
Let's take this direct mail campaign for example. Created by the theatre team behind a local performance of Macbeth, they wanted people to visit their show. Instead of online marketing, they exploited their direct mail opportunity and found a way to stand out in a mailbox.
You'd probably never compare a Shakespeare play to a fast food joint, right? But that's part of the reason why it works.
The juxtaposition of both elements makes you take a second take at the direct mail rather than toss it in the trash. This type of content experience (within direct mail marketing) is bound to make an impact on an audience, one who possibly has an interest in both but would never expect them to be paired together.
All in all, direct marketing provides you or your creative team with untold opportunities to lean into the creative, get weird and try new things. Plus direct mail marketing allows you to access new customers or get a feel for a prospective audience who might otherwise pass up your product or services.
DON'T skip doing the proverbial "leg day"
Leg day for direct mailing entails defining your audience and running some tests before you send out the direct mailers. Now, neither task needs to be a heavy lift. Defining your audience can be as simple as knowing who your product is best suited for and tailoring where and what neighborhoods you send the direct mail to based on this information.
Additionally, try sending a few flyers or direct mailers out to a small segment of your target audience. Make sure to include trackable tests, like a QR code or a custom URL (which we'll touch on more momentarily).
DON'T forget to set goals for the campaign
Consider the following questions. As in, are you looking to drive brand awareness or boost sales of a particular product? Are you looking to assess brand awareness, and if so, how will you measure success or failture? Alternatively, if you want to increase sales, what is the target revenue or fiscal marker for your campaign? Specific goals will give you a benchmark to measure (and brag about) the campaign's success, and it will help you drive improvement based on the results.
DON'T ignore the importance of a CTA
Simply put: You need a way to measure your goals and attribute which-sales-to-what-campaign-directive. Well, a CTA can help with that. Start by creating a custom URL to include in your direct mailer. This custom URL will empower you to track visits and sales from the website location, allowing you to attribute conversion and ROI to your direct mail campaign.
DON'T spam your customers
Inundating your customers with a lot of direct mail, emails and more is not the best way to get their attention. Sure, you'll be top of mind, but it'll be because you're irritating them — not inspiring them or addressing a pain point. You don't want to undermine the relationship you've worked so hard to build with them, so be mindful of who-you-send-what-where-and-when.
You've got mail — Lucidpress mail
If you couldn't tell already, we're big fans of direct mail. Now, the exciting part about Lucidpress is that we don't just empower anyone to create compelling, effective content — we also make it easy to conduct a direct mail marketing campaign.
Choose from any of our direct mail marketing templates to customize and edit. Or, alternatively, if you're feeling brave, you have the option to design your own. Then, all you'll need to do is:
Upload a .CSV file containing the details of people you'd like to target,
OR use radial search to select a local delivery area.
Once selected, press the proverbial "go" button and use the direct mail marketing integration to send your mail directly within a matter of days. There's no need to stop at your local post office with oodles of mail, thus, taking the stress out of building a direct mail marketing campaign.
As you can see, direct mail isn't an old-school marketing technique that should've stayed in the 00's. These tips, along with our new features, could be the combination you need to build a direct marketing campaign that drives excellent results for your business.
Bonus: Direct mail infographic
Craving more data? Check out this illustrative infographic about direct mail from our friends at Colourfast.