Do you struggle to manage your real estate brokerage? I don't blame you—your list of tasks can feel overwhelming. With tracking leads, managing commissions and uploading new listings, there's a lot that goes into selling properties.
But, there's one thing that can help: Software.
If you're enlisting the help of real estate software to help you manage each task, you could cut the time you spend on each activity—and boost your productivity in the meantime.
In this guide, we're sharing a list of 12 incredible real estate softwares you can use for each major task you're handling on a daily basis.
1. Copper CRM
Is your inbox out of control? Whether you're inviting leads to an open house event or coordinating with someone selling their home, you might be struggling to remember who's who.
That's where Copper (formerly ProsperWorks) helps.
Because Copper is a CRM with G Suite integration, you can create profiles for each person you're emailing—allowing you to follow email conversations and manage leads directly from your inbox, without needing to switch between several apps.
Pricing: From $19 per month.
2. Propertybase
If you need more from your CRM, Propertybase is worth investigating.
This real estate software tracks and manages leads, while also featuring a marketing center to manage email campaigns, real-time lead generation dashboards—and even syndications with platforms like Rightmove and Zoopla.
Granted, it's more expensive than Copper's CRM, but it could be the only software you need to manage your brokerage.
Pricing: From $79 per user, per month.
3. QuickBooks
QuickBooks is an accounting tool that real estate companies can use to track their finances. But, what makes QuickBooks different is the control it gives businesses without tons of financial knowledge, looking for more than just a spreadsheet.
You can track transactions, along with:
Property descriptions—including floor plans
Lease dates
Current and market rent
Due dates
Appraisal values
Pricing: From $10 per month.
4. Placester
Every brokerage needs a website—that's nothing new. But if you're looking for a platform built specifically for realtors, Placester is fantastic.
Placester allows you to build modern, personalized websites with the aim of generating more leads for your properties. And, with several themes and lead capture templates to choose from, you don't need a ton of HTML knowledge to create a strong website for your real estate company.
Pricing: From $99/month, plus $99 setup fee.
5. PropertyWare
Are you managing a handful of rental properties at your brokerage? Another real estate software you should add to your list is PropertyWare.
Designed to act as a "toolbox for single-family property management," PropertyWare is a web-based software that allows realtors to track payments, create online portals for tenants and owners, and screens tenants to make sure they're high quality.
The best part? It's built by property managers—so they know what they're doing.
Pricing: From $1 per unit, per month (minimum 250 units), plus an implementation fee of 2x the monthly subscription.
6. Commission Trac
Creating commission reports can quickly get confusing. That's where Commission Trac shines.
A real estate platform that allows brokers to manage commission plans, invoices and agent distributions, Commission Trac "streamline back office accounting" and take away the headache from managing commission cuts.
They've also partnered with organizations like the National Association of Realtors to offer members 20% off their plans.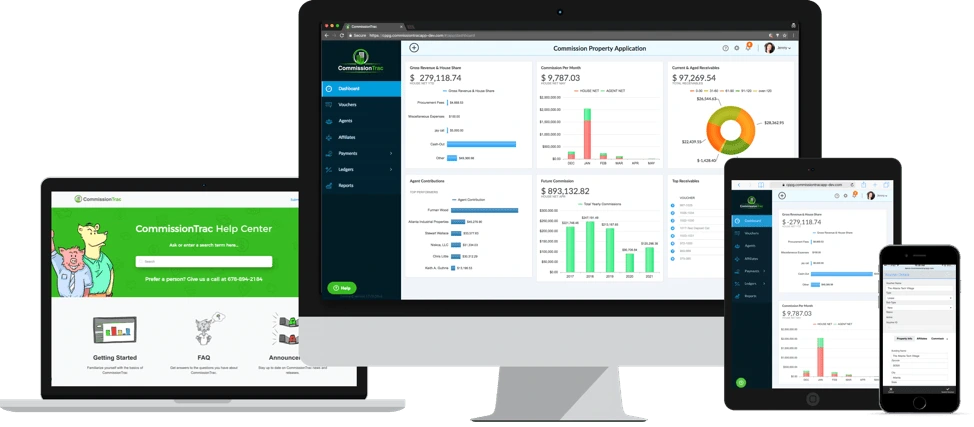 Pricing: From $45 per month, depending on how many agents are in your brokerage.
7. HelloSign
Don't let paper documents take over your office. Ditch the traditional scanners and use HelloSign instead—a tool that allows your clients or tenants to sign documents electronically.
You can use HelloSign for a variety of electronic documents, including:
Tenancy agreements
Mortgage papers
Offers to purchase
Closing statements
Real estate transfer tax returns
Plus, HelloSign documents are legally binding (and enforceable in court).
Pricing: Free for 3 documents per month; $13 per month thereafter.
8. ShowingTime
If you regularly schedule property viewings, ShowingTime is a software you'll love.
ShowingTime is a real estate software that allows brokers to collect analytics and provide feedback on home showings. It also allows realtors to quickly schedule and confirm property showings, while helping to offer better customer service to their clients.
Nobody likes no-shows, right?
Pricing: Custom; demo required.
9. CityBlast
You're likely familiar with marketing software that can help businesses supercharge their growth.
But, CityBlast is different to the rest. They focus solely on real estate businesses and have a live team who describe themselves as "social experts."
They provide social media PPC campaigns to increase audience growth—meaning you could see more social followers, site traffic and hot leads if you're enlisting their specialist help.
Pricing: From $83.25 per month.
10. AreaPulse
For more in-depth reports on your properties, it's worth checking out AreaPulse.
In this web-based real estate software, you'll find every metric you need to track the success of your brokerage, including:
How long a property has been on the market
6-month price trends in the local area
How many homes you've got for sale
You're also able to send AreaPulse reports to your potential customers, giving them a solid understanding of the property market. Plus, with the ability to track open rates on these emails, it's a great way to identify which subscribers could become hot leads.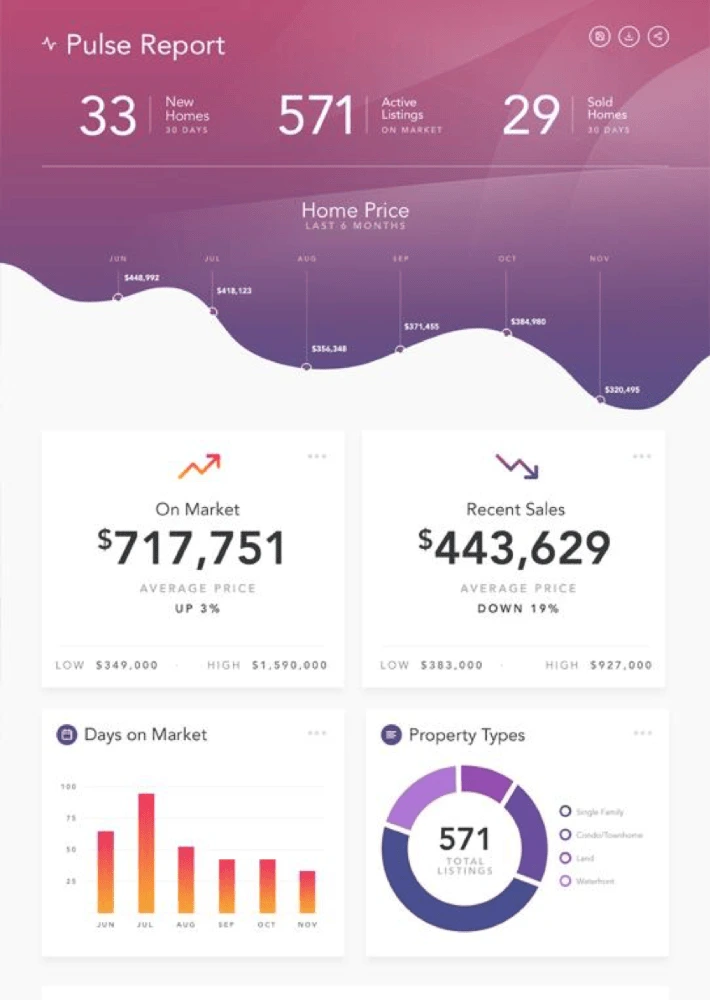 Pricing: From $49 per user, per month.
11. HouseCanary Value Report
Another incredible option if you're looking to dive deeper into real estate analytics is HouseCanary's Value Report tool.
They use data science, advanced software and predictive analytics to create the "most accurate automated valuation model"—meaning you get a full understanding of the local property market, forecast returns over the next three years, and set rent fees that are relative to the area.
Sounds awesome, right? (Spoiler alert: It is.)
Pricing: Custom.
12. Lucidpress
...We couldn't share a list of real estate softwares without including ourselves, right?
Lucidpress gives brokers a nifty tool to create branded real estate marketing material—such as PDFs, social media images and newsletters—in one web-based portal.
There are hundreds of templates to choose from, making it perfect for real estate businesses that need ahold of their branding campaigns, but don't have a clue about graphic design.
(Considering that consistent branding increases revenue by 23% on average, you'd be mad to miss this off your list.)
Pricing: From $5.95 per month.
Key takeaway
Now that you're well-equipped with the real estate software you'll need to manage your brokerage, it's time to start seeing results.
Remember to determine which tools are affordable, and start with tools you need (versus the tools you want). You don't want to go broke in the process.
You'll soon be experiencing increased productivity—we're sure of it.