Create designs for free
Go from idea to finished branded design
in minutes
Access over 10,000 editable pro templates for free.
Get your design customized with your branding and exported in one session.
Choose from over 10,000 creative templates
Find the right template
How to start creating designs
Create a design with your branding in minutes:
Create a free account with your email
Choose a template that suits your needs
Customize it with your colors, fonts, & images
Over 6 million people create with Marq's free design tool
You don't need to be a design expert to create great content.
"With Marq, you don't need to be a design expert to create great content. You have access to a variety of ready-made templates that can save you time and effort.

It is the perfect tool for users who want to develop quality branded content but are not design experts."
Florence P
Create documents which look beautiful
"Love it. The ability to create documents quickly - and which look beautiful - is hugely valuable.

We can produce our own content without paying external designers and keep all items consistent with our branding"
Linda
My go-to publishing software for over 5 years
"Marq has been my go-to publishing software for over 5 years. We create newsletters, campaign mailers and more with ease.

I love having such a strong cloud based publishing software with lots of beautiful templates and functionality."
Travis
Find templates for your industry
Get a template made specifically for the job you do
Search by industry
Powerful tools to enhance your designs
Find the right tool to speed up the process to make more efficient designs
See all tools
With Marq, you can make
anything
Anything your brand might need, anyway.
When you're brand-building, your tool should grow with you.
To deliver what your brand needs today, in a few months, or five years from now.
We're your brand enablement platform.
Here's everything you can do with Marq.
Here's how to build your brand in Marq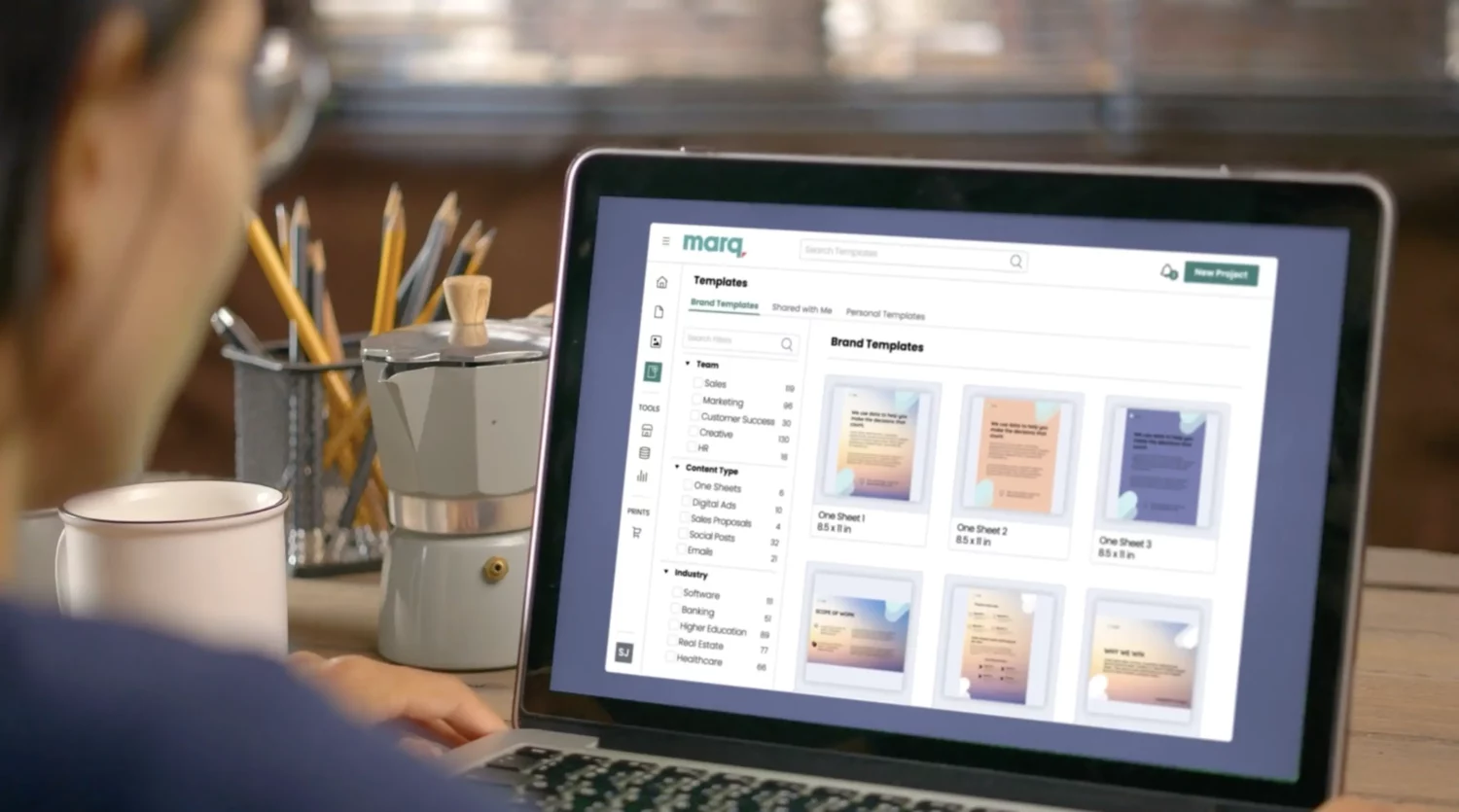 Browse our collection of professionally-designed templates. Choose the one that best suits your needs.
In Marq, you can import your brand assets like logos, fonts, and colors. This involves uploading these assets directly into the Marq editor. If you have existing design assets in InDesign, you can import those files directly into Marq.

Collaborate with others on your projects in real time. This feature allows team members to view, edit, and comment on the same project simultaneously, facilitating more efficient teamwork.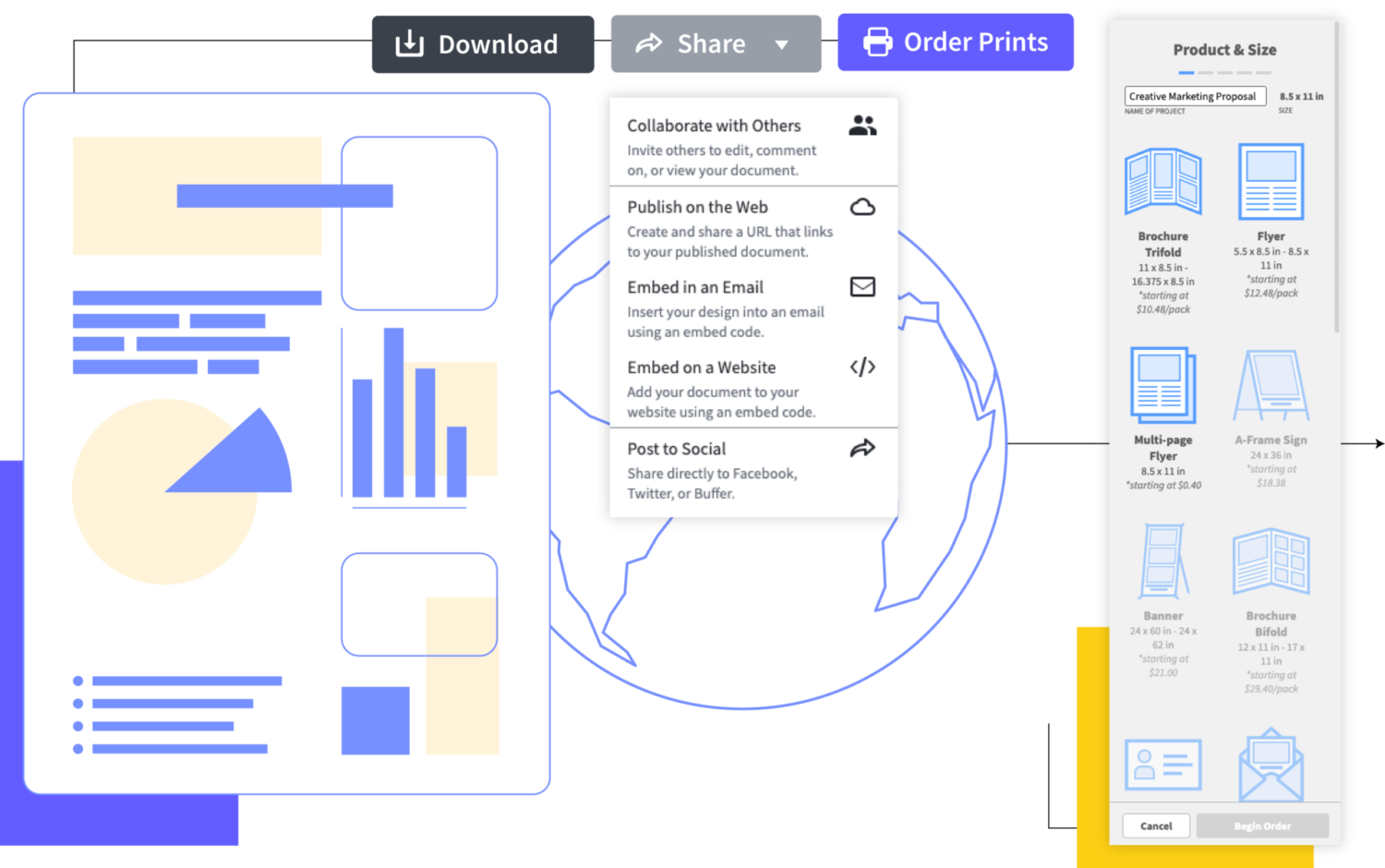 Marq offers various options for exporting your projects. After completing your design, you can share it with others, download it to your device, or even order physical prints. The exporting feature allows you to distribute your project in a manner that best suits your needs​
Start creating—even with no design skills
Pick a pro template and get your design customized, branded, and finished in minutes.
Free to get started.

Create now
What defines a design tool for creators?
Make it a free design tool
Offer pro templates to build out any design.
Make brand assets importable.
Make it cloud-based so you can access it from anywhere from any device.
Creat features so your users can build anything
Import your brand
Import your brand colors, logos, and fonts. Make any template automatically yours
Smart fields
Automatically populate you and your team's info into any document
Easy collaboration
Add collaborators or reviewers to any document for edits or direct comments
Shareable templates
Create and lock down your own branded templates to share with any collaborators
Brand locking
Brand controls you can depend on so your team can run wild (mostly). Confidently on-brand.
Share, publish, print
Deliver your content to your audience directly with social publishing & direct print.
Browse all features
A free design tool means you can finish your projects even faster
Here's what else you can do for free
Whatever device you're on, Marq will work on it.
Along with these design, productivity, & marketing tools
Frequently asked
questions
Is Marq a free design tool?
Yes, absolutely! Marq is a free design tool that offers a wide range of creative capabilities without any cost. It provides users with access to an array of design features, templates, and resources to unleash their creativity and bring their ideas to life without having to pay anything. Like many SAAS products, Marq does offer paid versions of their tool to utilize additional features like template locking, team collaboration and more.
What are key features to the free design tool offered by Marq?
Marq's free design tool is packed with an extensive set of features to cater to your creative needs. It includes a vast library of design elements, user-friendly editing tools, customizable templates, and the ability to export your designs in various formats. You can create logos, social media images, feature images for websites and much more for free with Marq.
How can I access the free design tool?
Accessing our free design tool is simple. On this page, click any of the buttons to start designing, or begin by creating your free account by selecting "sign up free" at the top of the page. No payment is required; it's completely free for you to use and explore.
Are There Any Costs Involved in Using Marq's Free Design Tool?
No! You can clearly and easily start designing in Marq right now for free. Any additional costs come with accessing premium features that help designers and teams scale their design productivity.