Folder structures. Files by the thousands. Cloud sharing that goes awry when trying to search for something.
"Where can I find the latest version?" messages over Slack or email.
Download V5. Upload V6. Share it with the team for feedback.
"That doesn't look quite right."
If you're familiar with this scenario, you're most likely looking for an effective way to solve it and ensure a solid foundation for future growth. We're here to provide clarity and solutions so you can streamline how you create and manage your visual assets.
We do this every day for our customers and believe your marketing team can become a lot more productive with the right tools and workflows in place.
You can use this practical overview to validate use cases for image management software in your organization to save time, money, and a lot of energy.
Let's dig in!
What is image management software?
The contemporary marketer needs to deliver high-quality work in a visually compelling manner that fits every platform in a custom approach. This requires being able to preview, find, work with, and share images faster than ever before.
An image management system caters to these specific needs. It provides your marketing team with a platform where you can cluster and organize all your digital images and visual assets so everyone can view, use, and distribute them.
As your brand grows, makeshift solutions won't do. You need image management software that's tailored to your challenges so you can focus on growth instead of answering repetitive operational questions.
What's more, using it means you'll spend less time adjusting access levels as your team members change. It also helps to worry less about security issues which have become prominent in recent years.
A high-performance marketing team knows that the right software can boost productivity and free up mind space for valuable creative work.
Streamline your workflow with visual assets
Today's best image management software options are cloud-based, built for accessibility, and highly flexible.
For example, marketing teams that create a lot of content want to be able to track the entire life cycle of their marketing materials. This means being able to:
Browse through a branded image library fast
Convert files in large batches for specific channels
Search for digital images, graphics, and illustrations and get accurate results
Tag assets and assign descriptions so other team members can make informed decisions about using them.
An image management system that's well implemented within a marketing team reduces friction by enabling content creators to both be self-managed and collaborate effectively.
Marketing managers can also improve their speed when reviewing visual assets and giving feedback. They can also:
Set custom privacy and copyright settings (e.g. only certain members of the team can download specific images).
Ensure branded photos and illustrations are safely stored and shared (e.g. everyone in the team logs in with a username and a strong password to access the assets).
Share up to date visual assets with customers, partners, distributors or media representatives in a fast and centralized way.
Once you've experienced the challenges of not having a dedicated software solution in place, you know how valuable it is to align teams across departments and get them to use the right visual assets on the right channels, in the right formats (without being annoyingly repetitive about it).
The visibility and control image management software provides is fundamental for maintaining brand consistency. When everyone uses templates, images, graphics, and illustrations that belong to the same design iteration and have the same quality, your brand becomes stronger, stabler, and even more trusted.
Digital asset management vs image management software
Two main challenges have led to the creation of specific tools to address them:
Storing and working with high volumes of digital assets (which is a challenge for even the most organized person — and we know a few).
Changing habits and expectations around using these digital assets (availability, sharing, updating, etc.).
Two of the main options marketing managers have are DAMs (digital asset management systems) and IMSs (image management software).
To make it easier for you to choose the right platform for your team, here's the big picture comparison between their usual features.
Features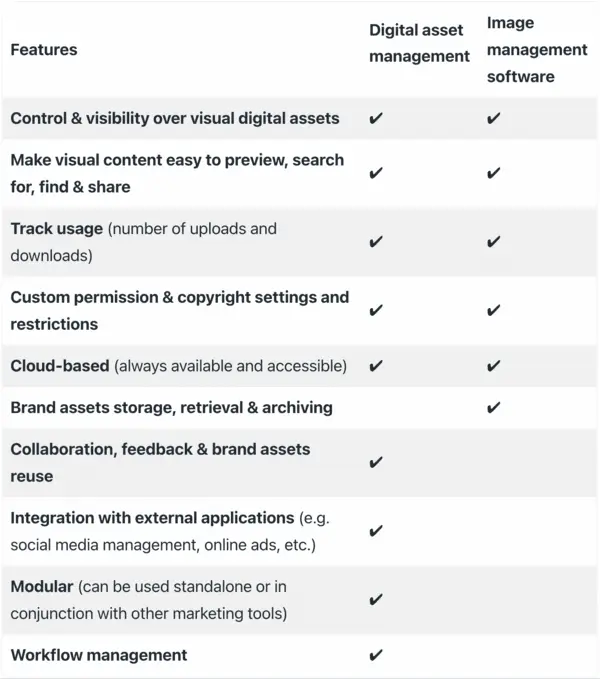 While digital asset management software can handle most file formats your company works with, image management solutions may be a little less flexible.
DAMs usually support a variety of file types, from JPG to AI, DOCX, EPS, FLV, GIF, INDD, M4A, RAW, WMA, ZIP, TIFF and many more.
For security reasons, both DAMs and IMSs restrict uploading executable files (such as EXE, MSI or DLL).
Close the gap in your visual assets' life cycle
As you can see, there is some overlap between image management software solutions and digital asset management ones, with the latter providing a richer set of features.
However, you should know that your choices aren't limited to these two types of platforms.
In fact, if you find their core functions falling short of your needs, you can use a brand templating platform to close the gaps in their offering.
Say the design team has just wrapped up a set of illustrations for a guide your company created for customer onboarding. You might want to make those illustrations available for the content team that writes articles for the company blog.
You can upload them to your DAM or IMS, tag them, add a quick note for context and share them with the appropriate team.
However, you need to ensure they're used on-brand and at the highest possible quality. (No one likes blurry visuals in blog posts in this day and age.)
Your team can use Lucidpress to create graphics that integrate the illustrations while respecting brand guidelines. In Lucidpress, you can store approved colors, fonts, logos, and templates and other elements content creators need to work with.
What's more, you can lock individual elements or specific attributes in a template so that brand consistency is always on point. The elements you can lock include shapes, images, text boxes, and more.
Once your digital assets are ready, you can easily export them from Lucidpress to your DAM or image management software of choice in a variety of formats such as PNG, JPG, SVG, PDF, INDD, IDML and more.
Key takeaways
If you find yourself looking for solutions to improve your productivity, streamline processes in your team, and keep your brand consistent across channels and assets, know that you have plenty of options to choose from.
Moreover, you can set select them so that they integrate with each other, saving you even more time and energy spent on moving visual elements from one platform to another.
Hopefully, this kick starts a new era for your marketing team, defined by increased productivity and a stronger brand coherence every time you show up for your customers.