Real talk: Trying to find a strong content marketing example is like looking for a needle in a haystack, mostly because there are just so many stinking options. Seriously though — between social media algorithms, walled gardens, SEO, paid ads and everything else under the marketing sun, we're inevitably served some sort of content marketing experience that's designed to get our goat and draw us in.
So, how do you decide what counts as "the best content marketing examples?"
:eyebrow wiggle:
>Related: Examples of great marketing initiatives
How we evaluated the general existence of content marketing
The best content marketing tells a story. Well, not just any story, a good story. One replete with emotions, thoughtful cadence and something that ties it all together — good content marketing speaks to you on some level. Which is to say that the best content marketing does these three things:
Keeps the throughline (or red thread) obvious
Knows its audience — e.g., where to exceed expectations and where to keep it simple
Creates a sense of camaraderie
So, without further ado, here are our fave examples of good content marketing:

1. Mailchimp's original content
Mailchimp, the beloved marketing platform that helps small businesses do everything from email to website building and analytics, is also putting out the best content in the game. The brand is undoubtedly #1 in our book, and whenever the subject of good content comes up, we all inevitably sigh and get big heart eyes over whatever Mailchimp has recently put out.
The brand has not one but two content platforms: Courier, which offers marketing advice from experts and articles about trendy small businesses and Mailchimp Presents, a collection of original podcasts, movies, and video series that "celebrates the entrepreneurial spirit."
Right away Mailchimp's red thread is obvious — the brand story, a celebration of entrepreneurship and creativity, is loud and clear. And while the budget involved in this level of production is nothing to sneeze at, money will only get you so far. Mailchimp has perfected the art of taking human stories and turning them into content that's relevant, interesting and, above all, inspiring.
While we're gushing, we encourage you to watch one of our favorite pieces, Noodle School: a short documentary about students in Lanzhou, China, learning to make traditional hand-pulled noodles.
2. Great Jones's food media
Great Jones has made a name for itself offering high-quality cookware at affordable prices, complete with a jewel-toned aesthetic that sets millennial hearts aflutter. And true to the brand's hip ethos, its content does not disappoint.
The Great Jones Digest is filled with mouth-watering recipes and interviews with the movers and shakers of the food world. Is it a blog, per se? We're not sure. Is it a perfect amalgamation of product placement and food-celebrity endorsements wrapped in genuinely good content that rivals large publications like Bon Appétit? Yes.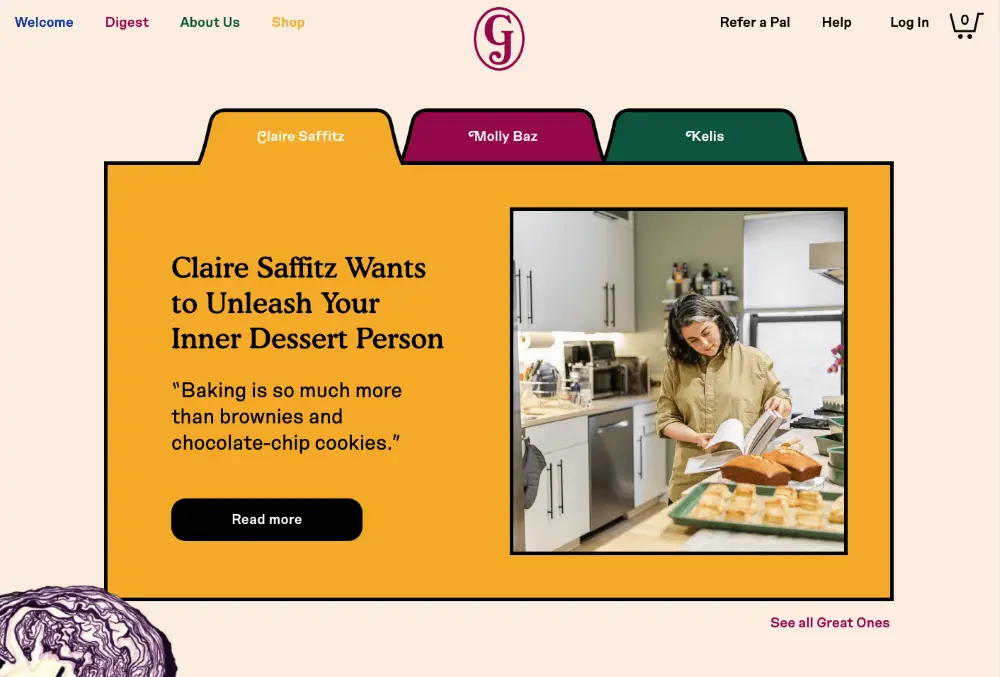 (The brand also has an extremely well-curated Instagram that does wonders for their marketing.)
There are a few elements at work here, and combined, they pack a powerful punch: content that's relevant to a culinary-inclined audience (recipes!), trusted endorsements, pleasing design and format, showy but not annoying displays of the product. Yes, it is the whole package, but working even one or two of these tactics into your own content marketing can help move the needle.
Thanks, we're hungry now.
3. Trello's straightforward blog
Alas, good content doesn't have to be the flashy, big-budget crème de la crème. Sometimes it's as simple as offering a well-written blog post.
The Trello blog, whose content is also served up in a weekly email newsletter, offers uncomplicated articles full of good advice on topics that appeal to the wide-ranging workers of the world. What makes it special? Good-quality writing on topics that we're genuinely interested in.
With topics including how to manage work anxiety, productivity hacks and mastering work-life balance, Trello's content will resonate with anyone on the 9-5 grind. The blog also manages to work in plenty of product-focused tutorials for its customers in a way that doesn't feel pedantic or out of place.
Take note: Spending time to do the simple things well can really elevate your content. A good blog can be small but mighty.
4. Tushy's customer testimonials
Americans are intensely private about their bodily functions. It's taboo to talk about poo — likely a result of their Protestant roots — regardless, they aren't big fans of bidets because, well, bidets clean your bottom region. And that means you poop.
Enter: Tushy.
Tushy is "the modern bidet for people who poop." Or "the modern bidet that saves your ass, saves your money, saves the planet and saves the world."
Pretty exciting stuff, eh? Real people, on the john, in real life. Well, kinda. But, how do you get people to actually buy a bidet when a.) we're afraid of our own b-holes and b.) when we're afraid of bidets?
One — Tushy lowered the barrier of entry. Buying and installing a bidet is intimidating. So, Tushy made the installation process ridiculously easy (both writers on this post have installed Tushys in their respective abodes). Plus, traditional bidets aren't exactly renter-friendly (in the sense that you can't exactly uninstall your personal, full-size bidet when you move). Tushy, on the other hand, is totally transportable.
Two — Tushy harnessed the power of social proof to destigmatize talking about our bathroom habits. Because, in a world of information and option overload (and marketing campaigns galore), it's hard to know who to trust and what information just a total crock of bullsh*t. So instead of leaving you high and dry, they ensure you have unobstructed access to what other Tushy enthusiasts have to say about that bidet life.
Customer testimonials are about as timeless as they come — plus they're some of the most effective, easiest marketing content you can get. All you have to do is ask for it.

5. Ruffwear's interactive content and social media
Pets, though more specifically dogs, mean a lot to us — they're our companions, support animals, entertainment sources and more.
Ruffwear's "My Dog is My" campaign spotlights the various ways in which dogs contribute and participate in our lives, presenting great opportunities for people to see the product in action, worn by dogs like their own in some way, shape or form.
Ruffwear uses its "My Dog is My" marketing in a variety of ways, however, there are three worth highlighting here:
Ruffwear blog
The Ruffwear blog is a great space to share "My Dog is My" stories, without necessarily needed to have a scoped out marketing campaign, replete with photographers and such.
Core homepage
Ruffwear has an incredibly diverse range of customers — as highlighted by the various core homepage content stories related to the "My Dog is My" campaign.
Social proof
Ruffwear leverages customer participation and real-life examples of their product in action with the social media hashtag #mydogismy. Crazy to think that there are already 350K posts of various pups in Ruffwear threads.
If there's one takeaway to be had from Ruffwear, it's that you don't need a giant marketing budget to create effective content — you just need a creative way to encourage your customers to share their stories.
Overall, pups and people are the heart of Ruffwear's "My Dog is My" content marketing campaign. By encouraging customers to use the hashtag and highlight their pup, Ruffwear effectively creates a community of Ruffwear-lovers and dog-lovers alike.
>Need more info? Check out measuring marketing effectiveness
6. Cricut's celebrity endorsement
Hey, you, put down the pinking shears and the granny square afghan! You may think you know DIY, but you have no idea. Cricut takes crafting to the next level and blasts open your world of DIY crafting opportunities with its cutting machines.
Celebrity endorsements can go one of two ways — great or poorly. In Cricut's case, the brand's endorsement and collaboration from Zooey Deschanel were pretty stinking spiffy.
A key component of successful celebrity endorsements is knowing your audience. Now, there's something to be said about an ironic celeb collaboration, but again, that content's effectiveness depends on your audience. So Cricut's decision to work with Deschanel was a well-informed and smart one. Because not only does Zooey Deschanel stars as the ultra-crafty Jess in "New Girl," but Deschanel happens to be quite the craft enthusiast in real life.
7. And Bud Light's celeb highlight we couldn't resist
At the end of the day, a Bud Light is just a Bud Light. You can't change it, dress it up or put lipstick on that ole pig. You know exactly what to expect when you're drinking a Bud Light, aka a BL Smoothie — cold and gold. Anything else would be absurd.
Bud Light manages its customers' expectations well. Case in point: Bud Light's use of Post Malone in the 2020 Superbowl ad for Bud Light Seltzer.
Everyone and their cousin is coming out with an alcoholic seltzer, so Bud Light needed a creative way to stand out in the crowd without alienating its current base and most loyal customers.
And, yes, having ample money in your marketing budget is a pretty beautiful thing, but, more importantly, the Bud Light marketing team enlisted assistance from customers for the final verdict — "the marketing team decided it couldn't decide which of two Bud Light Seltzer ads it should air during the actual game so it's letting fans vote between one featuring the rapper Post Malone in a convenience store and another of him in bar."


So how can you use this inspiration and take action? It's never a bad idea to brainstorm with your team and identify what it is you like about certain campaigns and then see how you can take those principles and apply them to your own brand's content. Ask what resonates with your audience and what would surprise them, who supports your product, and what you yourself would actually be interested in creating.
For more tips on creating effective content that resonates, take a peek at our free mini-ebook: Brand templating: How creating more effective content that gets results.