While other industries raced to embrace social media platforms to connect with customers and create loyal brand followings, healthcare social media marketing has been more tentative. Many hospitals and healthcare organizations cited concerns like HIPAA and professionalism as reasons not to be actively involved in digital marketing on social media channels.
However, social media healthcare marketing has come a long way in the last few years and is beginning to transform how we interact with and access health information online. Healthcare marketing teams have recognized the outsized role social media can play in driving conversations on topics like preventative care and public health measures.
Why social media healthcare marketing matters
From helping navigate healthcare crises to making patients feel more comfortable seeking care, healthcare organizations are beginning to use their social media presence to connect in meaningful ways. Here are just a few reasons healthcare social media marketing content matters.
Creating a sense of community
Communities aren't just physical spaces anymore. Healthcare organizations that invest in a robust healthcare social media marketing strategy can become trusted members of an online community by being present and interacting with patients.
Connecting with a new audience
Hospitals and clinics used to exclusively rely on word-of-mouth referrals or simply being the closest local provider to win over patients. Today's digital marketing and social media channels allow hospitals and clinics to reach new audiences and build a national brand.
Establishing trust in online spaces
One of the unspoken rules of the internet is if you don't answer the question, someone else will. As most providers know, Dr. Google is not a good substitute for medical expertise. Healthcare social media channels are fantastic avenues to answer patients' frequently asked health questions, provide professional advice, and correct health misinformation.
7 tips for effective healthcare social media marketing
Using social media channels to market your healthcare organization can be a tricky balancing act. Unlike businesses that can showcase products and strut their stuff openly, hospitals and clinics have to be wary about HIPAA concerns and medical ethics. However, that doesn't mean social media platforms can't be leveraged in the following ways to benefit both your organization and the public.
1. Focus on the patient experience
Going behind the scenes and highlighting the patient experience can be a profound way to connect to followers. It also offers the opportunity to indulge in a little healthcare social media marketing by showing off the expertise and services your organization provides. Take, for instance, this Facebook post from New York-Presbyterian Hospital that showcases the incredible neonatal care a patient received and how it helped her triumph over the odds.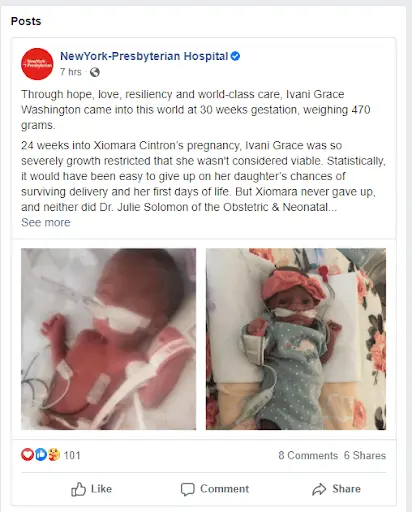 When you do a deep dive on a patient experience, be sure you have their express permission to share that content or to amplify social media posts. Shout-outs for other user-generated content like reviews also demonstrate you're engaging in social listening and can go a long way toward making patients feel seen and heard.
2. Combat misinformation
The proliferation of health misinformation on social media cannot be overstated. A 2021 study from the Journal of Medical Internet Research indicates as many as 87% of social media users are affected by health misinformation on the platforms they frequent. Reputable medical organizations can play a role in correcting and minimizing the harm misinformation causes.
Social media healthcare marketing creates space for trusted voices of medical providers to deliver reassurance and fact-based medical advice. For instance, the American Academy of Pediatrics has long been considered an authority in pediatric medicine, and its advocacy for vaccination is the cornerstone of a powerful and persuasive public health campaign.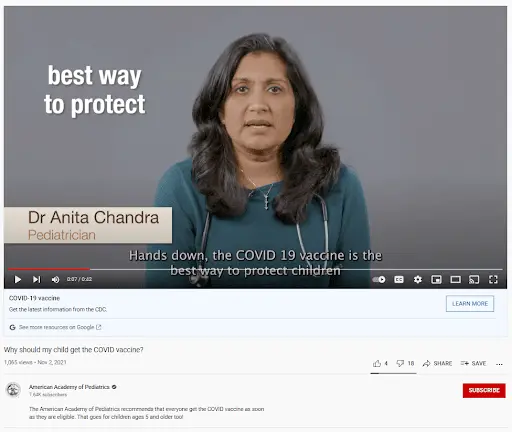 3. Educate the public
Alongside fighting the spread of misinformation, healthcare social media marketing content is an effective educational tool. Keeping up with research and helping the public understand its relevance to current practice goes a long way toward establishing your credibility on social media.
Organizations like Cedars-Sinai that have their own health information databases can use social media channels to not only distribute these articles but also drive engagement with the hospital's website and improve search engine rankings.
4. Shine a light on preventative care
Raising awareness is one of the crucial ways healthcare organizations have an outsized impact on social media. But it's also an effective means to market preventative services that can really make a difference in medical outcomes. Take, for instance, the World Health Organization's campaign to end cervical cancer by promoting screenings for 70% of women around the world.
Preventative care campaigns are also an excellent opportunity to create a partnership with another healthcare organization. Tackling the social media healthcare marketing campaign together can amplify the reach of your content and expand your audience.
5. Become a trusted source
As you invest in healthcare social media marketing, you'll want to pay special attention to becoming a source of trusted healthcare information and an authoritative voice in the industry. The best way to accomplish this is to look for ways to highlight the fantastic talent within your organization.
The Mayo Clinic is renowned for its social media prowess, and it's built a powerhouse brand because of it. The secret sauce to Mayo Clinic's success is to lean into its world-class doctors and cutting-edge researchers as the face of the organization. They are repeatedly put front and center in social media channels, allowing these trusted professionals to reach millions of followers.
6. Create a community of support
Social media platforms are online communities, and as such, they can be tools to create support for patients and their families. Even if your healthcare organization doesn't have the bandwidth to support patient communities as part of its healthcare social media marketing strategy, you can act as a catalyst to connect people to resources.
This approach is particularly helpful for hospitals and clinics that treat a large community of patients with chronic conditions and life-threatening diseases such as cancer. By giving patients the means to connect, you create a sense of community between your providers, patients, and the families you serve.
7. Destigmatize sensitive topics
Some healthcare topics can be a little sticky on social media, but allowing your providers to wade into those waters as trusted professionals can destigmatize important topics. And it serves your social media healthcare marketing strategy both by establishing trust and encouraging your followers to become more involved.
Doctors without Borders consistently exceeds fundraising goals, and it does so in part because the organization's social media presence has a commitment to advocacy and tackling stigmatized topics with fact-based health advice.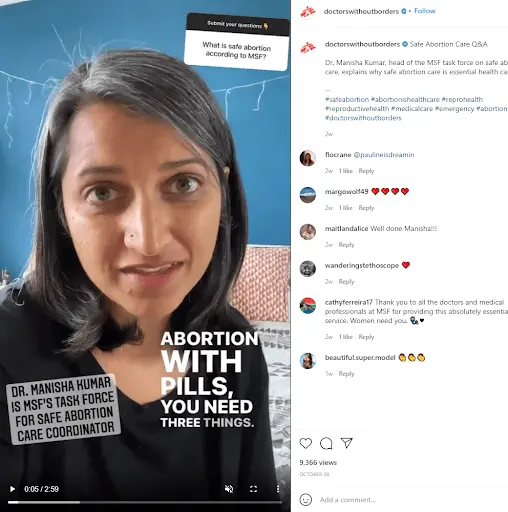 So while healthcare orgs can't fill their social media timelines with brand ambassador endorsements or swag giveaways, there is a real opportunity for hospitals and clinics to provide trusted, sound medical advice from licensed practitioners. This approach can create healthcare social media marketing content that cements your healthcare brand's reputation, reaches new patients, and expands your influence both online and within your local community.
Knock your healthcare social media marketing goals out of the park with our free ebook.