You already know that sales collateral can help your sales reps close leads much faster. They speed up the sales process by offering prospects the information they need to make a buying decision.
But, which types of sales collateral should you use? And most importantly, which ones convert best?
Let's find out—and let's go over the top three tips you need to know if you want to get the most out of your sales enablement content.
Here are some of the best types of sales collateral and how you should use them.
Blogs & ebooks
Let's say you want to make a brochure to promote your business. You google around for a tutorial, and you land on our blog, where we have a step-by-step tutorial to show how it's done.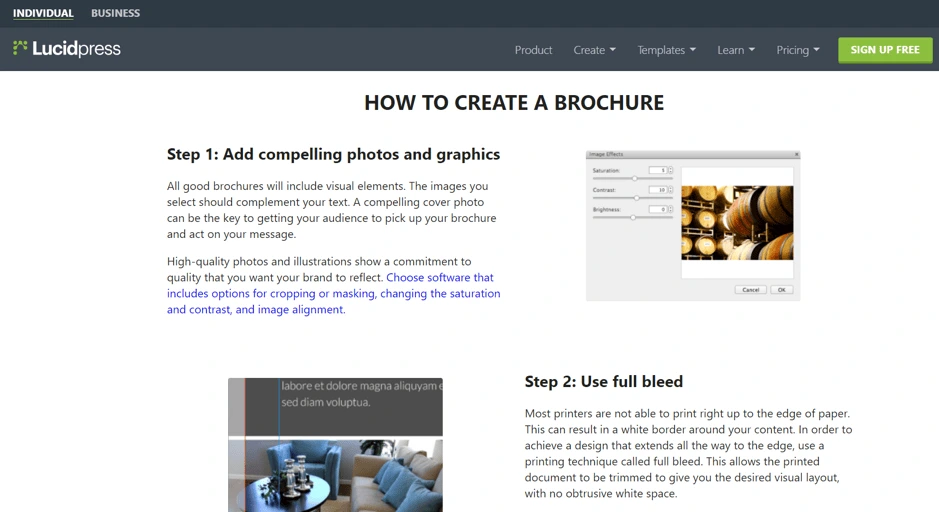 Next, you might sign up for a free account to use a template and quickly create your brochure.
Now, here's where the interesting part begins.
After a couple of days, you might hear from one of our sales reps. You'd already be aware and excited about our product because it helped you.
At this point, the job of the sales agent isn't to arouse your interest, it's to answer your questions. You've already completed the first part of the sales funnel before our team ever reached out to you—and as a result, you're that much closer to conversion.
The bottom line is this: A blog, article or ebook can short-circuit the sales process and fast-forward it directly to the closing part. It helps you close more sales faster.
Landing pages
Here's another example of sales collateral from our own brand. Our brand templating platform is well-suited for both individuals and large companies.
But, since our software serves different customers with different needs, we created two separate landing pages for them.
How does this help sales? Well, let's say a marketing manager visits the business page and sees that she can request a quote right away. Now, the job of our sales agent is much easier.
He knows:
why this person wants the product (for organizational use)
which features & benefits to present
He isn't bombarding the prospect with benefits and waiting to see what sticks. Instead, he knows exactly which of the buyer's buttons to push.
The point is this: A landing page helps you segment your audience, and it helps your sales agents talk about what interests the buyer, which makes their pitch much more persuasive.
Case studies & testimonials
Case studies are one of the most effective types of sales collateral because they rely on a powerful principle of persuasion: social proof. [

]
According to Dr. Robert Cialdini, this psychological & social phenomenon is driven by the assumption that people around us are more knowledgeable about a particular situation than we are.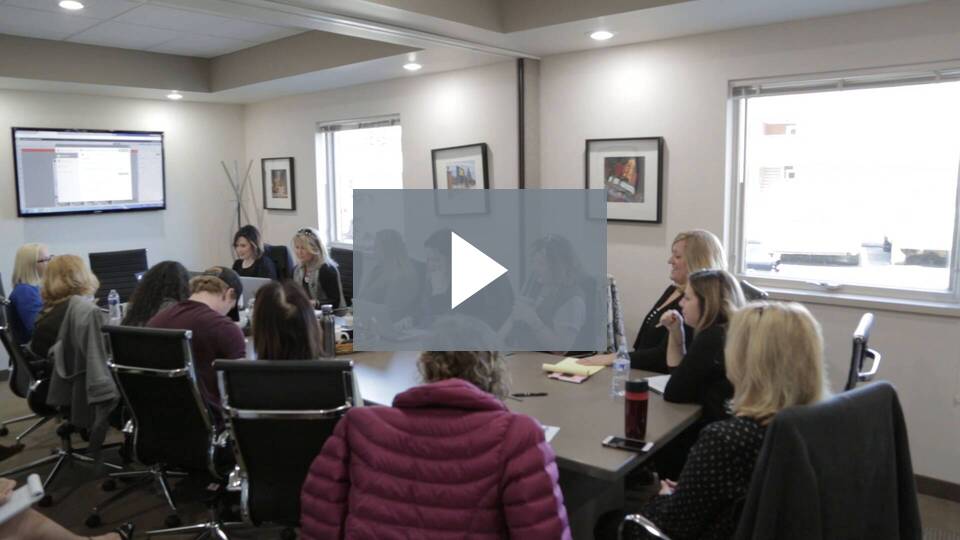 When a prospect reads a case study, it provides them with valuable information about the historical performance of your company. They're able to project their business or brand into the narrative and "try on" your company as a partner. If you could help a business like theirs achieve success, it stands to reason that you could help them, too.
The bottom line is this: A case study not only makes the prospect want your product more, it also resolves objections a person might have about your company's performance and trustworthiness.
Live sales presentations with product demos
Sales presentations are sometimes perceived as boring or annoying. Actually, they can be one of the most effective pieces of collateral—if your sales reps are properly trained.
For instance, what brochure, flyer or ebook could be more convincing than this? (Watch how sales come pouring in…)
The bottom line is this: When delivered properly, sales presentations can be one of the most compelling types of sales collateral out there. People buy from people, and live presentations are a great way to build that relationship.
Explainer videos
The biggest disadvantage of a live sales presentation is that you cannot scale it. For instance, you can't demo a product in front of a million people at once, right?
Actually, the internet can help you do that. For instance, if we bring one million people to our website, they can see in a matter of seconds how our product can help them.
Source: Lucidpress.com
As you can see, it doesn't have to be a super complicated video production. And you don't have the logistics of a live sales presentation—where you have to reserve a room, take care of your guests, make sure you have the proper equipment, and so on.
The bottom line is this: An explainer video helps your prospect have an a-ha moment that brings him closer to the buying decision. It's a scalable way to create interest & desire with your clients before a salesperson steps in.
Brochures & flyers
What do you do when a sales agent offers you a flyer or a brochure? You probably thank them politely and throw it away around the corner, right?
Well, it doesn't have to go that way. Not if it's clear that your brochure will provide value to the reader.
Here are a few tips to make brochures & flyers some of your most effective sales collateral:
Put the benefits front & center—don't just talk about your company; tell prospects how their life will be better with you.
Create a compelling offer (like a discount or a free sample) that's exclusive to your print materials.
Take advantage of great design—a vibrant, colorful brochure with neatly organized sections looks far more professional than a quick job done in Microsoft Word.
Sales scripts
There are basically two ways to learn anything:
The slow, risky way: You can try every idea and fail until you eventually find the formula for success.
The fast, sure way: You can skip all that and do what's already proven to work.
Instead of letting your sales reps waste time & money to learn what works and what doesn't, why don't you provide them with sales scripts that already work?
All you have to do is take aside your top sales agents and ask them how they do it.
The bottom line is this: Sales scripts are one of those growth hacks that can bring you 80% of the results with 20% of the effort. Plus, it costs next to nothing to implement.
Other useful sales collateral types
Sales collateral includes any materials that help reps close deals faster by offering prospects the information they need to make a buying decision.
The format can be just about anything. Above, we discussed some of the most efficient types both on and offline.
Here are some other types of sales collateral that can be handy for your sales agents:
FAQ sheets
Buyer's guides
Newsletters
Email templates
Technical data sheets
Slide presentations
Objection-handling sheet for prospecting calls
Sales collateral tips & tricks
Stay consistent with your branding
If you're a beer drinker, you can probably guess which product is being advertised below, right?
It's Carlsberg, and that is a banner they used at the Euro 2006 Football Cup in France. They couldn't use their brand name due to a French law that forbids advertising alcohol or cigarettes at sporting events (even though they were a sponsor).
But because they kept their branding consistent throughout the years, they had the confidence to leave off their logo (a move few brands could pull off), and people still recognized the brand.
No matter what type of sales collateral you use, make sure you convey:
the same value proposition
the same benefits
the same tone of voice
the same keywords
the same fonts
the same colors
the same brand personality
This will help you build a strong brand over time that inspires loyalty and trust in your customers—and recognition and credibility with your prospects.
Collaborate with other departments
Different departments have different insight that could help prospects make buying decisions quicker.
For instance, digital marketers could look into their analytics and find out that certain features of your product are used more often than others.
Sales reps, on the other hand, have direct objections from the field.
If your departments communicate with each other, you can get maximum results out of your sales collateral.
Make sure your sales collateral stays up-to-date
At some point, you'll probably have to make changes to your sales materials. Maybe you'll go through a rebranding. Or maybe you just want to refine your value proposition.
No matter the changes, you must make sure that everybody stays on the same page. Otherwise, you might confuse your prospects.
There are two ways to avoid this.
The hard way: You track all the edits you've made to your sales collateral in a document you share with all team members. Of course, this is time-consuming, and you can easily make mistakes.
The easy way: Use a brand templating platform to make updates much easier, and you can be 100% sure there are no errors because your changes will sync with everyone else.
For instance, with Lucidpress:
Your team has access to all brand assets in one place.
You can lock down branded elements in your templates that should never be changed.
You can collaborate in real time to make sure your brand stays consistent throughout every channel.
Before creating your next sales collateral…
No matter what type of sales collateral you create, you should answer the following questions:
How does this material help the prospect?
How does this material fit into the buying journey of my clients?
What are the top 3 to 5 benefits that matter most to my clients?
If you can answer these questions, you're on the right track to create compelling sales collateral that streamlines the process and helps your team close more deals.