Social media typically ranks among the top three sources of website referrals for most brands. And it's affordable. Regardless of whether you have a budget of $0, $1,000 or $100,000, you can achieve your social media marketing goals with smart content and targeting.
The beauty of social media marketing is its umbrella of benefits. Its ROI isn't restricted to the website conversions you see from social media referrals. It extends beyond that to include expanded brand awareness, mindshare, and the delayed effect of your social media campaigns on future purchase decisions. To create campaigns that deliver those benefits, you need to consider certain critical elements.
Things to consider before your next social media campaign.
1. Goals and outcomes
What does your brand want to achieve with social media? Defining this is necessary to set a sufficient budget, choose the right social media platforms, and create the right content.
Most businesses will track several different metrics from the table below to measure the success of their social media marketing strategy. While awareness and engagement metrics may be seen as "vanity metrics", they can be a great way to gauge whether your content is resonating and will help drive conversions long-term.
Once you have your goals, it's important to focus on discovering what your customers' goals are, so you can "figure out how your social media strategy connects both," as Lee Odden, CEO of TopRank recommends. If you want people to pay attention to your content, the narrative should focus on them and not you—what value can you add to their lives? Which of their problems can you solve? To create such a narrative, you need clarity on your goals and your customers.
For instance, consider stem cell corporation LifeCell. Their goal was brand awareness among expectant mothers whose primary goal would be the safety and happiness of their children. So, they created posts that focused on the precious moments mothers share with their infants, like this one.
Target audience: Who is the ideal audience for this campaign? Most social media platforms provide options to filter your audience. Not all campaigns are designed to speak to your current customers—in fact, a good social media campaign should grow your audience and attract new followers. Think about the demographics and interests of your ideal audience, and target them accordingly.
Message: What is the main idea you're trying to communicate with this campaign? Make sure your message is clear and focused. After all, attention spans are short on social media, so you've only got a few seconds to get your point across. Also, a word to the wise: Keep track of trending topics before delivering your message. A post that seemed like a great idea yesterday could be misinterpreted based on the news today.
2. Platforms and social networks
It's never a good idea to spread yourself too thin by managing too many social media platforms. Especially if you're a small business with limited budget and capacity, you're better off choosing one primary social platform, so you can publish tailored content and fully participate in the responses you receive.
Facebook is a safe bet for most brands, since it's become so ubiquitous. But for certain industries, such as fashion or food, image-sharing platforms like Instagram might provide a better rate of return.
Similarly, LinkedIn often works very well for B2B brands because it's geared towards professionals. Research and choose a couple social media platforms that will best benefit your brand before starting a campaign.
To identify the best social media platform for your brand, you could simply survey your customer base or analyze your competitor's social media presence. Choose the platform where most of your customers are active and where your competitors are receiving the best response. Alternatively, you could cross-post your social content to effortlessly create a multi-platform presence. Doing this manually is time-consuming, but an automation tool can simplify the process.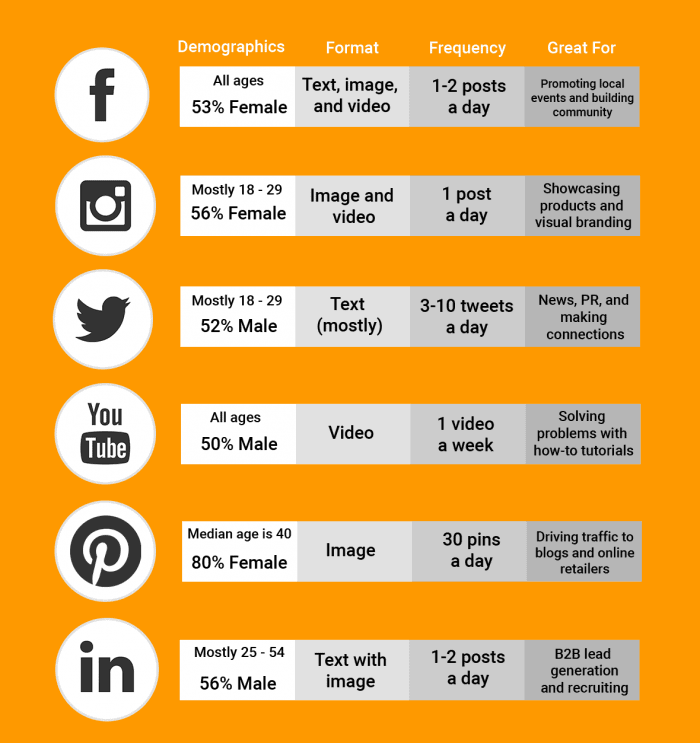 Source: Reaction.ca
3. Campaign timelines
Every social media campaign needs a definite timeline: a start date, an end date, and a publishing schedule. Without this, you won't be able to connect your campaign to definitive results. Also, a timeline adds urgency and scarcity to whatever you offer during the campaign.
When creating a social media timeline, think about working in stages. Each stage can have its own content direction and outcomes. All of your plans can be documented on a campaign calendar. You can be more efficient by scheduling posts in advance, so you can review your content on a queued-up calendar and make any last-minute changes when needed.
4. Social media automation tools
Like a brand, running a consistent campaign is no joke. If you have time-sensitive plans, think about using a third-party tool for your publishing. There could be other features that matter to you, so it's important to conduct some research before you decide to invest.
One example is DrumUp, a "set it and forget it" tool that can help with social media campaign management. If you decide to it, you can bulk-upload your social media posts from spreadsheets to libraries within the tool. Then, you can either custom-schedule your posts or queue up an automatic posting schedule. You can review upcoming posts in a calendar format and edit them any time before they're published. Visit this post for a full list of social media automation tools.
5. Graphic design
Next, it's time to create the actual content. For a coordinated campaign, you probably want to keep in mind the big picture when creating individual posts. You could begin by clarifying your core message. Once you have, you can create a "bucket of ideas" to work with for individual posts.
Keep in mind your ideal customer's journey—how they move from awareness to conversion. You can then decide which format to create your posts in. Visuals work wonders when it comes to social media, where attention is sparse and distraction is plenty. If you aren't sure what type of content you want to use, you could simply ask your audience, like IBM did.
Worried about what your content will look like on different platforms? Use social media templates to make sure your graphics are on-point. Lucidpress has a whole gallery of social media templates sized to perfectly fit the platform of your choice, from Facebook and Twitter to Pinterest and Instagram. Upload your images and brand assets to your library, then edit the content with your brand colors and fonts. Creating social media graphics in Lucidpress is quick and easy, so you can have a full campaign designed in minutes.
Read more about designing social media graphics in Lucidpress here.
6. KPIs & tracking
Unless you continuously track the response to your content, you won't have any points of reference to refine your social media marketing strategy. As people interact with your content, you can extract useful data based on their engagement. This data can prove useful in instances that aren't related to social media marketing, such as product development and marketing on other channels.
Additionally, set KPIs alongside your goals, so you can measure your progress and assess the effectiveness of your efforts. Most social media platforms offer deep analytics, and there are third-party tools you can use to mine data. One of the tools I find useful is SimplyMeasured, because it offers several insights (in report format) for free. If you can't log in to the tool on a regular basis, you could instruct the tool to send automated reports via email.
7. Social media management responsibility
Whether you're a small brand with limited resources or a big brand with a large team, it pays to plan responsibilities in advance. Who will manage your social media campaign? Who will create the content, track the response, and interact with followers?
Some companies misjudge the amount of work involved in social media management. Content creation, community management, and analytics are demanding tasks that need people who can hustle, people who can stay on-point throughout the duration of the campaign. If you intend to outsource the work to an agency, you still need to track its progress. I recommend using Trello or Asana, so you can manage the review and approval process without having to waste time on calls and meetings.
8. Post schedule and cadence
The timing of your post matters a lot. It's one of the most important factors in a particular post's potential for engagement. To reach the highest number of people, content must be shared strategically to catch them while they're online.
The peak times for various social media platforms are different. Conduct research to figure out the best times to post. There are tools like Facebook Insights and Followerwonk that can help you determine the right times to post.
9. Recycled content
You've likely noticed this: many popular pages will share the same content multiple times, continuing to earn engagement each time. Most followers will engage with the content without ever knowing that it was reposted.
It's almost a given that your post will not reach your entire audience, so it's not a bad idea to share the same content multiple times. However, do take time to review and make adjustments to the headline, description and image before sharing the content again.
10. Headlines and copy
People will read your headline before they decide whether to read the rest of your content. Your headline must be compelling enough to grab readers' attention. It should contain a promise of value, information, or entertainment. Don't forget, you're competing with hundreds of posts from a variety of sources, so you've got to offer something exceptional.
Give yourself a leg up by testing your headlines. Don't limit yourself to just one; instead, create multiple headlines and conduct A/B testing to see which one performs best. Then implement the winner across your campaign to boost your performance.
Not sure where to begin? Tools like Buzzsumo can help you research and discover high-performing social media posts.
11. Paid promotion
A little bit of advertising can go a long way. Most of the social media networks have a walled garden of advertising opportunities (as in they offer paid ad opportunities specific to that platform), which is great for anyone starting out with paid promotion. The key to ensuring a successful paid promotion initiative (and to refrain from wasting your budget) is to target specific audiences on specific platforms. So, place business ads for professionals on LinkedIn, or toss-up some self-serve ads on Instagram for Millennials. To dive a little deeper, we recommend checking out comprehensive article on social media advertising.
Ideas on developing your social media strategy
Want to kick butt and go viral on social media? Well you'll need to establish a strategy. Here's our recommendations as to how you can get started.
Research your competitors
Know thy enemy. Or something like it. Listen, you need to know who you're up against (and why) — including what they're doing well and what they're totally dropping the ball on. So do some research. Create a shortlist, replete with similarities and differences. From there you'll be able to plan how, where, when and why you'll overthrow said competitor. Or you could just challenge them to a dance-off and see who wins.
Identify your content topics
Tempting as it might be to throw caution to the wind and just post whatever content comes to mind, we'd venture to say that you shouldn't. Identifying content topics well ahead of time (and thus creating a content schedule) empowers you to use your time effectively and change gears should you discover that something's not as effective as you'd like it to be. Plus, identifying content topics preemptively means you can bring more friends into the fold and ask for their assistance with visuals, copy and more. After all, no one likes being told "Hey I need your help but I'm not sure with what."
Establish a visual identity and voice

Tragic as this might sound, recognition by association is what differentiates winners from losers. In other words, you want people to know who you are as it creates a winning environment. Therefore, by establishing a visual identity and voice, you create a foundation for recognition and success.
If you've been following Nest, you know they're not your average home electronics company. Just check out the cool gadgets they make, and you'll know what we mean, like: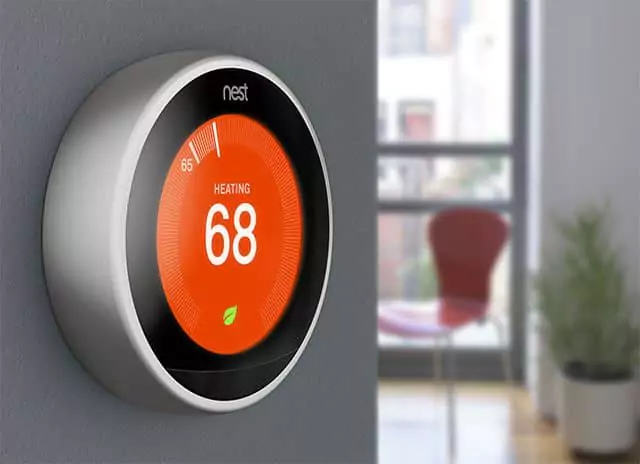 Nest Learning Thermostat
Or this: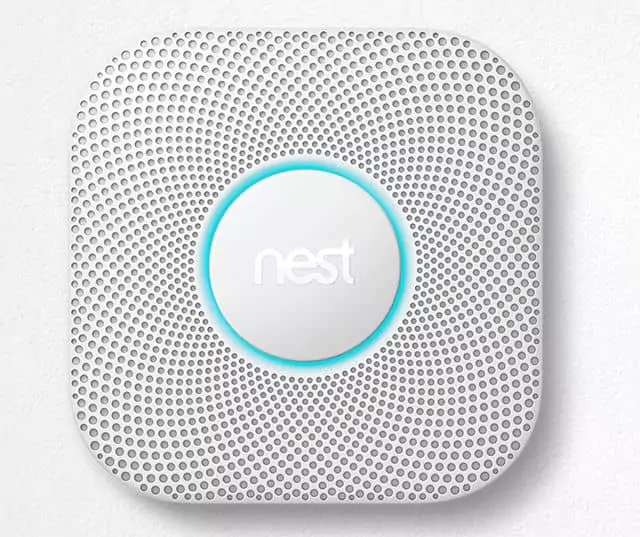 Nest Protect, a smoke & CO detector
But not only is Nest changing the home automation game, they're also aces at marketing.
Recently, we had the chance to speak with the social media director at Nest to get the inside scoop on what makes for a successful social media marketing strategy.
Build a community
The first thing we learned is that Nest prioritizes community building. They do this by putting out a steady stream of social content that provides value for their customers. They're also quick to retweet their customers' content or respond to a comment by a customer who's experiencing a problem.
Instead of thinking about what your business can gain from social media, think about what you can give. You could use social media to post helpful tips and friendly advice for your customers. This helps them get the most out of your product, and it builds the value of your brand. Here's an example of this kind of post from Nest:
The more your approach to social media feels like a natural interaction between friends, the more success you're likely to have. You want to build a community where customers share things they love with you, and you share things you love with your customers.
For example, Nest's customers often mention them in tweets talking about how much they love using Nest's products. Here's one such tweet:
Happy customers give you free marketing and become your greatest assets.
Likewise, Nest is quick to share things they're excited about, like this post that showcases a work of art a Nest user made to enhance their wall-mounted Nest thermostat:
A marketer's dream: customers seeing your product as a work of art.
This is the zone where you want to be with your social media efforts. But how can you get there? You need to start by becoming familiar with your customers. This leads us to the next lesson from Nest, which is…
Use customer insights to inform your social media strategy
This is a simple principle, but that doesn't mean it comes easily. To be personal and relatable to its customers, Nest needs to know them really well, and they've clearly invested the time to do so. You can't help someone see how your product will contribute to the things they care most about without knowing what those things are.
Your customers and community should be the main consideration in your social efforts.
Nest has mastered the strategy of observing how their community is interacting and engaging with their social channels, then producing content that speaks to those interests.
What does this look like in action? One of Nest's principal products is a smoke & carbon monoxide detector called Nest Protect. They recognize that their customers care about safety, and in response to that, they promoted a campaign to nominate local fire departments for a grant.
If you're a local brand, consider looking for community causes you can get behind, then supporting them in a social campaign. It's a great thing to do for your community, and it can help you gain some social media traction as well. Just make sure you're sincere in whatever you do.
Additionally, all of Nest's branding and content have a personal feel that gets to the core of what a good connection between the customer and company looks like. One of my favorite things that Nest does on social media is the Caught on Nest Cam video series, which consists of clips of funny or interesting moments captured by Nest Cams in the homes of actual customers. Here's a good one:
With this social media effort and many others on Nest's pages, they are using a technique perhaps best exemplified by one of my all-time favorite marketers: Apple. Though Apple is a huge company, they've managed to maintain a personal feel in their branding, and they often focus on the human element of their products.
Apple's marketing shows their products integrating seamlessly into everyday life and enhancing the things that people care most about. Nest does the same thing by showing their products in people's homes and providing the safety, peace of mind, and convenience that their customers crave. A recent ad by Nest did a great job of capturing the human element. It depicts a house as a speaking character talking about his experiences with the family.
Your business can do this, too. Think about the basic ideas behind why you started your business. What value does it add? How does it make people's lives better? If you can answer these questions, then it's just a matter of telling people about it.
If you own a sandwich shop and you think your food tastes the best and will make people happy, then post a photo of happy people eating at your shop, or your food bringing people together at a party. When you focus on your customers, your ideal strategy will become clear.
Customize the content for the platform
It's not an easy task to customize your content for each social media platform, but if you're serious about social media success, it's a necessary investment. You should optimize the headlines, images, descriptions, and even your tone of voice to match the platform you're posting on.
The same content that performs well on Facebook isn't guaranteed to perform well on other networks. For instance, Twitter has a character limit. Instagram only supports certain image sizes. The tone you would use on LinkedIn is likely quite different from the one you'd use on Snapchat.
This is another good reason to limit how many social media platforms you choose. By focusing on the most important ones for your audience, you'll have more time to craft content that feels native and authentic to the platform.
Embrace the visual
A recent study showed that visual content is 40% more likely to be shared than plain text content. And as you know, more shares lead to better reach and higher engagement.
Try to create attractive, eye-catching images not just for your brand's profile but also for every single post. Try experimenting with different types of visual content such as infographics, memes, and so on.
In the case of image-sharing social media platforms such as Pinterest, Instagram and Snapchat, posts with poor visuals have no hope of attracting attention or engagement.
Ask questions
A great way to engage your followers is to ask questions relevant to them. Everyone wants to share their opinion, and the comment section is a good place for you to connect and interact with your fans. It helps your brand feel more human and build more personal connections.
There are plenty of creative ways to ask questions to your followers. Create a poll, a quiz, a would-you-rather, or a trivia question to stimulate conversation. Make sure someone is watching the discussion to keep it focused and productive—and to remove inappropriate comments if necessary.
Reach out to influencers
According to this study, an average return on investment for an influencer marketing campaign is $6.50 for every dollar spent. This speaks to the power of influencers and influencer marketing.
There are hundreds of influencers on social media platforms today, and each of them has curated a unique audience. Contrary to popular belief, you don't have to find influencers with millions of followers to be effective. You'll probably find that the best results come from partnering with influencers who share an audience similar to your own, so dig into your niche and make a shortlist.
Wrapping up
Finally, it's important to consider roadblocks in advance. Social media is a constantly changing landscape, so be prepared to forecast and preempt potential disasters. Check whether the dates you've selected clash with any meaningful holidays, and consider whether your content has the potential to bump into sensitive issues. By considering this in advance, you can set yourself up for success.