Twitter began in 2006 as an online message board that was updated via text message. Since then, it's grown into one of the largest social networks, boasting more than 300 million users who combine to produce 500 million tweets daily.
Marketers have been slow to catch on to Twitter, though. Recent reports estimate that only 65% of businesses use the platform for advertising, which gives you plenty of time to get ahead before the rest of the competition arrives and sets up shop.
In case you need more convincing, these 11 benefits of using Twitter for marketing can help you cross the divide.
1. Direct messaging creates genuine connections
Like its main competitors, Twitter has a direct messaging feature for private conversations between two users. However, the main difference is that the two accounts must mutually follow each other (unless one user has their inbox set to "open") before they can contact one another.
This might seem like a hurdle for marketers who want to connect with influencers or other important industry players, but reserving direct messaging for mutuals ensures your conversations are worthwhile, engaging, personalized and authentic.
2. Tags encourage engagements
The @ symbol on Twitter goes a long way. It's the key to sending other users a notification that almost guarantees your tweet, or the tweet you wanted the @ recipient to see, gets viewed. Also, it's easy attribution for a quote or an article you share on the platform.
Twitter has branched into content discovery, so users now see occasional tweets from people they might not even follow. This is more likely if multiple users in a network like a tweet. The algorithm then guesses you might also want to see content similar to what's already in your network. With this feature, your tweets with engagement can end up in front of new eyes, thus increasing reach and engagement.
3. Posting multiple times per day is expected, not annoying
According to data averaged from multiple studies, Twitter is the only social network where marketers are recommended to post up to 15 times per day. Unlike its main competitors, Facebook and Instagram, Twitter is still heavily chronological. Tweets have such a short lifespan in the ongoing feed of posts that regular updates are necessary to stay relevant.
Marketers should take this opportunity to integrate a varied mix of content that entertains and educates their Twitter following and keeps them engaged. The platform allows text, images, video, live video and polls that can all encourage conversation in different ways.
4. Twitter best showcases your brand voice
With a more robust posting schedule, Twitter is a network where a brand can develop its voice and public personality. Depending on the industry, tweets can have an authoritative voice or even a sassy tone.
Fast food companies have revolutionized branding with Twitter in an especially notable (and comedic) way, from the rap battle between Wendy's and Wingstop to the clapbacks from Taco Bell. Even forgotten brands like MoonPie have been resurrected via Twitter; now MoonPie has a strong following of 279,000 that look forward to its self-deprecating humor on a daily basis.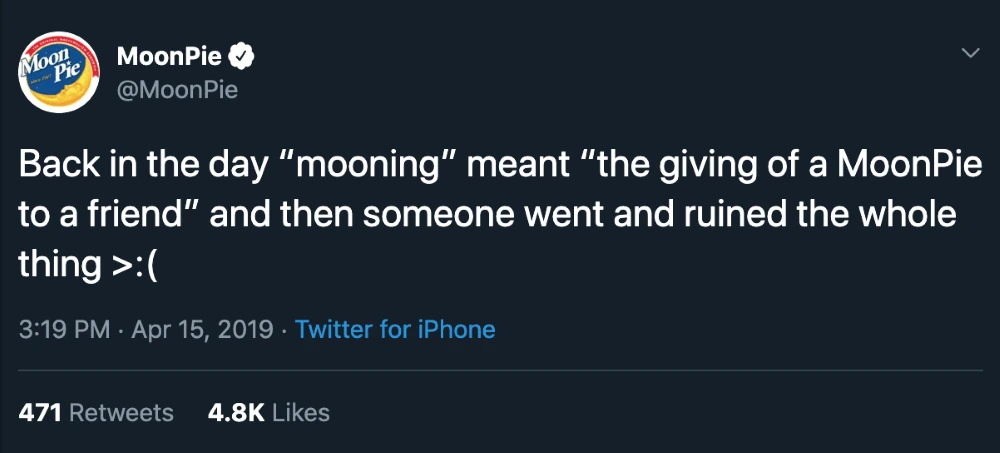 Source: Twitter
Your consistent brand voice is also archived for prospective customers who are using Twitter to research how you interact with your followers. Twitter's open format leaves nothing to the imagination, and some have experienced the fallout when old, problematic tweets resurface at inopportune times.
5. TweetDeck lets your monitor Twitter for free
If you have a Twitter account, you also have access to TweetDeck. It's a free tool that specializes in monitoring. Simply identify accounts, keywords or hashtags you want to follow, and watch as TweetDeck creates individual feeds for your selected parameters. This is an effective way to stay in the conversation, because you don't have to use the main Twitter platform to search keywords one by one and possibly miss an important tweet.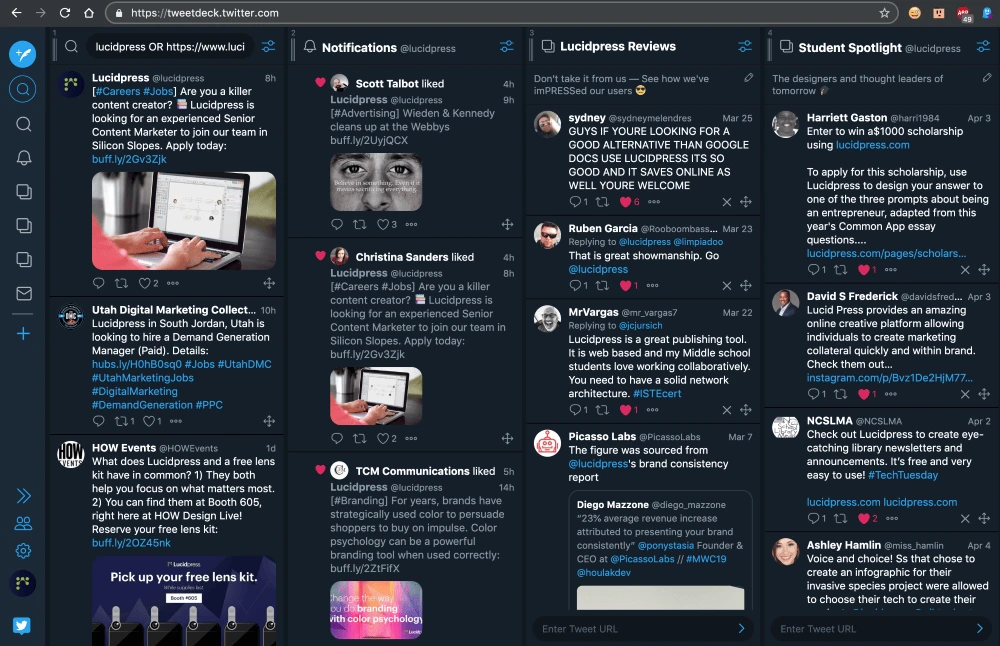 The Lucidpress TweetDeck
TweetDeck lets you watch your competitors' activity and community all at once, which makes it an impactful tool for poaching customers. For example, if you see a user complain about a competing brand because you're tracking their name as a keyword, you can reply and recommend your brand as a viable solution that addresses their pain points.
Keyword monitoring also keeps marketers in-tune with discussions about relevant industries, so future strategy can address industry topics. Rihanna's company, Fenty Beauty, is popular for its vast array of makeup shades designed for all skin tones. By identifying a pain point—makeup is non-inclusive to people with darker skin tones—the company addressed it with real action and enjoys success because of it.
6. Influencers can boost your campaigns
In 2019, there's no doubting the power of the influencer, a modern-day social media celebrity. Marketers have found that influencer campaigns yield an average return of around $7.65 for every $1 spent. However, Instagram is oversaturated with individuals pushing products, which makes influencer campaigns that much fresher on other social networking sites.
Twitter, in particular, has massive potential for marketers. That's because there's a 2x increase in purchase intent when consumers see tweets from both brands and influencers. Also, 49% of Twitter users responded that they rely on recommendations from influencers, and 40% have made a purchase solely based on a tweet from an influencer. The numbers don't lie, and they show an opportunity marketers can't find in many other places.
7. Your profile will drive traffic to your site
Social media profiles are the new homepage. [

] As mentioned earlier, Twitter is the place to develop and showcase a brand voice, so users will often visit a brand's Twitter profile to get a better feel for the brand. About half the time, that visit will inspire further research, namely due to the fact that 47% of the people who visit a Twitter profile also visit the website linked to that profile.
Marketers should keep in mind that brand voice should be consistent and seamless across channels, so a playful Twitter account shouldn't lead to a landing page with overly serious language. Otherwise, consumers will end up confused and leave the page without converting.
8. Follower insights help you develop your follower persona
Twitter users are given native analytics within the platform, and they're some of the best across social media sites. In particular, the Audiences tab helps marketers paint a picture of their average follower.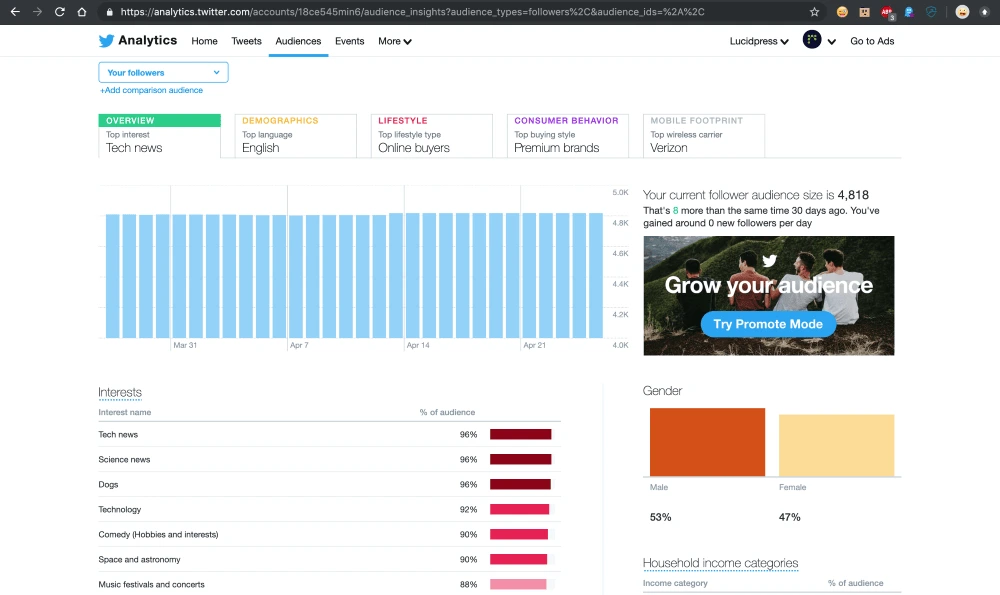 The Lucidpress Audiences tab
Audiences has four categories: Demographics, Lifestyle, Consumer Behavior and Mobile Footprint. The data delivers insight into your followers and their interests—as well as how they interact with brands, which is helpful to know before launching a campaign. With your follower persona in mind, you can aim directly for Twitter users who match the kind of people following you already.
9. Advertising spend is low & effective
Advertising on Twitter costs as little as one dollar per day, but its real strength is optimization. Twitter Ads guides marketers of all experience levels through the campaign creation process by suggesting parameters to maximize impact. Then, if the setting is selected, the platform will pace spending based on results to ensure marketers aren't spending unnecessarily.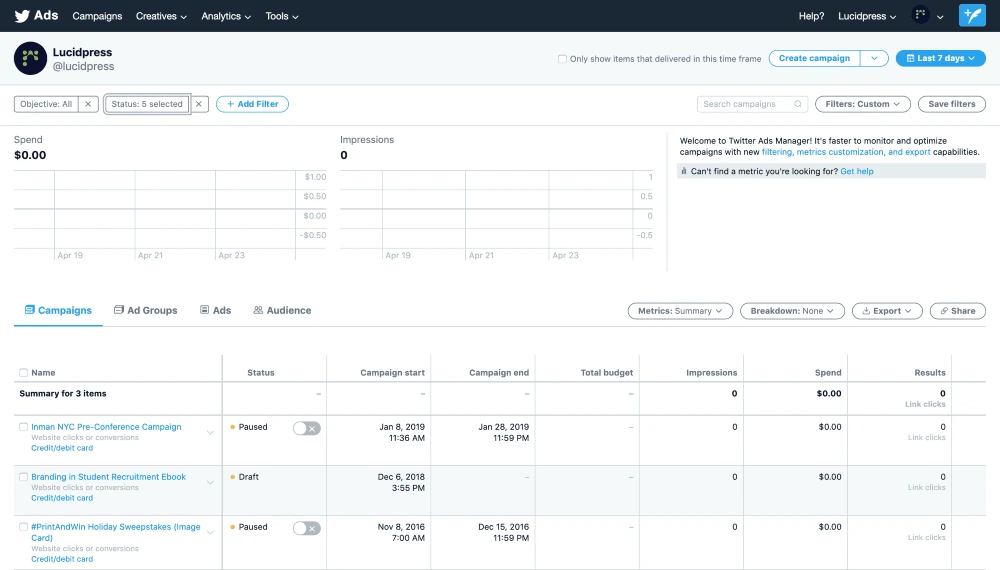 A heavily filtered version of Lucidpress Twitter ads (can't give away all our secrets!)
As you gain experience, you can also experiment with A/B testing, using different campaign types or applying other settings. It's customizable and incredibly user-friendly. The best part? Independent research shows that Twitter marketing campaigns can deliver 40% higher return on investment when compared to other media channels.
10. Community management is possible with branded hashtags
Hashtags are still the king of social media discovery tools, especially when marketers use branded hashtags. Created by brands to give consumers a way to share their experiences on social channels, branded hashtags comprise 70% of the total hashtag landscape.
Marketers can use these niche spaces to easily follow their brand communities online. Whether it's to participate in a Twitter conversation or to find user-generated content for future tweets, there's tremendous potential.
11. Anyone can go viral
One of the best parts of Twitter is its capability to spread a message like wildfire. Anyone who uses the platform regularly sees multiple tweets per day reach viral status because they're funny, relatable or newsworthy. Those tweets can come from anyone, no matter how few followers they might have.
Brands can similarly go viral with a tweet, which immediately increases reach, traffic and conversions. All it takes is a well-timed post that resonates. The sky—or, should we say, the 280-character count—is the limit.
What are you waiting for?
Follow @lucidpress on Twitter today! Just kidding. ...Mostly. Okay, here's what we were actually going to say.
Twitter is a unique marketing channel with huge opportunities for brands looking for a new way to reach prospective customers. It's not yet full of business accounts, and it has maintained the authenticity that's lacking on other social media sites—which has resulted in a dedicated user base that's tired of Instagram's careful curation and Facebook's fake news.
Marketers always need to have new tricks up their sleeve to adapt to the ever-changing landscape of digital advertising. They should not overlook Twitter if they want to make an impact. It's perhaps one of the purest platforms left, and the possibilities are wide-open to incoming brands.