So. It's almost October 31st, and you don't have a Halloween costume idea yet. The situation is even more dire if you're facing a company costume contest. Your competitive side yearns to get decked out as a steampunk zombie Stormtrooper, but do you really have time for all that? Better just watch Hocus Pocus for the umpteenth time and let Glen from sales get all the glory...
Or not! In the immortal words of Edna Mode, pull yourself together. Here are 10 of our best last-minute group costume ideas. All of them are appropriate for work, and most can be adjusted if you're dressing up solo. Plus, if you're a business owner, celebrating holidays can go hand-in-hand with seasonal marketing goals like increasing your presence in the community. Let's get spooky!
1. Quoth the raven, "Nevermore"
Why not dress up as a group of literary characters? Here we have Edgar Allen Poe, the Raven and Annabel Lee. But don't forget about characters from The Legend of Sleepy Hollow, The Scarlet Letter, Strange Case of Dr. Jekyll and Mr. Hyde, The Shining, Rip Van Winkle, and more. The more recognizable the story, the better. If you've got a large group, try dressing up the extras as townspeople or peripheral characters.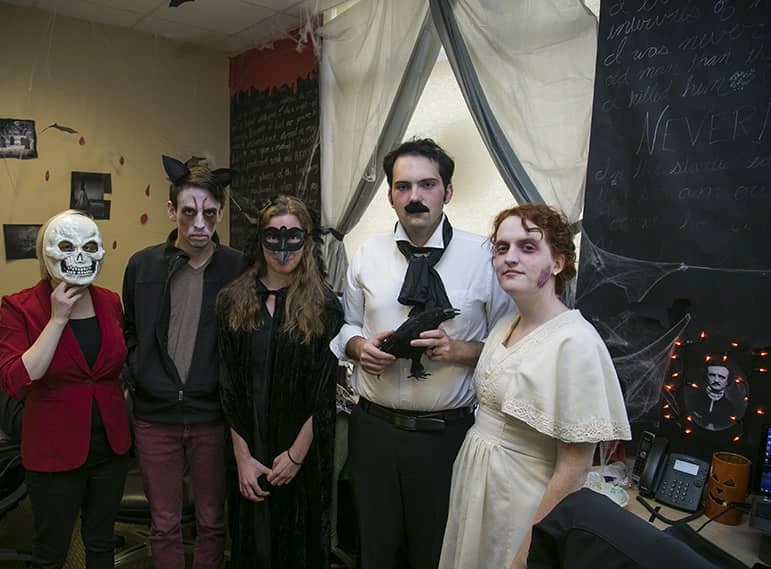 2. Zombies anonymous
The zombie craze started several years ago, so dressing up as a zombie may feel played out. That's why you should be a reformed zombie. Slap on some zombie makeup, but keep your clothes business casual, and don't forget a name tag on your shirt. Bonus points if your group switches their seating arrangement to a circle of folding chairs.
Photo credit: Steve Spezz
3. Pun for cover
No one will be safe from your cunning punnery. You can put a twist on popular songs, as Demi Lovato did with "Trap Queen" by rapper Fetty Wap. Or come up with creative takes on common phrases. For example, this year I'm dressing up as a fox and carrying around a Coldstone Creamery cup (get it?). My husband will wear a baggy shirt tucked into high-waisted jeans and carry a fryer basket from the local thrift shop. That's right—he's Friar Tuck. I can hear the groans already!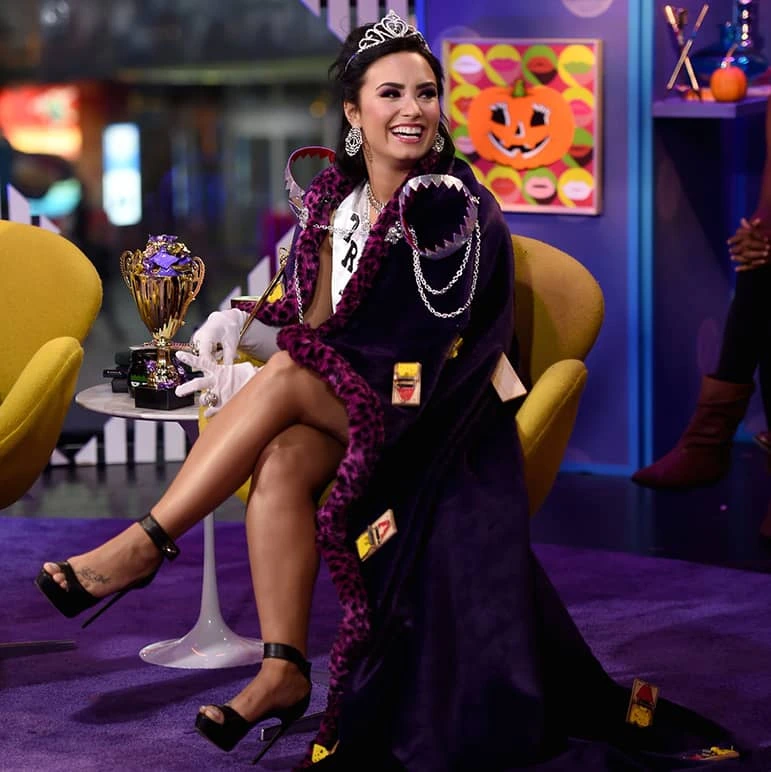 Photo credit: Dimitrios Kambouris/MTV
4. Famous ghosts
What could be easier than a ghost costume? To add some flair to this idea, have each member of your group go as a famous ghost. There's Nearly Headless Nick, Casper, The Ghost of Christmas Past, and even Slimer from Ghostbusters. Just take your pick!
Photo credit: greyloch
5. Video vixens & villains
Get inspired by music videos like Taylor Swift's "Bad Blood." Your girl gang just needs to dress in black, add some metallic flourishes, (what else is duct tape for if not last-minute costumes?), and stomp through the office like aspiring models. You can also dress up like rock stars (The Misfits, New York Dolls), boyband members (Backstreet Boys, One Direction), riot grrrls (Bikini Kill, Sleater-Kinney)... the possibilities are endless.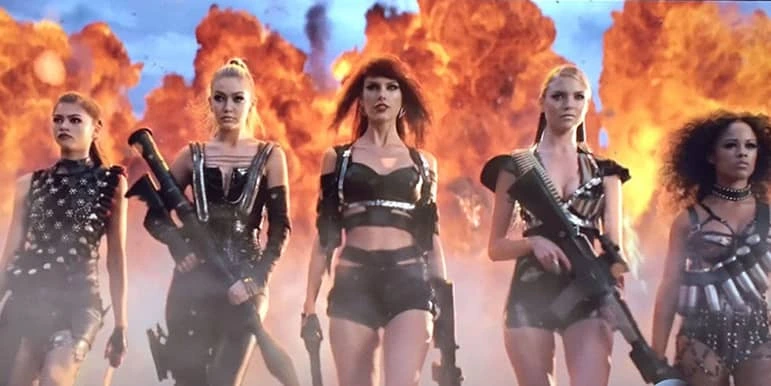 Photo credit: YouTube
6. The creative force awakens
Stay ahead of the curve by dressing up as characters from popular movies like Star Wars: The Force Awakens. The teaser trailers usually have plenty of material to work with. Other easy-to-riff movies & TV shows include The Royal Tenenbaums, Empire, Scooby Doo, Office Space, Star Trek, The Addams Family, and a whole lot more. Again, the more recognizable the source material, the easier it will be to scare up a costume.
7. Fly international
Here's a super easy idea. Dress up each member of your group as a different country, region or continent. France can don a beret and carry a baguette, while Canada can hold a cup of Tim Horton's and talk incessantly about hockey. Just remember: cultural appreciation is awesome, while appropriation is not.
Photo credit: DaPuglet
8. The inside joke
This one is more of a prompt, but we believe in your ability to give it life. Just think of an office-wide joke and turn it into a costume. For example, we're a web-based software company, so we have lots of inside jokes about hardware and software. Perhaps this year, an enterprising trio will dress up as a slow-moving, spammy-looking Internet Explorer, a preppy Safari, and a Chrome that seems normal but rifles through your desk for personal information as soon as your back is turned. (We still love you, Chrome.)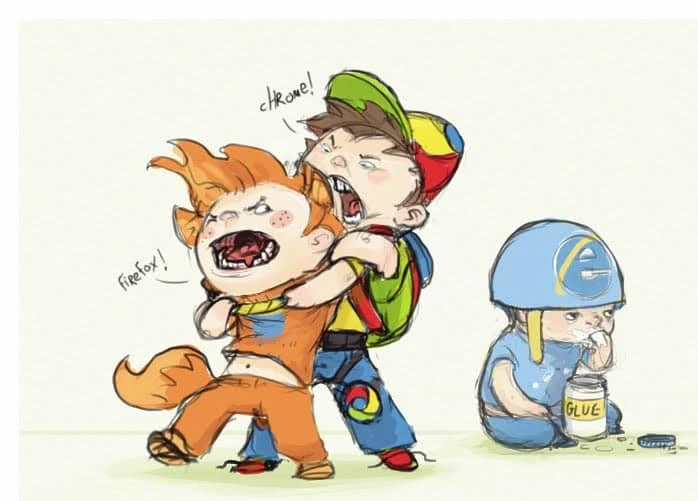 9. A star is re-born
Try dressing each member of your group as a different version of a famous actor like Tom Cruise. Aviators and a leather jacket turn you into Maverick from Top Gun, and it's easy to create similarly recognizable costumes for his roles in Mission Impossible, Risky Business, The Outsiders, or Interview with the Vampire. You can even recreate couch-jumping Tom with a simple black turtleneck. Adapt this idea for a group of women with a prolific actor like Kate Winslet.
Photo credit: Alan Light
10. All in the family
Try dressing up as members of another department in your company. It's even better if your departments have an ongoing rivalry.
11. Three blind mice
Why not show up as a motley crew of nursery rhyme characters? It's certainly different from most group costumes. Plus, there are hundreds of characters to choose from: Peter the pumpkin eater, Miss Muffet and her spider friend, Little Jack Horner, Mary quite contrary, Little Bo Peep, the list goes on.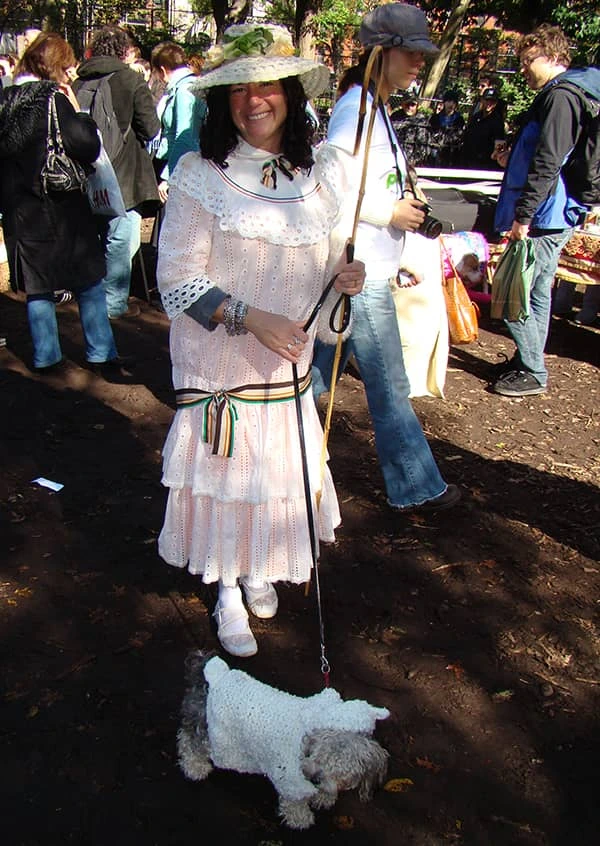 Photo credit: Wikimedia Commons
12. Where's the beef?
We love this costume idea because it appeals to all generations. Just choose a famous ad campaign and embody it with your costume. A few ideas: The GEICO cavemen, Mac vs PC guys, the Nike swoosh, the Old Spice man, Flo from Progressive, and of course, Wendy's "Where's the beef?" lady.
13. Rejected Halloween candy
Want to recapture that familiar feeling of childhood disappointment? Dress your group as the least-loved leftovers of a Halloween candy stash. You've probably got your own list, but here are a few ideas from our team: pencils, toothbrushes, Smarties, Tootsie Rolls, candy corn, Bit O'Honey, Mary Janes, Good & Plenty, and dental floss.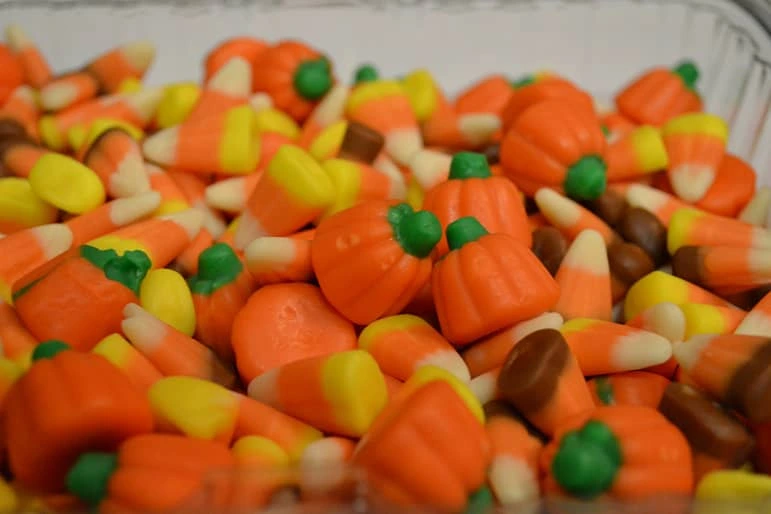 Photo credit: Jamal Fanaian
We hope you enjoyed this list! Share your best group Halloween costume ideas in the comments (if you dare), and Happy Halloween.