Real estate content marketing + video ideas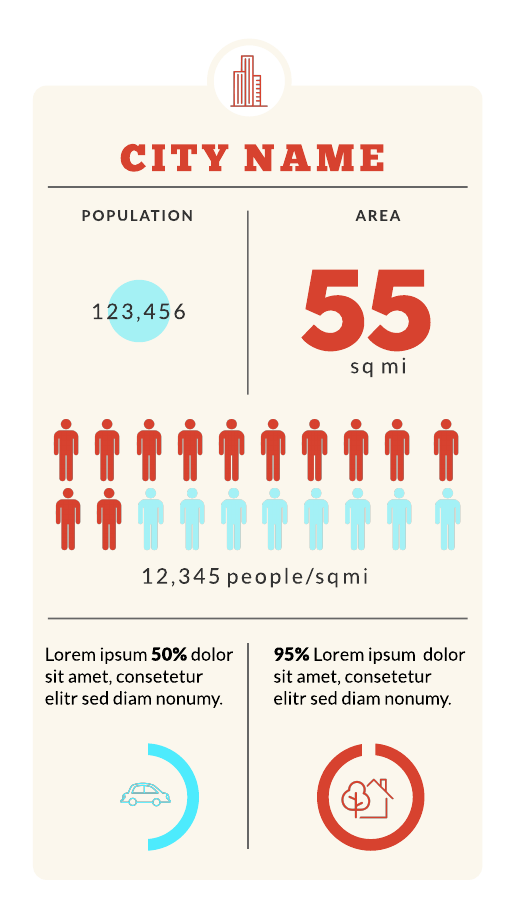 Digital marketers have a saying: "Content is king." Content marketing has been around—and will stick around—because people love a good story. It's in our nature as human beings to be storytellers, and real estate offers rich opportunities for engaging content.
First, there's the visual appeal. From gorgeous properties to happy home buyers, there's no end to the photo and video content an enterprising realtor can create.
Second, there's the emotion. Buying or selling a home can be a stressful and challenging time for your clients, and they'll be turning to your real estate agents for data, information and guidance.
When you put effort into video and content marketing, it pays dividends down the road as people discover and share your real estate agency's content, cementing your brand's status as a thought leader among your competition.
Are your real estate agents new to content marketing and unsure where to start? Here are a few ideas to get them started:
Give readers value.

Your agency's content should be relevant, timely, and offer something new to your audience (such as information, data or insights).

Write for the internet.

Writing for an online audience is different than writing for print. Shorten your sentences, break up text with brief paragraphs and bullet points, and always put the most important info first.

Provide visual interest.

Our brains process images quicker than text, so if you really want to attract attention, use visuals. Photos, infographics, charts & graphs, and quality real estate listing videos are all great ways to add visual interest to your real estate content.

Harness social media.

Gone are the days of "If you build it, they will come." Today, you have to promote your real estate content. Social media can help you spread the word, or you can create content directly on the platform. For example, you can host a live video session on Facebook.

Use SEO.

Search engine optimization can seem daunting, but using basic best practices like including keywords in your content and landing pages will drive traffic to your real estate website. Use website plugins like Yoast to quickly add metadata and sitemaps to your site to improve your discoverability in Google.

Repurpose your content.

Remember the old saying, "Reduce, reuse, recycle"? It applies here, too. Get more mileage out of your content by adapting it to different forms: blog posts, infographics, eBooks, webinars, podcasts, video, or any other format you're itching to try.
Dive deeper into the best practices for real estate content marketing in this blog post.
Creating a real estate listing strategy
The data revolution has finally come to real estate, and today, nearly everyone has access to the same information. So, how do you create an impact and stand out in a crowded marketplace? Turns out, your real estate listing strategy can make or break your real estate agency.
Are your real estate agents following the best practices for creating their listing strategy? If you're ready to win more listings, here's a list of 7 listing techniques to share with them.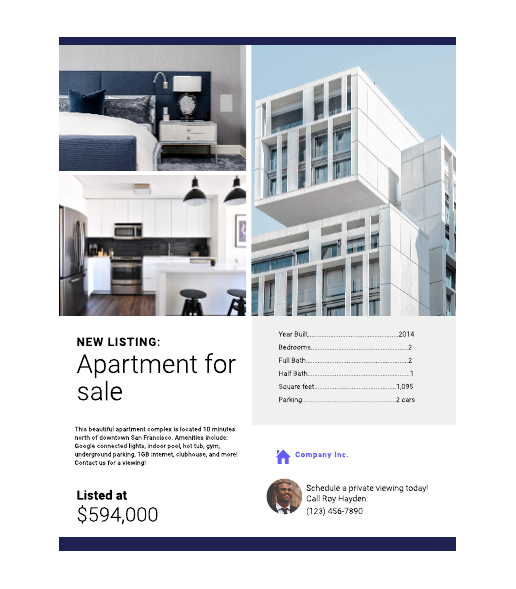 Hire a professional photographer.

Far too many real estate agents still rely on low-quality images taken on their (or their clients') cell phones. It doesn't impress online shoppers, and it makes your brand look unprofessional. Hiring a professional photographer is the easiest way to get gorgeous images for your listing.

Harness the power of video.

You don't have to be a tech genius to get started with video. For example, real estate agents can create slideshows of photographs that act as a virtual tour of the home. The next step would be filming inside the home. Some enterprising realtors even use drones to capture aerial footage of the property and surrounding areas. Video ads perform especially well on Facebook and YouTube.

Be present and active online.

It's one thing to have a social media page; it's another thing to update it frequently enough to be effective. The same goes for having a real estate blog. Online marketing can create a continuous income stream that works for your real estate agency 24/7... but first, you have to put in the effort to build a content library.

Go offline.

When selling a home, market to the surrounding neighborhoods with flyers, block parties, and open houses. Not only will this generate more interest in the property, but local homeowners will remember your real estate agency when it comes time for them to sell.

Know your area.

It's not enough to simply know about the property you want to sell. Make sure your real estate agents do their homework on the surrounding area, its advantages and quirks, and how the housing market has performed there. The better informed they are, the easier it will be to answer clients' questions and earn their trust.

Use direct mail marketing.

Mailing lists are cheaper than ever, and direct mail response rates still exceed email by a long shot. Your agents can use online postcard templates to design custom postcards that include relevant information about your agency's services and the local market.

Combine digital & print.

Give your clients the best of both worlds. To show them your brand is tech-savvy, real estate agents can share presentations and videos on an iPad. Then, to show them your brand is well-established, agents can show them a printed lookbook that covers commonly asked questions and other information.
Real estate email marketing ideas
A large, local email marketing list is a powerful tool for any real estate marketing strategy. And while it may be tempting to purchase a list of leads online, you have no guarantee that any of those people want to hear from your real estate agency. Your list will be far more valuable if it's built from scratch.
Help your real estate agents build their own email marketing lists with these lead generation ideas:
Ask walk-ins for their email addresses
Ask current and former real estate clients for referrals; these can become your most valuable connections and influencers
Add a form to their real estate website so visitors can stay updated with the latest news & listings
Promote their newsletter on social media sites like Facebook
Include anyone who's expressed interest in your real estate agency, like customers & prospects
Once they have a list, it's time to start their email marketing campaign. There are proven practices here, too. Keep the content simple and straightforward, and attract more clicks with killer subject lines. Provide your real estate agents with branded newsletter templates and a well-stocked photo library, so they can come up with marketing ideas and create professional-looking emails on the fly. Finally, proofread and test your emails to make sure they look great on desktop & mobile devices. If your real estate agents follow this advice, they'll save time and leave a better impression.
Real estate mobile + text message marketing ideas
Mobile is becoming increasingly important to the homebuying process. A study from the National Association of Realtors found 80% of millennials and 78% of Generation X found their home on a mobile device. Be sure your website is mobile friendly and your real estate agents are equipped for mobile-marketing strategies.
Tired of waiting for real estate prospects to check their mailbox or their inbox? Text message marketing can provide the quick response you're looking for, but it takes some planning and thought to set it up correctly.
Here are a few things to remember when your real estate agents begin using mobile SMS marketing.
It starts with a keyword.

People will opt in to your advertising by texting a specific keyword to a 6-digit number called a shortcode. Make it short (2-15 characters), easy to remember, and relevant to your business.

Advertise your keyword and short code.

Share the details on your website, social media pages, and business cards. You can even include it in places like physical "For Sale" signs, so people will see it when they drive by.

Give your audience an incentive.

Texts are a personal form of communication, and you don't want your content to feel intrusive. Offer something in return for opting in, like a discount or early access to new real estate listings.

Follow the law.

Text message marketing has to follow certain guidelines. Make sure your opt-out process is clear, and let subscribers know how often they'll hear from you (e.g. "2-3 texts per month"). Don't send irrelevant messages to your subscribers—keep it focused on your marketing campaign.
Combining print + digital
The best real estate marketing campaigns feature a combination of digital & traditional outreach strategies. When you combine your print & digital real estate marketing efforts into cohesively branded campaigns, it boosts the effectiveness of both.
What you don't want is for real estate agents to spend twice as much time creating two types of collateral: the stuff they make for digital marketing and the stuff they make for print marketing. The more you can consolidate and streamline the content creation process, the better.
Set up a template library for your real estate agents that includes both print and digital templates. These templates should balance the needs of both the agency's brand and the individual agent:
Templates are professionally designed and pleasing to the eye
They cover a variety of commonly used collateral: business cards, flyers, brochures, postcards, newsletters, social media posts, etc.
It's easy to update the images and text without disrupting the design
Branding elements (logos, colors, slogans, etc.) are up-to-date and protected from unauthorized changes
Agents can represent their own personal brand with photos, contact details, etc.
Once updated, templates can be approved quickly (within hours instead of weeks)
Templates can be distributed across multiple channels—published online, shared on social media, embedded in email, sent as direct mail, and downloaded for print
Not only will this save time and effort for your agents, but you'll be confident that your agency's brand is being represented consistently and professionally. Each piece of communication a client receives from one of your real estate agents will reinforce the integrity of your brand and reassure clients that their trust in you is well-placed.
Real estate direct mail marketing ideas
Because of its local nature, real estate is an excellent candidate for direct mail marketing. Postcards can help agents introduce themselves as a local business and start building relationships with the people who live there. They also have several distinct advantages when compared to email marketing:
Printed postcards are tangible and more memorable than emails
They don't have to be opened, so recipients will see your message right away
Mail delivered to your door feels far more personal than an email message
There are lots of ways to use postcards for real estate marketing:
Advertise your real estate agency's services
Announce new property listings
Invite people to a block party or open house
Stay in touch with past & current clients (e.g. holiday greetings)
Follow up with appointments
Offer promotions & discounts
With all of these opportunities, you might be worried about the time investment needed to produce all these postcards. Don't be. If you provide your agents with real estate postcard templates ahead of time, they can serve themselves within minutes. Check out some of our real estate postcard templates for inspiration and ideas—or to adapt them for your own.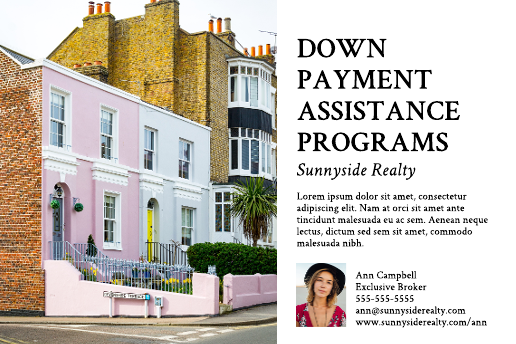 Does direct mail still work?
On average, U.S. advertisers spend $167 on direct mail to sell $2,095 worth of goods. That represents a massive 1300% return on their investment, and it illustrates an important point: direct mail is far from dead and buried. Despite the convenience and effectiveness of online marketing, direct marketing is still well worth the expense.
Although direct mail has a reputation of being annoying, recent surveys prove the opposite is true in certain cases:
40% of people will give new businesses a chance after receiving direct mail
54% want to receive mail from brands they're interested in
56% believe print marketing is the most trustworthy form of marketing
There are other benefits, too. Direct mail often earns a higher response rate than email, and brand recall is 70% higher among people who receive direct mail ads versus digital ones. Add to this new digital capabilities like QR codes and augmented reality, and you can see how direct mail can be a powerful tool in your agency's marketing arsenal. To learn more about direct mail best practices for real estate, check out this blog post.
Hire a real estate marketing agency
Scenario 1

Your business has doubled in size in the last three years, which is awesome! However, in the last six months, you've noticed a plateau in your growth—or maybe even a slight decline. You want to continue scaling your business in both size and revenue, but you're not sure how to stimulate and support that growth.

Solution: As head of your brand, you have a lot of responsibilities, and it might be best for you to hire a marketing expert to work full-time in-house or hire a talented consultant who could perform the marketing tasks you don't have time for.

Scenario 2

Your real estate business has been rapidly growing since you started up. You have been running all of the marketing yourself so far. You've learned a lot about creating flyers and campaigning on social media, but your marketing skills are still limited. If you had more time, you could learn more skills such as copywriting and videography, but time is becoming a more and more precious resource.

Solution: Hiring a real estate marketing agency will provide you with a professional team. They can collaborate with you to create and execute a new marketing strategy that will give your brand the boost that it needs.

Scenario 3

You've seen a good amount of growth in your real estate business. Currently, you and another real estate agent are running the marketing together. Lately, your marketing efforts have felt directionless, and neither of you know what the next step should be. You're proud of your efforts and all that you've learned so far, but it's time to strategize on a more sophisticated marketing plan.

Solution: Hiring a real estate marketing agency will help your agency find the right direction. You can also choose which tasks you need the agency to complete for you, so you can better focus your time and efforts on serving your real estate clients.
For more guidance on how to hire a real estate company, visit our blog post on the subject.
What to look for in an agency
When you're searching for a marketing agency to partner with, there are several things that you want to consider before hiring an agency.
Vision

You've created a vision for your real estate business. If you want to see your vision come true, then your marketing agency has to understand and support it. The agency you hire will create strategies that impact your brand and business, so you want to make sure they're on the same page as you.

Services & skills

Before searching for a marketing agency, you should sit down with your team (no matter its size) and discuss which services your brand would benefit from and which skills your team needs help with. Once you've created a list of the services and skills most beneficial to you, look for marketing agencies that specialize in those areas.

Works well with you

This might seem trivial, but it is so important that your marketing agency has similar culture and values as your own agency. You and your agents will spend a lot of time with these marketers, and to make this work environment strong, it helps to have certain things in common. The last thing you want is to hire an agency that doesn't share the same standards as your agents, leading to a strained relationship.

Flexible

The real estate world is constantly changing as technologies develop and the housing market fluctuates. Just like your brand needs to be adaptable to these changing environments, you want your marketing agency to have the same flexibility. You can determine their flexibility based on past projects and how they've handled changes in their industry and others.

Experience

After you've discussed with your team which services and skills you require from an agency, look at the agency's past work. Does their portfolio show that they've exercised the skills and services you need? Actions speak louder than words, so pay close attention to the creative output and results they've achieved in the past.
Finding the right marketing agency is often compared to finding the perfect date. If you discover that an agency doesn't meet your standards or your needs, then you'll be traversing rocky roads until you tell them to hit the trail. However, if they enhance your marketing efforts and drive results, then it will be a successful and happy relationship.
If you're not sure whether you should hire a real estate marketing agency, this blog post can help you decide.