Finally, a resume maker that's fast, easy and free
Looking to stand out from the competition? Marq makes it easy for you to create resumes that get you noticed. Our simple drag-and-drop interface lets you create a professionally designed resume in minutes, no software download required. Haven't signed up yet? Give us a try.
Havent signed up yet?
Give us a try.
Get started fast with free online resume templates
Stand out from other applicants with a professionally designed resume built with our creative resume builder. Choose from a variety of
resume templates
to build stunning resumes and cover letters that really turn heads. Customize the template by hand or upload your branding to access a collection of Smart Templates automatically customized to fit your brand.
Why choose our resume designer?
Marq is a fast and easy way to create beautiful resumes that command attention. Our free online resume maker combines the sophistication of expensive graphic design software with the simplicity of your favorite word processing program. Best of all, no one will guess it only took you fifteen minutes to create a job-winning CV.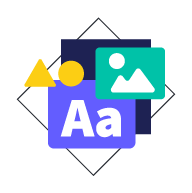 Brand assets
Store and download custom brand assets (like logos, colors and fonts) into our asset hub for fast access.
Web-based platform
With a web-based platform, no downloads or software installations are required, and you can access your Marq account from any browser or platform.
Save time with smart fields
Avoid the cumbersome process of adding your contact information to multiple resume variations. With a premium account, you can set up smart fields to input that information automatically.
Easy import
Access thousands of free stock photos or icons in the Marq editor or easily import your own from Dropbox or Facebook. Use our Indesign Import feature to import existing InDesign files and convert them to Marq templates.
Design a Resume
How to win your dream job: Resume design tips
Been a while since you dusted off the ol' resume? Here are some tips to help you put your best foot forward. As they say, opportunity knocks.
Create multiple versions of your resume
Because HR software scans your resume for keywords, you're more likely to get good results if you create a different version of your resume for each industry you're looking for work in. In Marq, you can quickly create multiple versions of your resume to appeal to different companies. (And if you use smart fields, it will populate that data for you automatically!)
Include industry-related keywords
Speaking of scanning... If your resume doesn't contain the right keywords, the hiring manager probably won't see it. Pay attention to the qualifications of the job and use those words within the body of your resume.
Include a headshot
Though some HR managers advise not to include a photo on your resume, many job-seekers say it helps them get more interviews. On the one hand, a nice photo can humanize you to recruiters. On the other hand, you might be interviewed (or not) for reasons pertaining to your appearance. If you do use a picture, make sure it's a professional headshot or passport photo. Remember to update your photo regularly so it stays current.
Use plain fonts
Readability is critical—not only for the person hiring you, but for the software that's doing the initial reading for them. Using decorative fonts or scripts may look nice, but they could keep scanners from translating the text properly. Marq has tons of fonts that are easy for document scanners to read, all available in our free resume maker.
Marq FAQ
Still not sure if Marq is the right choice for your resume? Check out the answers to some of our most commonly asked questions below.
How do I make a resume in Marq?
Creating a resume in Marq is easy. First, sign up for a free account. Next, create a new document from one of our professionally designed resume templates or start from scratch. Finally, customize your resume using our simple drag-and-drop interface. You can easily add text, graphics, colorful shapes, photos and more.
Can I print resumes with Marq?
You bet. Print your resume directly from home or let us take care of the printing for you. From tens to hundreds of copies, Marq delivers high-quality printed resumes right to your doorstep.
Can I download my resume?
Absolutely. Download your sparkling new resume in JPG, PNG or PDF format. You can also select your resolution, from low-res for digital display to high-res for print perfection. And there's no watermark, so your resume will look professional wherever it goes.
Can I publish resumes with Marq?
Of course. Marq provides a unique URL you can share via email, social media, or even embed on your website. If you have a paid subscription, you can customize your URL to give it a personal and memorable touch.
I have a resume that was created with InDesign. Can I import this file into Marq?
With our InDesign import feature (beta), you can easily import your resume and make your own edits in Marq.
What if I have a Word version of my resume?
If you want to reuse an old resume from Microsoft Word, Google Docs or any other format, just copy and paste your text into a new document and your original formatting will be preserved.
Create all of your on-brand collateral in Marq
Create
Design beautiful content — whether it's digital or for print.
Create more content
Templates
Get inspiration or start from our library of over 1000+ templates.
Check out other templates
Guides
Learn how to create professional collateral with how-to guides.
Learn from a guide