Free Bar Graph Maker
Quickly create and distribute a stunning bar graph with the Marq brand templating platform. With a powerfully intuitive editor, it's never been easier to impress your audience… and yourself.
Havent signed up yet?
Give us a try.
Smart bar graph templates — smarter you.
Not a professional designer? No problem. Choose from one of our hundreds of templates to get you started creating a professional bar graph. Customize the template by hand or unlock the power of Smart Brand Assets. Upload your brand's colors, font and logo to access a collection of templates customized to your brand.
Why choose our bar graph maker?
Whether you're a team of one or a team of five, our brand templating platform makes it easy to create bar graphs and other charts.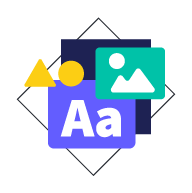 Brand assets
Store and download custom brand assets (like logos, colors and fonts) into our asset hub for fast access.
Data automation
Smart Fields auto-populate information and images in your templates, so you don't have to chase down information.
Easy import
Access thousands of free stock photos or icons in the Marq editor or easily import your own from Dropbox or Facebook. Use our Indesign Import feature to import existing InDesign files and convert them to Marq templates.
Design a Bar Graph
How to make a bar graph
1. Choose a template
Start by selecting a bar graph template.
2. Add your data
Determine your x-axis and y-axis. Typically one axis will be a category and the other axis will be a data value. Adjust the bars in the bar chart to match the values.
3. Customize color
Update the colors of the bar chart to match your brand. Use a single color for the entire chart or try adding a second color to make a particular category stand out.
4. Add text for context
Add a title, data labels and other context to the chart.
5. Share your bar graph
Download the final bar graph as a PNG to embed it in a presentation or infographic or print or share the chart on social media.
FAQ
What is a bar graph?
A bar chart is a diagram that shows comparisons using rectangular shapes.
When should I use a bar graph?
Bar charts are best used for categorical comparisons. Use line graphs to show changes over time and pie charts to show parts of a whole. Create any type of graph you need with our free graph maker.
Create all of your on-brand collateral in Marq
Create
Design beautiful content — whether it's digital or for print.
Create more content
Templates
Get inspiration or start from our library of over 1000+ templates.
Check out other templates
Guides
Learn how to create professional collateral with how-to guides.
Learn from a guide