Free online chart and graph maker
Transform your data into a stunning graph or chart with the Marq brand templating platform. With our intuitive, drag-and-drop editor creating beautiful, on-brand graphs and charts is easy for everyone.
Havent signed up yet?
Give us a try.
Smart graph and chart templates — smarter you.
Not a professional designer? No problem. Choose from one of our hundreds of templates to get you started creating a professional graph or chart. Customize the template by hand or upload your branding to access a collection of Smart Templates automatically customized to fit your brand.
Why our chart and graph maker?
You don't have to be a brilliant designer to craft beautiful content. Whether you're a team of one or a team of five, our brand templating platform makes it easy to transform your data into charts and graphs that tell a story.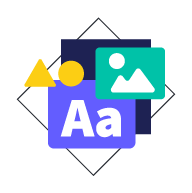 Brand assets
Your business has a unique look and personality and so should your graph. Store and access your brand's logos, fonts and colors to create beautiful, on-brand content.
Web-based platform
With a web-based platform, no downloads or software installations are required, and you can access your Marq account from any browser or platform.
Data automation
With smart fields or our advanced data automation feature, you can auto-populate information in your templates, cutting down on repetitive content updates.
Easy import
Use our handy integrations with Google Docs, YouTube, Dropbox, Facebook and InDesign to import existing content.
Design a Graph
How to create a graph or chart
Follow the steps below to quickly create a graph or chart in Marq.
Choose a graph template
Marq offers templates for all types of diagrams from pie and bar charts to flow charts and venn diagrams.
Add your data
Adjust the chart area and data labels to match your values.
Customize to your brand
Update colors and fonts to match the chart to your brand.
Download and share
Download the final graph or embed it in a presentation, infographic or social media post.
FAQ
What types of graphs can I create in Marq?
You can design several types of graphs and charts in Marq including bar graphs, pie charts, line graphs, venn diagrams, flow charts and family trees.
What is a chart?
A chart is a visual representation of a set of data. A chart makes data easier to understand and can help the reader identify patterns.
What type of graph should I use?
Each type of chart is used for a specific use case. Bar charts are used to show comparisons across categories. Line charts show changes over time and pie charts show parts of a whole. Process charts show how a series of steps are related to each other.
Create all of your on-brand collateral in Marq
Create
Design beautiful content — whether it's digital or for print.
Create more content
Templates
Get inspiration or start from our library of over 1000+ templates.
Check out other templates
Guides
Learn how to create professional collateral with how-to guides.
Learn from a guide