In some ways, making a magazine today is easier than ever. The internet puts free information at everyone's fingertips, all instantly available through mobile devices. What's more, every person online has the opportunity to create high-quality content if they so choose. From free magazine templates to stock image libraries, there are more options than ever. Still, there's more to making a successful magazine than simply putting images and text together. In this step by step guide, we'll explain how to make a magazine that will not only showcase your brand in the best light, but keep your audience hooked.
How to make a magazine in 16 steps
In this resource, we'll walk you through the work that happens before, during and after production. The first stage is brainstorming, followed by creation and collaboration, and finally, distribution. There's a lot to cover (no pun intended), so let's dive in.
Before production: Brainstorming
1. Developing your business plan
Before you write a single word for your magazine, you'll want to sit down and create a game plan. This includes your mission (the reason why your magazine should exist), your overall goals, and how you'll attain them.
Here are some of the most important questions to consider
What is the concept or focus of your magazine? This should be brief and concise, like an elevator pitch. For example, take a look at this copy from TIME's "About" page: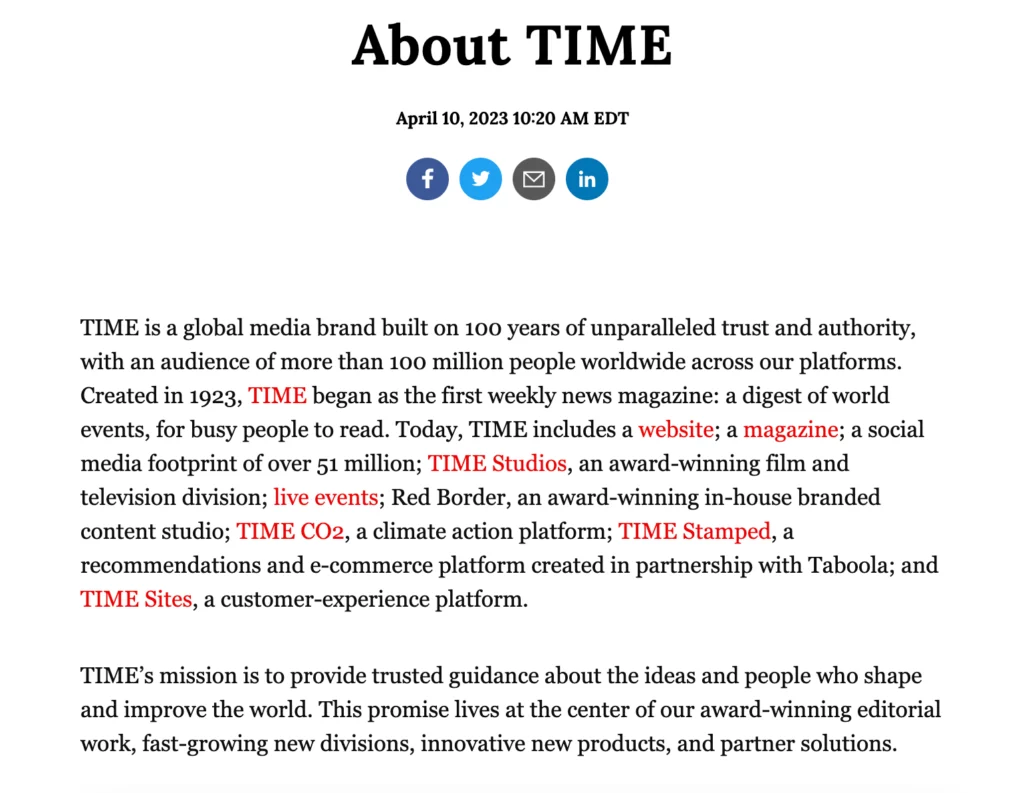 While their brand has ballooned over the past 100 years, their commitment to "unparalleled trust and authority" remains the cornerstone of the TIME brand today. And while your aspirations might not be as grand as TIME Magazine, it's important to nail down the 'why' behind your publication.
Which topics will you cover, and in what depth? You can't have a magazine without a subject. Think about your area of expertise and the audience you're aiming for. Whether you're putting together a catalog showcasing handmade jewelry, or a glossy magazine with lush photography for your state's tourism board, you need a clear, unifying topic.
Consider your tone & voice—there is a big difference between The New Yorker and OK! Magazine. Consider your ideal audience and what they might resonate with. Also consider your topic. A university magazine might have more leeway to be less formal than say, a science publication.
Will your magazine by physical or digital (or both)? While the thought of holding something physical in your hands may sound appealing, consider the cost of printing a physical magazine. Even if you're a well-established brand, the vast majority of your audience will have access to the internet and will be able to easily access a digital magazine. Again, consider your audience, the purpose of your publication, and how much you'll willing to invest in it.
Pros of physical magazines:
Ability to add full page advertisements and inserts
Limited stock could make your publication more valuable
Tactile reading experience
Cons of physical magazines:
High upfront cost
Bigger carbon footprint
Readership is limited to how many copies printed
Pros of digital magazines:
Free or low-cost
Accessible to a wider audience
Can include immersive elements such as scrolling text or video
Cons of digital magazines:
Less advertising potential
More competition
Here are a few more questions to ask yourself:
Who is the primary audience? Your magazine should speak to others, not just yourself. It's also important that your audience has a "continuing need" for your content, so they'll want to subscribe and read more. Think about your audience's lifestyle, and cater to the issues and ideas they care about.
What's your title? Once you've thought about these other questions in depth, it's time to start brainstorming titles. Our advice? Keep it short, simple, and relevant to your purpose/topic.
How will the first issue be funded? Many magazines earn profit by selling advertising, but it can be hard to attract advertisers at first. Depending on your situation, we might suggest using personal capital to fund the first issue—raised by saving money, seeking investments, or crowdfunding.
2. Research the landscape
There are a lot of magazines out there (both online and in print). Spend some time exploring some publications that you'd like to emulate, and get an idea of any potential competition. This will give you a better idea of what's already being covered and how you can differentiate your publication. Taking stock of your competition can also reveal any gaps and opportunities that are currently not being met in the market, which you can use to your advantage as you develop your concept.
Now's also the time to dive deeper into your target audience. Are most publications in your niche print or digital? Consider the ways you can add more value for your intended readers.
If you're interested in making a digital magazine, we recommend adding keyword analysis to your competitive research. Working with an SEO tool will help you find out what keywords and topics your competitors are ranking for, and can reveal gaps you can take advantage of in your own content.
3. Build your team
A magazine isn't something you should undertake alone. Building a trustworthy team and dividing your workload will help you create faster, better results – with much less risk of burnout. The stronger your team, the stronger your magazine will be. Here are a few staff roles you might want to consider.
Writers — Magazines are driven by great content, so of course you'll need great writers to make it work. Depenging on the size and scope of your magazine, you might opt to keep things in-house or reach out to freelancers to submit pitches. Either way, be clear with writers about your editorial expectations and whether you're offering any compensation for their work.
Editor — At the end of the line, there should be one pair of eyes to give each piece of content the final yay or nay. A head editor ensures consistency and quality by reinforcing your editorial standards. This includes tone of voice, grammar, mechanics, and even the reach and scope of each article. When you have a strong editor at the helm, the finished magazine will be polished and cohesive.
Sales manager — If your magazine will feature advertisements, a sales manager is indispensable. This person will serve as the point-of-contact for advertisers who will pay for space in your magazine. Having one person available to address their questions and concerns will help you build a better relationship with them, leading to higher, more sustainable profits.
Marketing manager — Your magazine needs advertising too! A marketing manager will work to get attention for your magazine, making sure it's present in all the right places. For example, If you're launching a magazine in print, you'll need distributors in bookstores, newsstands, and other public places. If you're launching online, there are many channels for you to explore, from search engine ads to social media. Part of this person's responsibilities will be deciding which distributors and channels are best for your magazine, and then creating materials like press kits and promotional content to support them.
Publication manager — This is someone who gets down to the nitty-gritty of publication. This person will help you choose a printing partner who meets your needs, both in terms of quality and budget. What will the paper cost? How do the colors look? Are there any errors in the finished product? A publication manager will focus on these seemingly minor details that, in reality, make a huge difference when you're creating a magazine.
Partnerships / groups — These are helpful connections who aren't necessarily part of your team, but can steer you in the right direction. Partnering with relevant brands that share a similar audience to you can bring more exposure. Additionally, you can find groups made up of local or indie magazines online to share advice and opportunities with one another.
During production: Creation & collaboration
Here's where we get to the exciting stuff. Don't get us wrong – this can be a very hectic time, but it's where the real magic happens. If you're inspired to make your own magazine, you're likely familiar with the following steps—but let's review them anyway.
4. Designing your masthead
Your magazine's 'brand' is defined by its masthead. Think of Time, Vogue, and National Geographic, all publications with iconic, recognizeable mastheads. These publications use serif fonts. On the flip side, magazines like Billboard, GQ, and Glamour use sans serif fonts. Consistently using the same typeface issue after issue builds a consistent brand, while your designers can play with the color of the text to match the cover image.
5. Writing articles
Finally, time to create articles and stories for your magazine. Depending on your concept, this might mean a few different things: fiction or non-fiction, short stories, journalistic articles, how-to guides, reviews, or even a blend of all of the above. This step encompasses the writing process, from conception to pitch, and from researching to drafting.
When you're planning each issue, you'll also want to choose an attention-grabbing cover article. This is the 'main event', and will often be the story or feature readers are most excited about.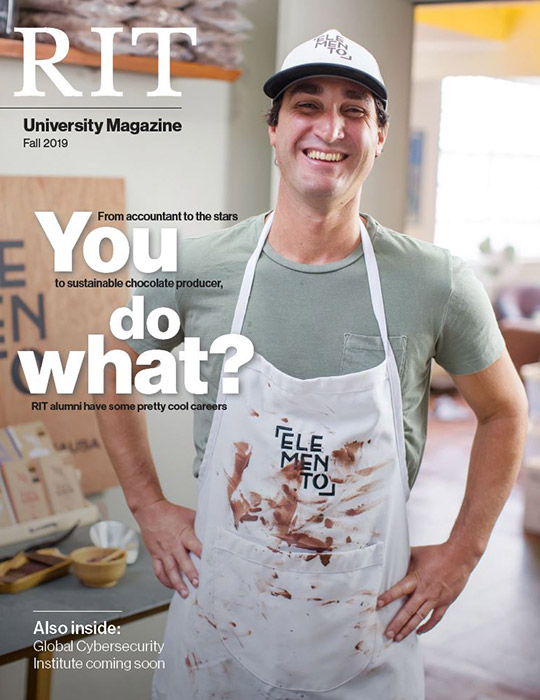 Take this cover story from the Rochester Institute of Technology's campus magazine for example. "You do what?" is an attention-grabbing headline for this inside look into some of the most interesting careers RIT alums have – a cover story most students and parents would be very interested in reading.
Once you've written all of your articles for an issue, don't forget to add a table of contents so readers can easily find what they're looking for.
6. Editing
It's not uncommon for articles to undergo more than one round of revisions. Far more than just catching style and grammar mistakes, editing will help the writer focus and elevate their writing. Editors can help with fact-checking as well. Together, writers and editors cooperate to make an article the best it can be.
7. Proofreading
After an article has been written and edited, careful proofreading is required to ensure quality and accuracy. Any typos or errors that made their way through the writing process will be squashed here. Unlike editing, proofreading is not an evaluation of the article's style, tone, organization or effectiveness. The focus is solely on finding and eliminating errors, so the finished product reads professionally. The person who proofreads might very well be the editor too, but these are still two separate stages of production.
8. Graphic Design
The way we enjoy magazines is different from how we consume a book or a newspaper. Although each of these publications provides information, magazines in particular are known for being visual. From elegantly gorgeous to colorfully flashy, magazine design runs the gamut.
In the name of consistency, you'll want to decide early on whether you want your graphic/cover design to lean more toward imagery or information – or a blend of both as pictured here.
Your graphic designer is just as responsible for your magazine's tone and feel as your writers are—if not more so. It's important for your graphics to match your words. Browse these magazine design templates for some inspiration.
9. Photography
Stock photos are okay here and there, but they're no substitute for custom photography. Rather than searching for pictures to match your vision (and potentially settling for less), a photographer can work with you to capture the pictures you really want. Color, lighting, subject, quality… All of these photo elements contribute to the reader's perception of your brand. After all, that's why they say a picture is worth a thousand words. (Or, at least, it's why we say it.)
10. Build out your back page
If you're including advertisements in your magazine, a back page is a must. Among wide-circulation magazines, the back page is often a full-page advertisement – one that companies pay a lot of money to be featured in. When you're designing each issue, don't forget to leave room for this important page.
11. Make a prototype
Just like with any product, you can't mass produce until you have a definitive, finalized version. All of the content, words and images must be firmly locked into place with no errors or further changes. Holding your first finished prototype (whether in your hand or on a tablet) is a proud moment. Savor it! You've put in a lot of work to get here, and there's still work to be done. You are now ready to start sharing your magazine with the world.
12. Digitize
Regardless of where/how you've designed your magazine, you want to triple check that your digital file is ready to distribute. Different publishers and reading apps have their own standards in terms of file type, size, quality and so on. Make sure you've researched and complied with those standards in order to prevent delays.
After production: Distribution
13. Find a printer
Your printing partner is a critical ally on your way to distribution. If you're only hosting your magazine online, well, you're off the hook on this one. But if you intend to share hard copies of your magazine locally, regionally, or even nationally, you need a printer you can trust to deliver satisfactory results every time. Do your research, ask around, and interview printing partners until you feel confident that your pick is a good match.
When you're considering printing, keep these things in mind:
Paper quality — Magazines should be on glossy paper for the best image quality. Consult with a professional printer about the right weight and size for your project.
Layout — Because of the nature of magazines, you will need to double check to ensure that your pages will be laid out as expected.
Full-bleed — You can add a bleed to your document so there are no blank edges on your pages. A bleed is similar to a wider margin which is then trimmed in the printing process.
14. Establish your online presence
Perhaps more than any other step, this is paramount to launching a successful online magazine. Your online presence can take many forms, from a website to a blog to social media channels, and maybe even all of the above. What's important here is building a community of people hungry for your content. Find out where your target audience 'lives' online, and make sure they can find you.
A few specific ways to drive more traffic:
Use SEO best practices in your blog and social media to help more people find you
Join industry or community groups on social media and share your articles
Offer free print editions at industry trade shows or events
15. Decide whether to paywall
This is a tricky question in today's publishing world. If you paywall all of your content, it might be hard to attract new readers. But, you can't give it all away for free either. Striking the right balance between paid and free content might look different for every publication, so experiment to see what works for you. A good place to start is sharing free content and article excerpts on your blog but charging a flat price or subscription for each magazine issue.
16. Build a community around content
Your readers can (and should be) be your best brand advocates. When you foster a strong community on your blog, forum, or social media pages, it gives readers a shared sense of belonging. Discussions are far more interesting when readers get involved, and they can provide you with inspiration and direction. Beyond the pages of your magazine, there are many opportunities to get creative here. For example, you could start a branded YouTube channel to share vlogs and other video content.
Congratulations!
After months of work, you've finished the process of making a magazine, and you're on the track to sustainable growth and success. Once you get to this point, there's only one thing to do… Get started on the next issue!
Making a magazine, simplified
Want to start your own magazine? Marq will streamline the design process for your whole team. With our intuitive drag-and-drop interface, you can select from gorgeous templates and customize with fonts, colors, shapes, images and more. Invite others to collaborate in real time, and when you're done, export in a variety of print-ready formats. Explore our templates and start growing your brand today.