Financial institutions face their fair share of challenges when it comes to growing and retaining a happy, loyal customer base. People have any number of choices of where to bank, and to consumers it can feel like there's not much difference between banks and other companies offering financial services. Plus, financial institutions all comply with the same government regulations, which can make it seem like most banking services are all the same.
When it comes down to it, this is what will really set your bank apart from the next: the seamlessness with which customers can interact with your services and the quality of service offered — i.e., the customer experience.
Why customer experience is so important for banking
Competition in the industry is fierce. It's estimated that tech companies will swallow up 40% of the $1.35 trillion in financial services revenue from banks. Tech giants like Google, Amazon and Apple already have a huge base of loyal customers and they're transitioning their success to financial services. A survey from Bain shows that consumers from the US and UK trust PayPal and Amazon nearly as much as they trust banks.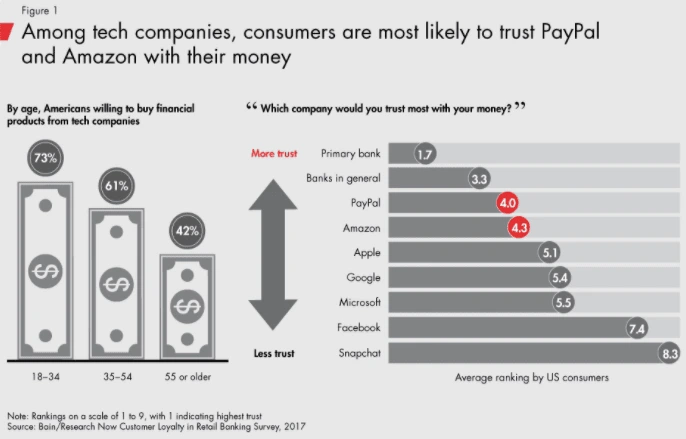 (Source: Bain & Company)
These companies are highly skilled at providing a level of fast, easy service that's hard for regular banks to match. Tech companies have been honing their customer experience skills for years, and now they can apply it to financial services. Banks are being held to those standards and it's getting tougher and tougher to keep up. You're not only competing with the myriad of other banks — now you're competing with tech giants too.
That's why focusing on CX and providing a superior banking experience is so crucial for financial institutions, big or small. CX is often one of the few ways you can differentiate yourself from competitors. Even if your product can't quite compete with other companies, offering a seamless and supportive experience can keep customers happy and coming back.
8 ways to improve CX in banking
Improving the customer experience will take persistence and a multipronged approach. Here are eight things you can focus on to improve customer experience in banking.
1. Look at it from the customer's point of view
This probably seems obvious, but it can't be overstated. Often what companies think they need to do to improve customer experience is quite different from what their own customers would actually like to see improved.
Instead of looking internally to better your CX, dig in to your customers' opinions. This can take a few different forms, the best one being talking directly to customers.
Consider setting up a customer advisory board. A CAB will give you consistent access to a set of voices that can provide the external insight you need.
Regularly employ customer surveys after various transactions to get a sense of how seamless (or not) each transaction or service is.
Map your customer journeys. Financial institutions will have a lot of different customer journeys to account for, but give each one the time it deserves. Walking the path that your customers take is the only way to really understand their pain points.
2. Get the C-suite to commit
In order to find success with your CX initiatives, you'll need full buy-in from the higher-ups. Improving customer experience at your financial institution will likely lead to big changes in your current system, products and processes. Without support from senior leaders, it will be hard to see true change in your organization.
Make sure leadership is involved in CX improvement plans from the very beginning. When your executives participate, lead by example and show that it's a priority, the rest of your organization will start to embrace the new changes.
3. Establish a dedicated CX team
Rather than having one simple plan to improve CX, you'll need a variety of strategies that involve people from all departments of your bank. Pull together a team of stakeholders from across your business to help manage customer experience improvement.
You'll need their insight into their specialties, and they'll operate as the point person for CX efforts in their department. A diverse team can bridge the gap between the different services your bank offers as well as silos that can arise from having multiple locations, possibly spread across the country. Depending on the scale of your customer experience initiatives, it may even make sense for your bank to bring in a dedicated CX role to head up this team.
4. Offer unique services
While this is arguably one of the more difficult aspects of providing an exceptional customer experience, having a product or service that truly sets you apart from competitors can be invaluable.
Look to leaders in the industry for ideas on innovative digital services. Bank of America attracts customers with access to its free virtual financial assistant, Erica, that helps people with everything from checking credit scores to bill payment reminders. Spanish bank BBVA's app offers Bconomy, which helps customers track their finances and work toward a savings goal.
All banks have apps, but going above and beyond the basics to identify tools that really help people will make for a meaningful customer experience. Evaluate how your bank can address customers' financial health holistically, rather than focusing on a single service at a time.
5. Balance digital and human service
While it is true that consumers now expect effortless digital services from their bank, you can't rule out the importance of having humans readily available for customer support. You'll need to find the right balance of the two.
Balance your digital initiatives with a strong commitment to personal customer service. People love to do things online, but if they hit a snag or have a complex problem and there's no phone number where they can easily reach someone for help, it makes your organization seem untrustworthy. Being able to quickly get through to a friendly, helpful representative will be a huge boost to your customers' banking experience.
6. Scale your efforts
One of the hardest parts of customer experience is getting your entire organization — every location — to deliver on new CX efforts in a consistent, sustainable way. Being able to successfully scale your customer experience is key for the health of your bank.
With your dedicated CX team, you'll want to create a plan of attack for business-wide adoption. Look at which initiatives are doing well in which departments and analyze how you can apply or translate those successes to other departments. Learning from specific failures and successes, you can begin to apply changes to larger parts of your organization until the bank as a whole is compliant with updated customer experience standards.
7. Keep your brand consistent
Brand consistency bolsters CX efforts by guaranteeing your customers are always interacting with a familiar company. When your brand always looks and sounds the same — e.g., your design, voice, tone and messaging is consistent — your customers know what to expect. They'll be comfortable with your brand, and you'll see brand loyalty from them in return.
Brand templating will help keep your brand consistent across departments and locations. Making customizable design templates available to your company will ensure that each branch stays on-brand and uses approved logos, colors, assets, etc. It also cuts down on off-brand and one-off creations that don't reflect your organization's brand style. Templates can range from flyers and brochures to social media posts, emails, presentations and more.
Presenting a unified front to your customers will both bolster CX efforts and help strengthen your brand.
8. Follow up
Customer experience is something you'll have to continually revisit. What customers want and expect from a financial institution will evolve over time. And once you improve one thing, something else will pop up that could be better too — that's just the nature of business. Plus, CX improvement often isn't a straightforward, linear process. There's going to be trial and error, and you'll need to keep at it to find the right solutions for your bank.
Just like you set goals and OKRs for each quarter and year, you'll want to do the same for customer experience. Make CX a focus in all of your strategy plans and hold people accountable in the same way you do for financial goals.
Dedication to leveling-up your customer experience will pay off in happy customers who are more likely to stick with your bank and recommend your services to friends. For more tips on improving CX and creating personalized experiences for your customers, check out our free guide How to avoid CX failure and empower your team to become your greatest CX asset.