If Instagram feels unavoidable these days, it's because it is. The social media giant has over 1 billion monthly users and 90% of them follow at least one business. Needless to say, it's smart to have an Instagram presence for your brand.
A business Instagram account can seem imperative, and they're also a lot of work. To keep your followers engaged and maintain a consistent brand presence, you've got to post regularly — at least a few times a week. All that posting means you're going to need a solid social media planner (maybe even a team!) to get your content ducks in a row.
Coming up with content for Instagram can get old quick: You've got to strike the right balance of human-interest topics, brand promotion, aspirational content and customer engagement. Just posting high-quality images isn't enough to drum up excitement for your brand. You also need to know how to drive engagement and which types of posts can boost sales. Here are 6 tried-and-true Instagram post ideas to help you get started.
What to post on Instagram
1. Endorsements
"Influencer" has quickly gone from being a kind-of-funny thing to becoming an actual profession. Influencing sells, period. People are genuinely interested in what other people are doing, and we love a recommendation.
And even if you're not ready to hire a handful of socially adept personalities who shine in front of a camera, you can always lean on endorsements and product reviews from other people — whether that's a well-known celebrity, industry expert or an average joe.
Source: Sweetgreen
Sweetgreen regularly posts content that features chef's favorites from their restaurants. This does a few things:
It offers social proof. It lets you know that experts in their field (chefs with highly refined taste buds!) frequent Sweetgreen, i.e. the food must be high quality and delicious.
It satisfies curiosity. What are successful, talented people eating at Sweetgreen? Now you know.
It's far more interesting than a bland product-promotion post. Having someone else recommend your product and put their own spin on things helps spice up the content.
There are lots of different ways to feature endorsement-related content that will entice your followers. Brainstorm how you can use your current customer base to review, endorse or promote your products on Instagram.
2. Giveaways
Let's be honest: Everyone loves free stuff.
It's no secret that the word free is powerful, and many marketers use it in their copy to grab shoppers' attention. That's why samples and giveaways have become such a popular promotional tactic.
When you give away your product, you attract a larger audience of people willing to try your brand. It's an opportunity to build brand awareness and encourage shoppers to try your product before buying it. Plus, it lowers the risk of trying something new.
Source: Retrospec
Take Retrospec, for example, who gave away a much-sought-after paddleboard to keep their followers interested and engaged.
Since people love free stuff, this type of post often goes viral, attracting more followers who want a chance to win. If you want everyone to feel like a winner, you can even offer a discount to all entrants.
One point of caution: Not everyone who enters your giveaway will be interested in your brand. While the engagement may be impressive, you'll likely notice a drop in followers once the promotion is over. That's okay—those who leave probably aren't a good fit for your target audience, and the ones who are will stick around.
3. Lifestyle photos
If you're trying to sell a service rather than a product, give lifestyle content a try.
When you create an atmosphere that resonates with your followers' lifestyle (or desired lifestyle), your brand feels more authentic. Don't focus on your service; focus on your potential customer.
For instance, Sotheby's International Realty uses lifestyle photography to hint at what clients can expect from their services. But it's not about selling real estate, it's about selling the lifestyle — sophisticated, comfortable and luxurious.
Source: Sotheby's International Realty
Lifestyle photos can help people imagine how they might feel after engaging with your brand. If that lifestyle speaks to their desires and sensibilities, this Instagram post idea can easily contribute to future business.
4. Inspirational quotes
We all have moments when we need to motivate ourselves. When you're looking for a quick pick-me-up, the right inspirational quote can really lift your mood.
Even though inspirational content doesn't always contribute directly to sales, it helps to illustrate your brand's values. Plus, it has more potential to go viral, as people like to share content that reflects their own values, too.
Below, SoulCycle offers a thought that would be sure to make you pause if you saw it while scrolling through your feed. Short, relevant quotes like this can inspire your community.
Source: SoulCycle
Sometimes less is more — and when it comes to Instagram, think first and foremost about fostering brand loyalty. If people draw inspiration from your brand, they won't forget you.
5. Brand achievements
Your brand story matters to your customers, and so does your success.
When you share your brand's achievements, you build trust and reinforce loyalty, which often leads to sales, support or donations. Reputation plays a big role when it comes to spending decisions, and your achievements prove that you're a successful organization.
World Wildlife Fund often highlights its accomplishments on Instagram, showing its patrons and followers that their financial support is being put to good use. Content like this does double duty: It gives followers' feeds a boost with good-news stories and it promotes the brand's work.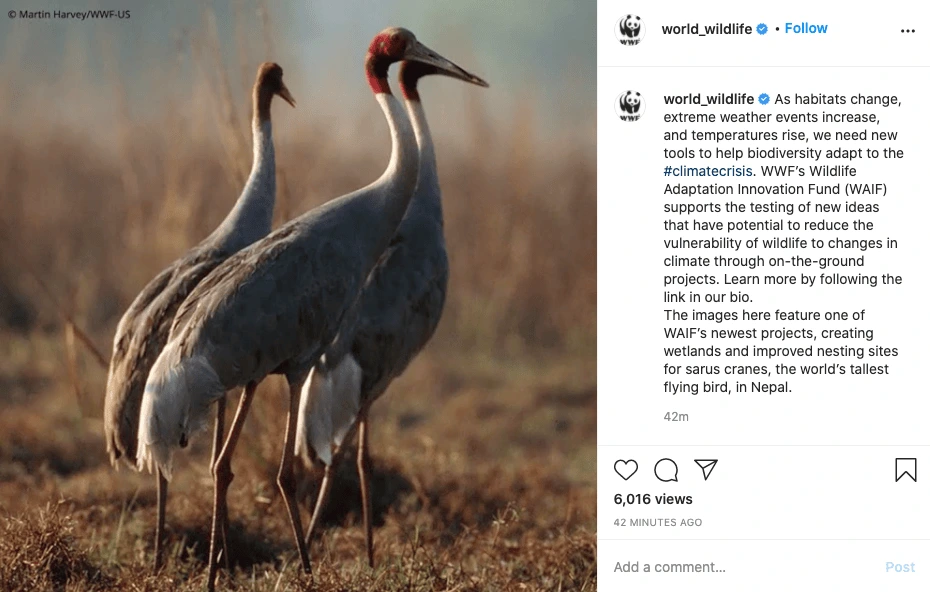 Source: World Wildlife Fund
Achievement comes in many forms — brand development, product launches, customer growth, charitable initiatives — so keep your eyes open for opportunities to tell your story on Instagram. You might be surprised by how creatively you can visually represent your brand's success.
Watch for ways to build trust and reinforce loyalty with your followers. Sharing your brand's success will improve your reputation and impress potential customers.
6. Limited-time offers
As social creatures, it's human nature to hate missing something important. Marketers should use FOMO (fear of missing out) to their advantage. One example is a limited-time sale, coupon or discount.
Take a look at Nékter. This franchise knows how to use sales to grab attention and encourage repeat purchases. How do they do it? Descriptive captions, a clear offer and bright, detailed photography all work together to deliver a compelling offer.
Source: Nékter Juice Bar
Nothing delays action more than uncertainty. Run your sales for a short period of time to give your followers a clear understanding of when and how they should act. If you run sales all the time, your audience will adjust and expect discounts continuously. Instead, make them feel like they're getting a real deal by purchasing now.
Use compelling visuals to announce your offer, then provide followers with a clear deadline to increase urgency.
Key takeaway
Over the past few years, Instagram has evolved into a powerful marketing platform that gives brands new opportunities to boost sales. Investing in the right kinds of Instagram post ideas is a strategic way to influence the buying process.