Social media can be a hard nut to crack. You're competing in a crowded space right alongside the biggest brands. But you never know when your newest idea might catch fire and become a social media sensation. We've rounded up 10 of the best social media campaign ideas to inspire you while you're thinking of the next big thing.
1. Show your product in action: Nest Cam
Google+ is sometimes left out of the social media circle, but that means you have the opportunity to become a stand-out brand on the platform. Nest, a company that produces advanced thermostats, smoke alarms, and home security cameras, has an enviable Google+ page that can be an example for your brand. Their page in general has a well-branded and visually appealing aesthetic, but one recurring feature is particularly delightful: the #caughtonNestcam videos (Nest Cam is Nest's home security camera). This one is pretty good:
Here, Nest succeeds in showing their product in action in an engaging and humorous way. Seeing the Nest Cam in a real person's home makes it easier for a potential customer to picture it in their home. It seems like Nest's efforts are paying off, too. They have over 12 million Google+ page views and 604k followers.
2. Try a new platform: Oreo + Vines
Have you considered Vine as a social media marketing tool? It's not the first platform that typically comes to mind, but Vine is a jungle of opportunity (get it?). Oreo caught the Vine vision and used the platform to make videos that, well, made people want to eat more Oreos. These videos also empowered their customers by giving step-by-step tutorials of several different recipes that feature Oreos as an ingredient.
All this has earned Oreo 55.9k followers on Vine and over 3 million video loops. While recipe videos might not fit your brand, how about a product announcement featuring your team wearing lederhosen while yodeling? Or, you know… something like that.
Update: Vine has closed its doors, but the lesson of trying new platforms still stands. For example, has your brand considered Snapchat?
3. Monitor Twitter complaints: #HappyToHelp
Social media can help brands personalize and streamline their customer support, like when a customer tweets about a problem or complaint, and the brand promptly responds with a generous, thoughtful solution.
KLM, an airline operating out of the Netherlands, took this idea to the next level with their #HappyToHelp campaign. During the week of the social media campaign, they set up a control room in front of Amsterdam Schiphol Airport where they monitored thousands of tweets coming in from unhappy airline travelers. They paid special attention to customers having trouble with other airlines. Then they came to the rescue, retrieving forgotten visas, delivering a bed for a stranded traveler, and even singing a lullaby for someone who couldn't sleep.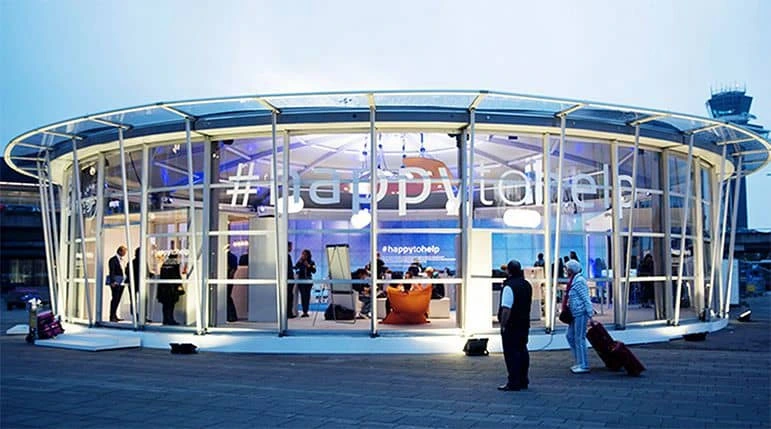 This smart campaign racked up 36 million impressions, and doubtless made a big impression of another kind on the many people who received personalized care from KLM. The genius of #HappyToHelp is that it reached competitors' customers precisely when they were most dissatisfied with the customer service they were receiving. Monitoring Twitter for problems your customers are having is important, but you might consider checking for problems potential customers are having as well—and then solving them.
4. Make your own news: Pepsi
Pepsi has been around for a while, but that doesn't stop them from innovating. The Pepsi team launched a social media campaign that caught the attention of London commuters by making it look like crazy things were happening on the street outside the bus stop. Here, just watch the video:
This campaign is interesting because it combines social media with a guerrilla street campaign. Pepsi created news by doing something interesting, and then marketed that news on their social channels. But it was done in a way that felt organic and natural, drawing people to the brand. The bus stop video has accumulated over 7 million views on Youtube in addition to all the people who saw it firsthand on the street.
5. Be helpful to your customers: Hellmann's
What's up with WhatsApp? It was the new kid on the social media block, but Facebook bought it for $19 billion, obviously seeing serious potential. Hellman's (the mayonnaise company) saw that potential too and created a fun, helpful social media campaign centered around WhatsApp.
The campaign centers around a service called WhatsCook that empowers WhatsApp users to make something delicious using the ingredients they have on-hand. Here's the situation: Angela (not a real person) is hungry. She has a few random ingredients in her refrigerator, but doesn't know how to put them together. Using WhatsCook through WhatsApp, Angela can send a picture of the ingredients to a real chef who will suggest a recipe idea and then walk her through the cooking process. Pretty cool, right?
On average, users of the WhatsCook service spent 65 minutes interacting with the chef while they cooked. That's a lot of time spent with a brand! Hellmann's made at least two great calls with this campaign. First of all, they found a way that they could be truly helpful to customers and potential customers. There's no rule that you can't help your brand and help people at the same time. Secondly, Hellmann's was willing to try something unique on a new platform. Sometimes you have to go out on a limb to find a gold mine.
6. Tap into the trends: Giformances
Leaders at The Katona József Theatre in Hungary were concerned that young people weren't interested in theater because they saw it as out of touch with technology. So, the theater enlisted its top actors to create GIFs that expressed all kinds of different emotions, then put all the GIFs in an online catalogue called Giformances.
The response was impressive. Giformances got front-page news coverage on every major media outlet and was featured on primetime TV news. Plus, they've attracted over 200k unique users to date. Pretty good for a organization that felt it was unnoticed.
In this campaign, the Katona József Theatre demonstrated an awareness of cultural trends that would resonate with an audience they wanted to gain some traction with. In addition to considering a new social media platform for your campaign, you can also make waves by thinking of a unique way to present your content.
7. Showcase your use case: Living with Lag
People don't like slow internet. So, it stands to reason that people will like a company who gives them fast internet. Ume.net, a fiber broadband provider, set out to prove their speediness in a unique way. They made a YouTube video of people trying to do everyday tasks with an Oculus Rift headset programmed with a three-second delay. The idea was to illustrate the woes of lagging internet in an offline setting. It was a light-hearted and creative campaign, and the YouTube video currently has almost 6 million views. Check it out:
Ume.net recognized that Oculus Rift headsets are en vogue right now, similar to the way the Katona József Theatre recognized the hipness of GIFs. Plus, ume.net invested in a great-looking video that did justice to their creative idea. It's good to consider which campaigns can be done with little or no funding and which ones might require a little monetary love to take flight.
8. Time your efforts: Marie Callender's
Ads are another option to consider when working with social media. Ads can leave a bad taste in our mouth, so when we see something that defies that expectation, it stands out. Marie Callender's hit this nail on the head with tempting ads that spoke to the sudden craving for warm comfort food that might strike in cold weather. Here's what they looked like:
The ads were wisely placed on Weather.com, targeting people who were checking the weather on a cold or rainy day. These aren't social media ads, but the same principles of creativity and timing apply. Some great opportunities are holiday-themed posts or something that celebrates a milestone for your company (like this post). If you're thoughtful with advertising and know the right moment to reach your customers, then you have a recipe for success.
9. Streamline the customer experience: Domino's
When Domino's was developing their social media strategy, they didn't just fall back on the appeal of a delightful, melty slice of pizza. They took what is already inherently appealing about their brand and combined it with something that is quickly becoming almost as iconic as pizza: the emoji.
On Twitter, Domino's fans can order a pizza by simply tweeting a pizza emoji. This is a unique and creative use of Twitter, and it's particularly interesting because it is simultaneously a campaign and a transaction. That's impressive efficiency. You can see from the photo below how many Twitter followers Domino's has earned:
10. Match the campaign to the platform: #LastSelfie
Snapchat: the social media craze that has won the hearts of teens and millennials everywhere. Why not use it to inspire social activism? The World Wildlife Fund came up with a very clever way to utilize the Snapchat medium to rally support for endangered species. As is the case for all Snapchat photos, the ads that came up were only visible for a few seconds, then they were gone forever, hinting at the possibility of endangered animals disappearing for good if they go extinct.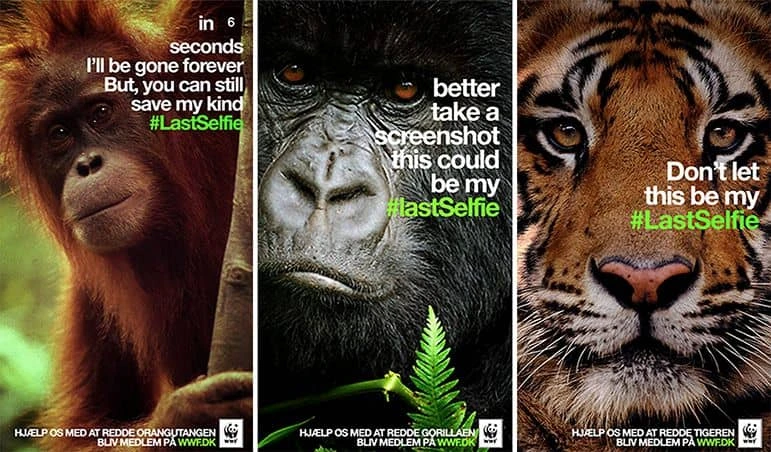 WWF reached their monthly donation goal in just 3 days thanks to this social media campaign. This is a great example of perfectly matching the campaign to the platform in order to really stand out. When you're putting together your next campaign, consider taking time to note the core characteristics of a few different social media platforms. That way, you can tailor your ads to work in harmony with them.
The 10 best B2B social media campaigns you haven't tried yet
By now, we've all heard how social media can support a brand and make it easier to connect with customers. But not all of us have the benefit of being a consumer-facing brand like Pepsi, Domino's, or Oreo. If you're representing a B2B brand, can you still take advantage of social media? Absolutely!
Here are 10 of our favorite examples of B2B brands using social media to build their brands and make an impact online
10. Build brand awareness: MailChimp on Instagram
If you take a cursory glance at MailChimp's Instagram account, one thing is immediately clear: That gosh-dang monkey is everywhere. (Forgive my crude Utah language.) But there's a good reason for it. "Freddie" the monkey has been MailChimp's loyal brand ambassador since the beginning, and while he's gone through a few changes over the years, his fun personality still shines through.
As a visual platform, Instagram is specially suited to sharing Freddie's shenanigans and encouraging MailChimp fans to do the same. From figurines to knitted caps, he is a constant reminder of the brand without being too 'on the nose', and he keeps MailChimp top-of-mind for its followers. (Bonus tip? On the internet, you can never go wrong with cats.)
9. Show off your expertise: Huawei on Twitter
Huawei is the largest manufacturer of telecommunications equipment in the world. Yet, if you asked the average American, it's unlikely they'd know much about this giant company headquartered in China. That hasn't stopped the brand from embracing social media in various countries and building up an appreciative audience for its content.
Huawei spotlights innovative technology trends and predictions for the future, inviting experts to weigh in on the tough questions ("Can AI ever function like a human?") that make for rich conversations. Its Twitter timeline is chock-full of thought-provoking quotes from industry leaders.
By taking the time to create smart, dense content, Huawei sets itself apart from other social media accounts who find it easier to keep things fluffy.
8. Join relevant groups: Lucidpress on LinkedIn
If we want to talk the talk, we'd better walk the walk.
Although Lucidpress isn't strictly a B2B brand, we serve a large number of businesses who use Lucid's software across various departments. To reach these businesses, we have found that it's better to go where your audience is than to expect it to come to you. One way to do that is to join relevant LinkedIn groups and share your content with them. It's this strategy that likely brought many of you here today, as a follow-up to one of our most successful LinkedIn conversations.
Due to the many comments and feedback in that conversation, we realized there was a content need we were not filling (that is, looking at social media from a B2B perspective), and it gave us the opportunity to serve our B2B users better.
7. Share your human side: Novartis on Facebook
As a B2B brand, it can be difficult to express humanity online. What I mean by that is a corporation can start to feel like a faceless monolith ("We appreciate your business") when compared to real, one-on-one connections with other people ("I'm so glad you called!").
Novartis, the multinational pharmaceutical company, has found a wonderful way to remind us that organizations are made up of real people with unique stories and goals, by spotlighting individuals who work or intern there on its Facebook page.
The best part about this strategy is that any brand can use it, because every brand has fascinating people working behind the scenes. Take a look around your office and see who's got a story to tell. We guarantee your users will relate and respond far better to that than to your next press release.
6. Create a community: American Express on Twitter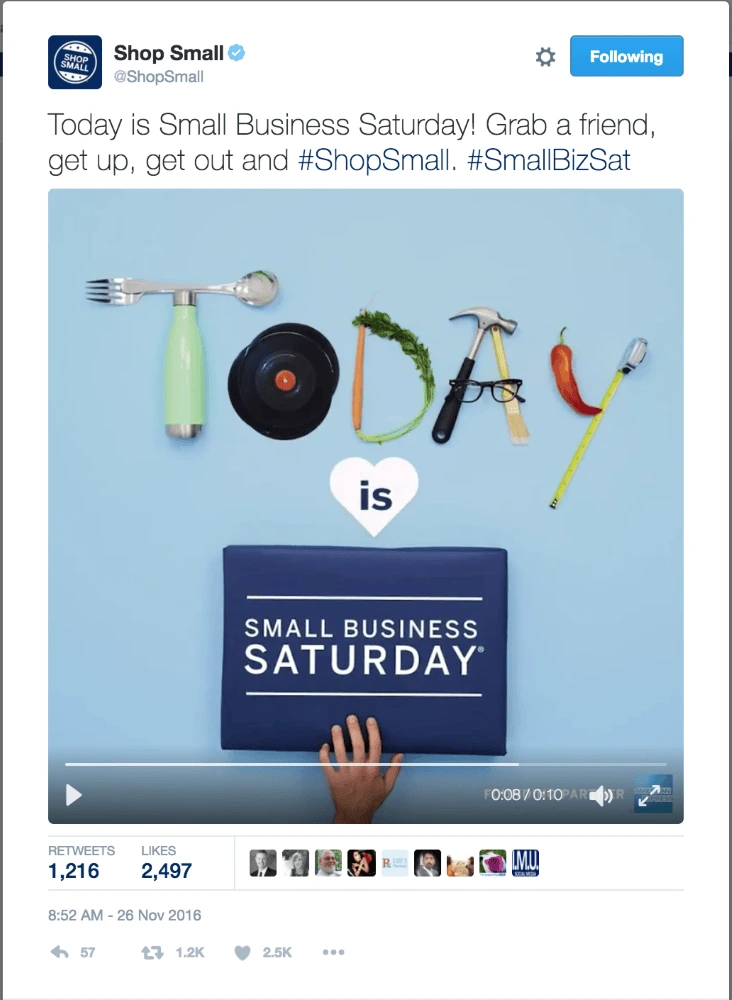 American Express has been recognized in the past for OPEN Forum, its small-business blog—and rightly so. But its dedication to serving SMBs crossed over into social media with the creation of the @ShopSmall Twitter account. @ShopSmall is active throughout the year, but things really ramp up in the fall in preparation for November's #SmallBizSat.
If you haven't heard, Small Business Saturday is a national holiday (first sponsored by American Express in 2010) that takes place between Black Friday and Cyber Monday. It encourages shoppers to support small and local businesses—just the kind of places American Express hopes to service.
@ShopSmall is a hyper-focused social media account that leverages the larger SMB community American Express has built over the years, and the community's passion and enthusiasm are contagious.
5. Highlight user-created content: Maersk on Instagram
What do you get when you combine smartphone photography, shipping containers, and the open sea? For Maersk, the world's largest container ship and supply vessel operator, you get one hell of an Instagram account. Thanks to pilots, sailors, and travel professionals around the world, Maersk has a deep well of user-generated photos to share with its 77.4k followers.
And the pictures are good. Like, really good. If you had told me that one of the best business Instagram accounts out there specialized in photos of shipping containers, I'm not sure you could've convinced me. But after scrolling past sun-lit ocean horizons, grand heavy ships that miraculously still float, and even the occasional double rainbow… I'm a believer.
(And, like Maersk, if you decide to use this tactic for your social media, don't forget to credit the awesome folks who create branded content for you.)
4. Feature your customers: Square on Facebook
Like we learned from the Novartis example, stories about real people are compelling. But rather than turning its focus within, Square looks out towards its customers for social media inspiration.
Its Facebook page features slice-of-life photos of small businesses and the people who own them, people who depend on Square for payment processing. Next to the photo is a quote handpicked from a longer interview, where you get a glimpse into the daily lives of SMB owners around the country.
In this example, Fleet Coffee in Austin, Texas, is tagged so readers can easily visit their page. It's not hard to imagine that this feature brought Fleet Coffee a few new followers—which is a nice way for Square to give a little bit back to the folks who keep them in business.
3. Display your culture: Intuit on LinkedIn
Got a company culture that you're proud of? Share it! LinkedIn is the network of choice for business professionals, which means it's the perfect place to share updates about awards, activities, and other exciting announcements pertaining to your company. As you can see in this update, the award shows that Intuit values a diverse culture that offers opportunities to women in tech.
Sharing what makes your company a great place to work offers dual benefits. First, it assures potential B2B clients and partners that you care about your people and will likely work hard to treat them fairly. Second, it attracts top talent who shares your values, which makes it easier to keep your culture strong. So don't be shy—when it comes to culture, it's okay to brag a little bit.
2. Give a peek behind the curtain: Sunnybrook Hospital on Twitter
As you go about your daily work, consider that what might seem like regular routine to you could be fascinating and new for your audience. For example, take a look at the healthcare industry. Sunnybrook Hospital in Toronto, Ontario, came up with a fascinating way to give its followers a peak behind the curtain—by livetweeting a patient's heart surgery.
As part of its efforts to raise awareness for Heart Month in February, the hospital livetweeted a coronary artery bypass graft over the course of nearly eight hours (with consent from the patient, of course). This unique use of social media attracted media coverage for their cause, which means the surgery and the strategy were both a great success.
To see the tweets, check out this Storify link (be advised: some tweets contain graphic medical content). Are there processes or procedures going on "behind the scenes" that you could share with your followers?
1. Don't be afraid to try something new: General Electric on Instagram (Stories)
It's almost impossible to talk about B2B social media without mentioning General Electric. The digital/industrial giant maintains a presence on all the major social networks and has earned praise for campaigns in the past like #ILookLikeAnEngineer, which highlighted women and minorities working in a white-male-dominated field. But what earns GE a spot on this list is not what they do on Facebook or Twitter.
It's the willingness to experiment with new forms of social media, trying out innovative content and new platforms that might scare other brands away. GE was on Vine the day after it launched, it's on Snapchat, and when Instagram launched Stories in August, GE was there with an exploration of the Masaya Volcano in Nicaragua.
While it might not keep or update every platform, GE strikes while the iron is hot and earns valuable views in the process.
It turns out that, with a little ingenuity, B2B brands can make just as big a splash on social media as any other brand. Next time you're planning a social media campaign, try out some of these ideas.
How can you compete with the best social media campaigns? First of all, you need to know your customers well. To interact with them in a friendly way, you need to understand their desires and interests. Then it's time to brainstorm and put your best social media campaign ideas into action. With hard work, you can run a clever, successful social media campaign that takes your brand to the next step, whether that's getting it on the map or earning a million more customers.