Create beautiful social media graphics for free
Stunning and professional social media graphics are the key to successful social media campaigns. Use Marq to quickly create quality social media images for every size and platform. With our intuitive, drag-and-drop editor creating beautiful, on-brand social media graphics is easy for everyone.
Havent signed up yet?
Give us a try.
Gets started fast with smart social media templates
Marq offers a wide array of layouts from Facebook covers & posts to Pinterest graphics, YouTube channel art, and Twitter & Instagram posts. Simply pick a template, customize and publish in minutes. Customize the template by hand or upload your branding to access a collection of Smart Templates automatically customized to fit your brand.
Feature highlights
Studies estimate that by 2021, there will be more than 3 billion active social media users worldwide. Stand out from the crowd with Marq's free and easy-to-use design tool. Your followers will think you took a graphic design course—but we'll never tell.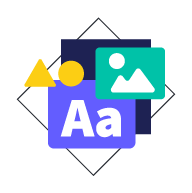 Brand assets
Store and download custom brand assets (like logos, colors and fonts) into our asset hub for fast access as you create your social media content.
Web-based platform
Since Marq' platform is web-based, there's nothing to download or install — so you'll always have the latest version.
Data automation
Avoid the cumbersome process of adding your contact information to multiple social post variations. With a premium account, you can set up smart fields to input that information automatically.
Image search
Don't have your own stock photography? Use Marq's image integrations with services like Bing, Unspalsh & Iconfinder to quickly search and select images for your post. (Pro tip: Remember to filter by creative license.)
Design a Social Media Graphic
How to make your own graphics on social media
Well-designed social media graphics can often be the difference between a post that gets lots of views and one that gets ignored. If you're concerned about creating social graphics since you have little-to-no experience in design, you've come to the right place. With Marq, you can create your own graphics in only a few minutes, and they'll look like they were done by a team of professional designers. Here are a few tips you can follow to make sure your social media images are of the highest quality.
Go with bright and bold
The social media world is crowded. You want to make sure your content stands out. One of the best ways to do this is with bright, bold colors. Think about some of the social media posts you've enjoyed recently. Chances are, they used a bold color scheme that grabbed your attention.
Select the right template
Marq gives you a variety of templates you can choose from to begin creating your social media graphics. Make sure you select a template that best matches the type of social media post you want to create. For example, if you're creating a new Instagram post, the Marq Instagram post template will help you start off on the right foot with the right dimensions.
Use text in your graphics
Social media users love to share content built around fascinating information or interesting quotes. Including text within your social media graphics makes that information easier to notice. Make sure the text is easy to read on any device.
Make it personal
While it might be easy to use stock images as part of your social media graphics, sometimes the better approach is to use some of your own photos. This gives them a more personal touch and avoids the generic feeling so many graphics have. With your own images, you'll be able to make a stronger connection with other social media users. If you do want to use stock photography, take care to personalize your post in other ways that show off your brand's personality (like colors and fonts).
Create all of your on-brand collateral in Marq
Create
Design beautiful content — whether it's digital or for print.
Create more content
Templates
Get inspiration or start from our library of over 1000+ templates.
Check out other templates
Guides
Learn how to create professional collateral with how-to guides.
Learn from a guide