Free pie chart maker
Quickly create and distribute a stunning pie chart with the Marq brand templating platform. You don't have to be a design genius to put together something great. Our intuitive drag-and-drop editor puts the power in your hands.
Havent signed up yet?
Give us a try.
Smart pie chart templates — smarter you.
Not a professional designer? No problem. Choose from one of our hundreds of pie chart templates to get you started creating a professional pie chart. Customize the template by hand or upload your branding to access a collection of Smart Templates automatically customized to fit your brand.
Feature Highlights
You don't have to be a brilliant designer to craft beautiful data visualizations.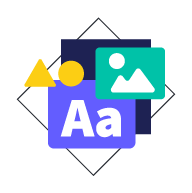 Brand assets
Make customizing content even easier by storing all your brand assets in one place.
Web-based platform
With a web-based platform, no downloads or software installations are required, and you can access your Marq account from any browser or platform.
Data automation
Smart Fields auto-populate information and images in your templates, so you don't have to chase down information.
Easy import
Use our Indesign Import feature to import existing InDesign files and convert them to Marq templates.
Design a Pie Chart
How to create a pie chart
Follow these steps to quickly create a pie chart in Marq.
Choose a template
Select a pie chart layout from the template gallery.
Adjust the pie chart to match your data
Use the endpoint to expand or contract each section to match the percentage amount for that category.
Swap out colors
Adjust the colors on each section of the pie chart to match your branding.
Add a headline and additional context
Include a descriptive title for the chart and add paragraphs of text to provide additional information and conclusions about the data. Don't forget to add a data label.
Share your finished chart
Embed the chart in a presentation or infographic, download it as a standalone file or distribute the chart on social media. 
FAQs
What is a pie chart?
A pie chart is a type of graph used to show percentages of a whole at a single point in time.
When should I use a pie chart?
Pie charts are used to show relative proportions, so the numbers should always add up to 100%. Pie charts should not be used to show changes over time. 
What should be included in a pie chart?
A pie chart should include a title describing the information, a legend for each section of the pie chart and a data label with the exact percentage. 
Does Marq offer other chart types?
Yes, with the Marq chart maker you can create line graphs, bar graphs, diagrams and more. 
Create all of your on-brand collateral in Marq
Create
Design beautiful content — whether it's digital or for print.
Create more content
Templates
Get inspiration or start from our library of over 1000+ templates.
Check out other templates
Guides
Learn how to create professional collateral with how-to guides.
Learn from a guide