Free logo maker software
Create a logo for your business in minutes. With our intuitive, drag-and-drop editor creating beautiful, on-brand logos is easy for everyone.
Havent signed up yet?
Give us a try.
Create your business's foundation
Marq is more than a logo maker. Use Marq as your brand templating platform to delight your audience with professional design and grow your brand with a consistent brand identity.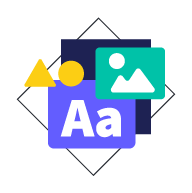 Brand assets
Make customizing content even easier by storing all your brand assets in one place.
Web-based platform
With a web-based platform, no downloads or software installations are required, and you can access your Marq account from any browser or platform.
Data automation
With smart fields or our advanced data automation feature, you can auto-populate information in your templates, cutting down on repetitive content updates.
Easy import
Use our handy integrations with Google Docs, YouTube, Dropbox, Facebook and InDesign to import existing content. Need stock photos? Use our Unsplash integration to quickly search for and add the perfect image to your logo.
Design a Logo
How to create your own logo in Marq
Pick a template
Choose one of our logo templates as your design inspiration or search for an icon of your choosing through our IconFinder integration.
Customize your logo
Update the logo's color and font to match your brand with a couple clicks and add your brand's name.
Distribute
Download your logo as a high resolution image, and add it to your website. Save your logo in Marq and drag and drop it into business card templates and any other collateral you need to create.
FAQ
Why do I need a logo?
Your logo is usually the first impression that people have of your business. If it's attractive and catchy, then customers will remember your logo. If it's bad, your logo will easily be forgotten.
Why should I choose the Marq logo maker?
The Marq logo maker not only helps you to create a professional logo; it also gives you access to an entire suite of design tools. Choose from hundreds of templates to create content with your logo on it. Marq will also save your logo, colors and fonts, so you can quickly create on-brand content.
What makes for a good logo?
Every business is different, so no two logos are alike. A company's logo should say something about the business. When designing your logo, take a moment to think about what your business provides for its customers. What do you want your company's overall message to be? What kind of vision do you have for the company's direction? With these thoughts in mind, you can begin to craft a logo that encapsulates the purpose of your brand. A good logo is unique. If it looks too similar to other logos, especially if they're in the same industry, then you'll struggle to differentiate yourself. Using distinct yet simple shapes, symbols and colors will make your logo easy to recognize and remember.
How much does the logo maker cost?
Our online logo maker is completely free. After you create your awesome logo, you'll have a free Marq account that empowers you to share your branded collateral with coworkers. Logo creation has never been so easy or affordable.
When will the logo be ready?
You don't have to wait long to start using your logo. After using Marq's free logo creator to make a brand new logo, you can begin using it right away.
Where should I use my new logo?
Everywhere. If you're making some business cards, place the logo on them. If you have company stationery, that should include the logo, too. Clothing, advertisements, and the company website should all have the new logo prominently displayed. You want customers to associate the logo with what you do, so make sure the logo is closely tied to your products and services.
Ready to design your logo?
With the Marq logo maker, free logo designs are only a few minutes away. Create a free account to get started.
Design a Logo
Create all of your on-brand collateral in Marq
Create
Design beautiful content — whether it's digital or for print.
Create more content
Templates
Get inspiration or start from our library of over 1000+ templates.
Check out other templates
Guides
Learn how to create professional collateral with how-to guides.
Learn from a guide