Free online line graph maker
Quickly create and distribute a stunning line graph with the Marq brand templating platform. With a powerfully intuitive editor, it's never been easier to impress your audience… and yourself.
Havent signed up yet?
Give us a try.
Smart line graph templates — smarter you.
Not a professional designer? No problem. Choose from one of our hundreds of templates to get you started creating a professional line graph. Customize the template by hand or upload your branding to access a collection of Smart Templates automatically customized to fit your brand.
Why choose our line graph maker?
You don't have to be a brilliant designer to craft beautiful data visualizations. Whether you're a team of one or a team of five, our brand templating platform makes it easy to create content and build your brand.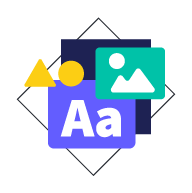 Brand assets
Make customizing charts even easier by storing all your brand assets in one place.
Web-based platform
With a web-based platform, no downloads or software installations are required, and you can access your Marq account from any browser or platform.
Data automation
Smart Fields auto-populate information and images in your templates, so you don't have to chase down information.
Easy import
Access thousands of free stock photos or icons in the Marq editor or easily import your own from Dropbox or Facebook. Use our Indesign Import feature to import existing InDesign files and convert them to Marq templates.
Design a Line Graph
How to make a line chart
Marq makes it easy to create stunning data visualizations.
1. Choose a line graph template
Choose from our collection of free line graph templates to quickly get started designing your graph.
2. Update the data
Adjust the axes of the chart and the height of the line based on your data set.
3. Add additional context
Incorporate axis labels, a title and additional copy to provide context to your line graph.
4. Update to match your brand
Swap out colors and fonts to match your brand identity.
5. Distribute your line graph
Download, print or share your line graph online.
FAQ's
What is a line graph?
A line graph plots data over a series of times. It typically consists of an x-axis showing times or dates and a y-axis with a data point that changes over time.
When should I use a line graph?
A line graph is typically used to show changes in values over time. A bar graph is better suited to comparisons while a pie chart is the best choice for showing parts of a whole. Create any chart you need with our chart maker.
Create all of your on-brand collateral in Marq
Create
Design beautiful content — whether it's digital or for print.
Create more content
Templates
Get inspiration or start from our library of over 1000+ templates.
Check out other templates
Guides
Learn how to create professional collateral with how-to guides.
Learn from a guide