Online newsletter maker software for everyone
Quickly create and distribute a stunning newsletter with the Marq brand templating platform. Marq makes it easy to create stunning newsletters inside your web browser. With our range of professional templates and a simple drag-and-drop interface, your work is sure to impress. It's newsletter design made easy.
Havent signed up yet?
Give us a try.
Smart newsletter templates — smarter you.
Not a professional designer? No problem. Marq's free newsletter creator includes
beautiful newsletter templates
to get you started. Customize the template by hand or upload your branding to access a collection of Smart Templates automatically customized to fit your brand. Your readers will love the new look.
Feature Highlights
With Marq, DIY newsletter design becomes simple and intuitive. Whether you're a team of one or a team of five, our brand templating platform makes it easy to create content and build your brand.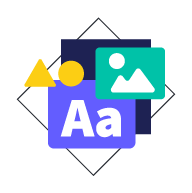 Brand assets
Make customizing your newsletter even easier by storing all your brand assets in one place. Update a logo, use your brand colors and more.
Web-based platform
Our web-based platform means that anyone can access Marq across all browsers or devices.
Data automation
With smart fields or our advanced data automation feature, you can auto-populate information in your templates, cutting down on repetitive content updates.
Easy import
Access thousands of free stock photos or icons in the Marq editor or easily import your own from Dropbox or Facebook. Use our Indesign Import feature to import existing InDesign files and convert them to Marq templates.
Design a Newsletter
How to design a newsletter
Follow these simple steps to quickly create an eye-catching newsletter in Marq.
1. Choose a template
Choose a newsletter template from our vast collection of free print and email newsletter templates.
2. Customize to your brand
Update the newsletter to match your brand by swapping out logos, colors and fonts.
3. Add copy
Import or copy and paste your copy. Use linking text boxes to easily flow from one section to the next.
4. Upload images
Upload your own images or choose from our collection of stock photos. 
5. Distribute your newsletter
Read, set, publish. Print your newsletter. Sent it via email, or publish it online.
FAQ's
1. How long is a newsletter?
Newsletters vary in length depending on their purpose. An email newsletter should be kept relatively short with scannable bullet points. A printed newsletter can be one to five pages.
2. What should be included in a newsletter?
A newsletter should include the main headline and hero image, several columns or sections of text and supporting imagery. Remember to include any relevant calls-to-action or contact information. In Marq, you're able to add links directly to the document.
3. Can I embed video in the newsletter?
Yes, you can embed a YouTube, Facebook, Vimeo or Brightcove video directly in your newsletter.
Engage your readers with an engaging newsletter design
Newsletters are a powerful tool for staying in touch with your customers. Now newsletter design can be easy with an intuitive design tool and a collection of free newsletter templates. Start creating your newsletter today.
Design a Newsletter
Create all of your on-brand collateral in Marq
Create
Design beautiful content — whether it's digital or for print.
Create more content
Templates
Get inspiration or start from our library of over 1000+ templates.
Check out other templates
Guides
Learn how to create professional collateral with how-to guides.
Learn from a guide