Create restaurant menus in minutes with our free menu maker
Running a restaurant is far from easy. You want to create an experience for the customer that is memorable, one that will keep them coming back again and again. Your menu design should be part of that experience. Use our free menu maker to create unique, professional menus for your restaurant. With a powerfully intuitive editor, it's never been easier to impress your audience… and yourself.
Havent signed up yet?
Give us a try.
Smart restaurant menu templates — smarter you.
Restaurant menus help to set expectations. They communicate valuable information that will help customers make important decisions about their meal. Give a customer a poorly done menu, and their whole experience gets off on the wrong foot. A menu that's unique to your restaurant helps create a great impression on your customers. Get started by using any of our professionally-designed templates and make it all your own. Customize the template by hand or upload your branding to access a collection of Smart Templates automatically customized to fit your brand.
Feature Highlights
You don't have to be a brilliant designer to craft beautiful content. Whether you're a team of one or a team of five, our brand templating platform makes it easy to create content and build your brand in the new design democracy.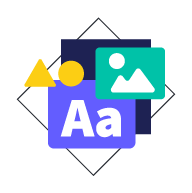 Brand assets
Your business has a unique look and personality and so should your menu. Store and access your brand's logos, fonts and colors to create beautiful, on-brand content.
Web-based platform
Since Marq' platform is web-based, there's nothing to download or install — so you'll always have the latest version.
Data automation
Avoid the cumbersome process of adding your menu options to multiple menu variations. With a premium account, you can set up smart fields to input that information automatically.
Easy import
Marq integrates with your favorite tools to put content at your fingertips. Transfer text from a Google Doc, import an InDesign file or insert photos from Dropbox, Facebook or Unsplash so you can stay focused on your work.
Design a Menu
How to create a good menu
What size should the menu be?
The size of your menu may depend on the amount of food your restaurant offers. The larger the size, the more you can include. That means not just more food but more images. If you want to keep things simple, you can go with a single page that makes efficient use of space.
What brand do you want to share?
Your restaurant should have a unique personality. That should be reflected in your menu. Once you know what kind of brand you want to share, you'll be able to show that through design elements in the menu, from colors to photos. A quirky restaurant might have fun names for its meals. A high-class restaurant may have very detailed food descriptions. Decide how your menu will represent you.
What will separate you from the rest of the pack?
You're not the only game in town. People have plenty of restaurants to choose from. Decide what will help you stand out from the crowd, then put that personality into your menu. Then, place the menu online so people can browse before they set foot outside their door.
Create a menu you can be proud of
Once a customer enters your restaurant, they'll be taken in by all the sights, sounds, smells, and (eventually) tastes. From the moment they step through that door, you need to make sure your restaurant communicates its own style and amplifies what each person is about to experience. The menu is one of the first ways to do that, but creating an effective menu design can be a challenge on its own.

Think about all the elements that go into creating a menu. You have the text that describes the food, images of the food, the layout, graphical design elements, and more. That's a lot to juggle. Using the free menu maker from Marq gives you a great start in creating the perfect menu. From there, you can customize each part of it to show off your restaurant and the food you offer. Once you've gotten the right menu design, you'll see how effective it can be in getting the customers' mouths to water.
Design a Menu
Create all of your on-brand collateral in Marq
Create
Design beautiful content — whether it's digital or for print.
Create more content
Templates
Get inspiration or start from our library of over 1000+ templates.
Check out other templates
Guides
Learn how to create professional collateral with how-to guides.
Learn from a guide