Shipping in style: Free label maker & online label design
Punch up your labels with custom fonts, colors & images. Marq is an easy, free label maker online with a powerfully intuitive editor to help your label designs pop.
Havent signed up yet?
Give us a try.
Get started fast with smart label templates
Start with one of our professionally designed templates and customize it to your delight. Upload your own logos, photos & more to make it yours. Customize the template by hand or upload your branding to access a collection of Smart Templates automatically customized to fit your brand.
Feature Highlights
What makes us the best label maker around? Photoshop is too much. Microsoft Word is too little. But Marq is just right. Whether you're a team of one or a team of five, our brand templating platform makes it easy to create content and build your brand in the new design democracy.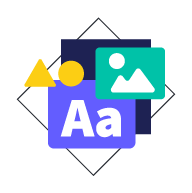 Brand assets
Store and download custom brand assets (like logos, colors, and fonts) into our asset hub for fast access.
Web-based platform
With a web-based platform, no downloads or software installations are required, and you can access your Marq account from any browser or platform.
Data automation
Avoid the cumbersome process of adding your contact information to multiple label variations. With a premium account, you can set up smart fields to input that information automatically.
Easy import
Access thousands of free stock photos or icons in the Marq editor or easily import your own from Dropbox or Facebook. Use our Indesign Import feature to import existing InDesign files and convert them to Marq templates.
Design a Label
Getting started with the label maker
Templates for every ocassion
Whether you need to make a product label, address label or shipping label, this tool makes creating labels easier than ever. Need a product label for your homebrew? No problem. Need a shipping label for your Etsy store? You got it. Need a label for your budding romance with that guy from Tinder? Okay, we can't help you there. But an attractive address label couldn't hurt.
Quality design in a snap
An effective label is one that will grab people's attention right away. You don't need a big design team to come up with one. Marq gives you all the tools and features you need to make something that will stand out.
Customize
Do you have a specific style you want your labels to reflect? The label maker from Marq lets you do just that. Customize the font, colors, images and other design elements as you make a label you can truly call your own. All of this is available for free. Just sign up with Marq and you can get started right away. After only a few minutes, you'll have a label ready to go.
Create all of your on-brand collateral in Marq
Create
Design beautiful content — whether it's digital or for print.
Create more content
Templates
Get inspiration or start from our library of over 1000+ templates.
Check out other templates
Guides
Learn how to create professional collateral with how-to guides.
Learn from a guide