Free Online Flyer Maker & Easy Flyer Design
Bring your ideas to life with Marq's free online flyer maker. With customizable templates an easy-to-use, drag-and-drop design tool, you'll have your flyer designed and printed in minutes. The best part? No graphic design skills necessary.
Havent signed up yet?
Give us a try.
Get started fast with smart flyer templates online
Marq provides free
printable flyer templates
to get you started promoting your event. We offer a wide range of flyer choices including business flyers, fundraising flyers, club flyers and fitness flyers. Customize the template by hand or unlock the power of Smart Brand Assets. Upload your brand's colors, font and logo to access a collection of templates customized to your brand.
Feature Highlights
The Marq flyer maker has powerful features built to accommodate any user. Whether you're a team of one or a team of five, our brand templating platform makes it easy to create content and build your brand in the new design democracy.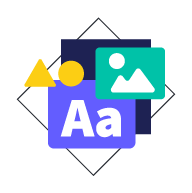 Brand assets
You're free to customize the flyer templates any way you choose. Add your brand colors and logo, upload images and choose from our wide range of fonts to create the exact flyer you want. Make customizing content even easier by storing all your brand assets in one place.
Web-based platform
With a web-based platform, no downloads or software installations are required, and you can access your Marq account from any browser or platform.
Data automation
With smart fields or our advanced data automation feature, you can auto-populate information in your flyers, cutting down on repetitive content updates.
Easy import
Marq integrates with your favorite tools to put content at your fingertips. Transfer text from a Google Doc, import an InDesign file or insert photos from Dropbox, Facebook or Unsplash so you can stay focused on your work.
Design a Flyer
How to create a professional flyer
A flyer is one of the most basic marketing materials for businesses. Whether you're promoting an event, sale or new product, a flyer can capture the most important information of your promotion while driving interest with vibrant colors and interesting images. Follow the steps below to learn how to make a flyer.
Step 1: Choose a template
Start by choosing a flyer template. We offer a wide range of business flyers and personal flyers to choose from. You can also start from a blank canvas if you prefer to create your own flyer.
Step 2: Add Images
Add compelling images. Marq's flyer maker offers free stock photos with each template or insert your own to create a customized flyer.
Step 3: Craft your message
Keep your copy short and to the point. Avoid making the flyer design too wordy. Provide the basics of who, what, where and when. Remember to choose a simple font that's easy to read.
Step 4: Customize
Customize your flyer by updating the background, adding your brand's colors and choosing from our wide range of fonts. Be sure to match the flyer to the theme of your event or promotion.
Step 5. Distribute
Once your flyer is ready, print from your home or office printer, download a PDF or share the flyer with collaborators via email or Slack.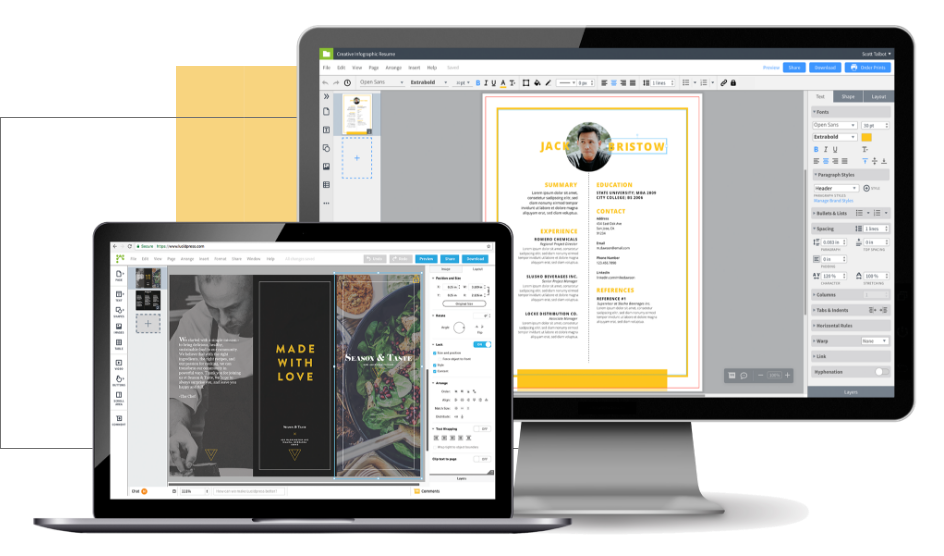 Digital flyers
Looking for more than a traditional flyer? With Marq's flyer creator you can create an interactive online experience to promote your event, retreat, fundraiser or any occasion that warrants a big promotion. Take advantage of interactive elements including scrolling text areas, embedded video, social media buttons and image slideshows.




FAQ
Can I distribute the flyer digitally?
Yes, we have several flyer distribution options including sharing in email, posting on social media, creating a published document link or embedding the flyer on your website through our web viewer. To post directly on social media, connect your Twitter account or Facebook page, and you'll be able to create a custom social media post directly from the viewer.
Can I create my flyer in a landscape orientation?
Yes, in the editor you can select any orientation you desire. Under page layout update the orientation to landscape and then adjust the flyer size if desired. We also offer templates in both landscape and portrait.
Can I use my own images?
Yes, either upload your images into the image manager or copy and paste graphics directly into the editor. Each flyer can be completely customized to meet your needs.
Can I add my own shapes?
Yes, drag and drop a shape into the canvas to create your own frames and objects in the flyer to customize the flyer design.
Can I use my business's branding?
Yes, all of our templates can be customized with your business's images, fonts and colors. With a premium account of our flyer maker, you can add smart fields to quickly populate business flyers with the business's name and relevant contact information.
Ready to make your flyer?
A well-designed flyer will catch attention, engage the reader, and produce results. With Marq as your flyer maker, you'll be surprised at how easy it is to reach your audience by using beautiful design. Get started with our custom flyer templates now.
Design a Flyer
Create all of your on-brand collateral in Marq
Create
Design beautiful content — whether it's digital or for print.
Create more content
Templates
Get inspiration or start from our library of over 1000+ templates.
Check out other templates
Guides
Learn how to create professional collateral with how-to guides.
Learn from a guide