Free business card maker
Too often, making a business card ends up being complex and expensive. Realize your vision for your personal brand with Marq. With our intuitive, drag-and-drop editor creating beautiful, on-brand business cards is easy for everyone.
Havent signed up yet?
Give us a try.
Get started fast with smart business card templates
Get started by using any of our professionally-designed business card templates and make it all your own. Each template is completely customizable to match your company brand. Customize the template by hand or upload your branding to access a collection of Smart Templates automatically customized to fit your brand.
Feature Highlights
You don't have to be a brilliant designer to craft beautiful content. Whether you're a team of one or a team of five, our brand templating platform makes it easy to create content and build your brand in the new design democracy.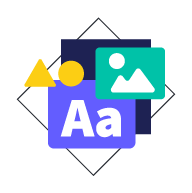 Brand assets
Your business has a unique look and personality and so should your business card. Store and access your brand's logos, fonts and colors to create beautiful, on-brand content.
Web-based platform
Our web-based platform means that anyone can access Marq across all browsers or devices.
Data automation
Avoid the cumbersome process of adding your contact information to multiple business card variations. With a premium account, you can set up smart fields to input that information automatically.
Easy import
Integrations with Google Docs, Youtube, Dropbox, Unsplash and InDesign save you work and give you access to the best tools to make your business card shine. It's easy to import your existing content and incorporate it into your business card design. You can make a card that is stylish and individual to you.
Design a Business card
Making an effective business card
If you're not a professional designer, creating a business card can seem like a challenging task. Using free business card templates can get you started on the right track. Here are some other tips that can help as you make that perfect business card.
Step 1
Make sure everything on the card is easily readable. All of the important information should be prominently displayed. Include your name and contact information so people know how to get a hold of you for follow-up purposes. Also, display your company info, including the business's logo. That way, people will know what business you work for and what you do there.
Step 2
Keep every element of your business card in line with your business's brand. Besides using the company logo, use the brand's colors. If your business has a style guide, follow it as closely as you can when making your business card. That may include the type of font you choose or other graphical elements you want to include. Failing to follow the business brand could create a feeling of incongruity for the people you meet. If you represent a law firm, for example, you'll usually want to follow a template that's professional and subdued. If you work for a company that sells party supplies, on the other hand, you'll probably want to make a business card that looks fun, with vibrant colors and images.
Step 3
Keep your business card simple. Make sure it communicates basic information. The more cluttered the business card, the less effective it is. It should be clear what you and your business are all about after only a few seconds.
Create a business card you can be proud of
With the free business card maker from Marq, you can create business cards that will impress potential customers and clients. Business cards are often the first impression people will have of your company. You want to make a business card that conveys what your company is all about. With help from professional designers, we've created business card templates that you can use to get started.

Do you want something clean and simple? You'll find a business card template for that. Do you want a design that's elegant and colorful? With these templates, you'll be able to make free business cards like that as well. Even if you don't find precisely what you want, these business card templates are easy to customize. Put a custom spin on your business card by changing the fonts, colors, backgrounds, photos and more. You'll end up with a product that communicates everything you want at a simple glance.

You want to represent your brand professionally. Make sure your business card does the same. Have you ever received a business card that looks sloppily designed or hastily put together? A bad business card can leave a bad taste in your mouth. Avoid this situation and make a business card that shows the dedication, thoughtfulness, and love you put into your job at every opportunity. Best of all, you can create a finished product that will impress, all for free.
Design a Business card
Create all of your on-brand collateral in Marq
Create
Design beautiful content — whether it's digital or for print.
Create more content
Templates
Get inspiration or start from our library of over 1000+ templates.
Check out other templates
Guides
Learn how to create professional collateral with how-to guides.
Learn from a guide