Microsoft Publisher for Mac alternative online
Ever wished that you could run Publisher on your Mac? Look no further—Marq is a browser-based, multi-platform alternative. Create gorgeous content on any OS!
Havent signed up yet?
Give us a try.
PUBLISHER FOR MAC SOLUTION
Marq offers the power of Microsoft Publisher and more on either a Windows or Apple computer. Enrich text and images with state-of-the-art effects, import photos, and print to nearly any format.
FEATURE HIGHLIGHTS
You don't have to be a brilliant designer to craft beautiful content. Whether you're a team of one or a team of five, our brand templating platform makes it easy to create content and build your brand in the new design democracy.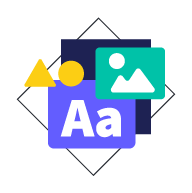 Brand assets
Make customizing content even easier by storing all your brand assets in one place.
Nothing to install
Being browser-based allows Marq to free up even more of your time and money. There is nothing to download, no licensing fee, and you'll always have the most up-to-date version automatically.
Data automation
Smart Fields auto-populate information in your templates, so you don't have to chase down information.
Easy import
Importing photos and content is fast and efficient with Marq's integrations. Whether you need text from a Google Doc or a photo from Facebook or Dropbox, you can import it directly into Marq. Use our Indesign Import feature to import existing InDesign files and convert them to Marq templates.
Start Designing
MICROSOFT PUBLISHER FOR MAC FAQ
Does Microsoft Publisher work on Mac?
Microsoft Publisher is only available for PC.
What is the equivalent of Microsoft Publisher on Mac?
There are several desktop publishing alternatives to Microsoft Publisher. While Apple computers come with some basic publishing programs such as Pages, Marq offers a more robust publishing platform that will work on both PC and OS.
How can I open a .pub file on a Mac?
The easiest way would be to export the Publisher file in a PDF format. If this option isn't available, you can use an online file converter such as Zamzar to convert the Publisher file to a PDF or Word file.
Create all of your on-brand collateral in Marq
Create
Design beautiful content — whether it's digital or for print.
Create more content
Templates
Get inspiration or start from our library of over 1000+ templates.
Check out other templates
Guides
Learn how to create professional collateral with how-to guides.
Learn from a guide