An InDesign alternative for everyone
Need a full-featured, affordable alternative to pricey desktop software? Marq is the cloud-based tool you've been looking for.
Havent signed up yet?
Give us a try.
FEATURE HIGHLIGHTS
Marq's powerful features set it apart from other web-based design programs and InDesign alternatives.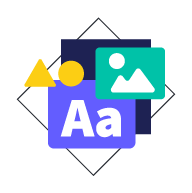 Brand assets
Store and download custom brand assets (like logos, colors and fonts) into our asset hub for fast access.
Web-based platform
Forget those expensive desktop programs. Marq offers a browser-based user experience that's indistinguishable from that of a downloaded product. This free InDesign alternative will help you tackle any project you have.
Data automation
Smart Fields auto-populate information in your templates, so you don't have to chase down information.
Seamless imports
For a final touch, you can import photos and content from Facebook, Unsplash, Dropbox, Google Docs, or even Youtube. Marq gives you access to a community of powerful tools on the web with these smart integrations.
Start Designing
Best InDesign Alternatives
Although there are many alternatives to InDesign, we encourage you to skip complicated, costly software and design platforms. Marq offers you the most comprehensive InDesign alternative on the market, and you can get started for free right now.
Adobe InDesign
InDesign works on Windows and Mac. To use it, you need to have a subscription to Creative Cloud. That can cost you $20.99 every month for a single app—or $52.99 per month for the whole Adobe suite. InDesign is a desktop publisher which works best for users with advanced skills, so expect a steep learning curve. It's a popular choice for creating print and digital designs. InDesign's proprietary format is .indd, though you can export to formats like .swf and .epub.
QuarkXPress
QuarkXPress is available for Windows and Mac. It doesn't come cheap; you have to pay $849 to use it. Due to this price tag and its robust feature set, QuarkXpress is best for people with intermediate to advanced design skills. The software also comes with features not seen in other desktop publishers. QuarkXpress is able to handle most file formats.
Microsoft Publisher
Microsoft Publisher only works with Windows. You'll have to pay $109.99 to use it—or $99.99 annually with Office 365. Though it has a high price tag, it's an excellent platform to use for beginners. That simplicity does come with a caveat, since it's not a great choice for professionals. Publisher focuses mainly on page design and layout. Its proprietary file format .pub can be exported to other formats.
Scribus
Scribus is an open-source desktop publishing software that works on any operating system and is completely free. Some of its unique features include storing data in XML format, so it can be read with any text editor. Scribus is also known for having wide selection of color pallets.
Canva
Canva is an online design tool best used for creating social media graphics. Canva offers both free and paid plans at $12.95/month. With a simple, drag-and-drop functionality and thousands of templates, Canva is a popular InDesign alternative for non-designers. While great for simple graphics, Canva has limited desktop publishing capabilities to layout multi-page documents.
START CREATING TODAY
If you're looking for alternatives to InDesign, try out Marq today. With easy-to-use tools and effective features, you'll be able to bring your designs to life. Don't settle for costly software or platforms with only a fraction of the capabilities. Marq gives you the chance to make incredible designs in a short amount of time
Start Designing
Create all of your on-brand collateral in Marq
Create
Design beautiful content — whether it's digital or for print.
Create more content
Templates
Get inspiration or start from our library of over 1000+ templates.
Check out other templates
Guides
Learn how to create professional collateral with how-to guides.
Learn from a guide