Custom name tags
Prep for your next event, tradeshow or get together with fully custom name tags.
Name Tag Stickers come in packs of 10
Number of Packs
Per Item
Pack Price
Quantity
1 packs x 10 items per pack = 10 Name Tag Stickers
Summary
4" x 3.3125"
Name Tag Stickers
Create an account,
start your order
Print Options
Matte sticker
Your custom name tag design is printed on matte paper with a sticky back. The matte finish makes the name tag easy to write on.
Volume discounts
Order in bulk to save on the price per pack.
Which size is right for you?
Design and print with Marq
Design
Use one of our name tag templates or upload your own.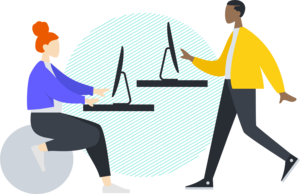 Order
Select "order prints" and customize your order.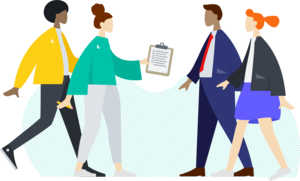 Deliver
Have your business cards shipped straight to your door.
Create a name tag
No one likes being addressed by the wrong name — or have their name forgotten altogether. That's where name tags come into play. Using custom name tags empowers folks to communicate effectively and helps build trust. Start customizing your name tags with any of our Marq templates.
FAQ
How do I design my name tag?
Design your name tag in a snap — with Marq. Choose one of our name tag templates from our gallery. Then use our editor to update text, logos, colors and fonts to match your brand.
How do I upload my own design into Marq?
Marq offers multiple import options. 
InDesign import:
To import an InDesign file, go to "File" > "Indesign import." 
Image import:
To upload an image, first, create a blank document. 

Then go to "Insert" > "Image." 
PDF import:
To import a PDF, go to "Insert" > "Image." 

In the menu dropdown, select "Pages from PDF." 

Once the file is uploaded, you can insert the file as a new page.
Can I print a different name per tag?
No, the name tags are printed in sets, so you should plan on having each guest write their name.
Where can Marq ship to?
Currently, we can ship anywhere within the United States. If you do not live in the United States, you may download your document as a PDF and then send it to your local printer.
What vendor does Marq use to print?
The main vendor that we use for prints is a company called Alexanders. We have other print partners depending on the location and integration you've set up.
What do I do if there is a mistake in my print order?
Marq offers refunds for printed orders that arrive defective or damaged, provided the third-party printer or transit carrier is responsible for the damage.
How can I cancel an order?
To cancel your order, go to Account Settings > Order History. If there is an option to Cancel Order on your print order, you can still cancel it and get your money back. If not, this means that the production process is already underway, and we will not be able to reimburse you.