So. You're designing a flyer.
Where do you begin? The endless array of images, backgrounds, catchy headlines and clip art (bad idea) at your disposal can be overwhelming. Consider starting with your backdrop: the ever-so-necessary but hard-to-design flyer background.
If you're an Adobe Illustrator master, you'll probably just design one of your own. But if you're like the rest of us, you might have more luck using finger paint on a canvas than trying to figure out the intricacies of Illustrator.
The simple solution? Grab a background that someone else has already designed, and grab it for free. Lucky for you, I've already gone through the work of putting together a list of the best resources for free flyer backgrounds. So read on, and download away.
Option 1: Microstock photography
Microstock sites include not only a variety of photos, but vector images that work great for flyer-type projects. Since microstock sites accept work from amateur artists and photographers, the prices are typically lower if not completely free. They're all royalty-free, and a perfect resource for small businesses or DIY designers to grab icons and other illustrations in addition to abstract backgrounds.
Microstock sites, such as 123RF, give you access to literally thousands of background images and options.
Resources for free microstock photography:
You may have heard of popular sites such as iStock and ShutterStock, which are also great, but their free options are extremely limited.
Option 2: Textures
If you're looking for more earthy, organic flyer backgrounds, there are plenty of free resources that include everything from grungy charcoal to dirty concrete to polished wood. Basically, whatever floats your background boat. Take a look below for a few amazing options.
Lost and Taken is a free stock photo site with an especially gorgeous variety of textures.
Free textured flyer backgrounds:
Check out some more great texture options here.
Option 3: Stock photography
If you're leaning towards a more photo-based background, stock photography is your best bet. Photos don't always work well as the background to a text-based flyer. But throw on a semi-transparent black or white layer to make your text stand out a little more and a photo can really bring your flyer to life.
Unsplash is a collection of beautiful stock photos that are free of copyright restrictions.
Free stock photography:
Check out this list for more free stock photo options.
Option 4: Photo & art communities
Flickr and DeviantArt are two of the most popular open communities for uploading images. This means millions of photos and images at your disposal. Keep in mind, not all the backgrounds you find on these resources may be open for use. On Flickr, for example, you'll want to look for these icons to indicate how you are allowed to use the image.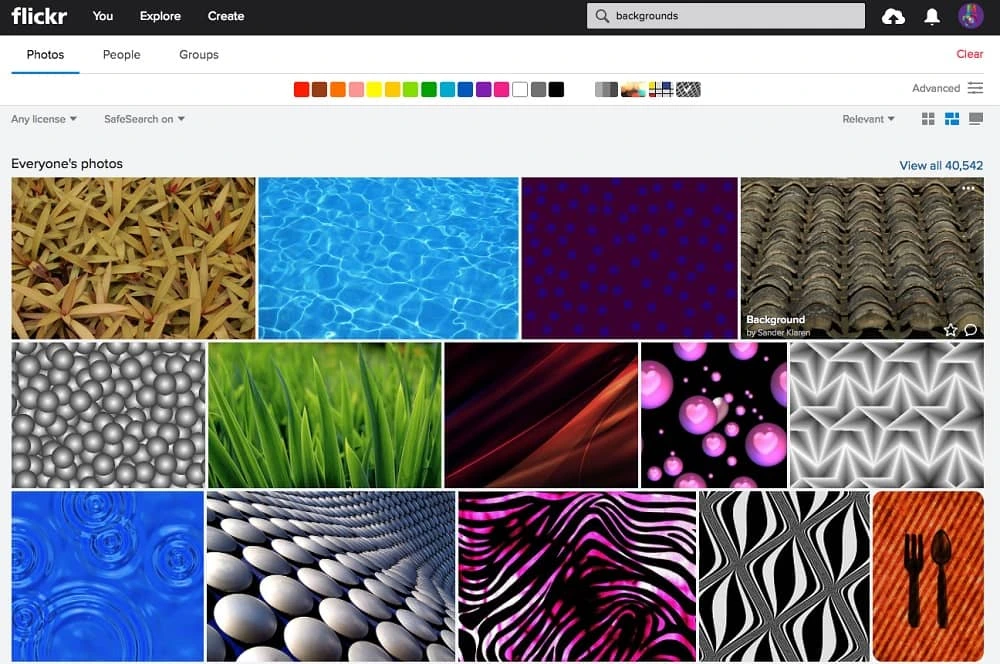 Home to 13 billion photos, you can't go wrong with Flickr.
Next: Insert your new background into a template
While you're out searching for flyer backgrounds, why not look for a template too? Once you've found the perfect background for your flyer, you can streamline your design process by using a drag-and-drop flyer maker, such as Lucidpress.
Lucidpress provides ready-to-go flyer templates that are easy to adjust and customize according to your needs. You simply choose a template, upload your background, tweak the text, and you're ready to send it to the printer. If only life was always this easy, right?
A few examples of pre-designed templates you can use to create your flyer on Lucidpress.