No matter the circumstances, real estate brokerages should never stop or press pause on recruiting real estate agents. You simply need to improve and reorient your brokerage's recruiting strategy to reflect the current climate. Now, more than ever, brokerages must create long-term plans for growth, sustainability and resiliency.
Well, that's all fine and dandy but how do you do that?
By leveraging platforms, technology and tools that empower and motivate your people to customize content as they need to, launch campaigns successfully, show up where it's needed most and come out on top time and time again. Because at the end of the day, it's those personalized, tailor-fit experiences that drive your bottom line and attract and retain top talent.
In a recent webinar, Lucidpress spoke with Verl Workman, founder of Workman Success Systems about his detailed and highly strategic agent recruiting strategy.
Watch the full webinar or read on for Verl's expert recruiting advice.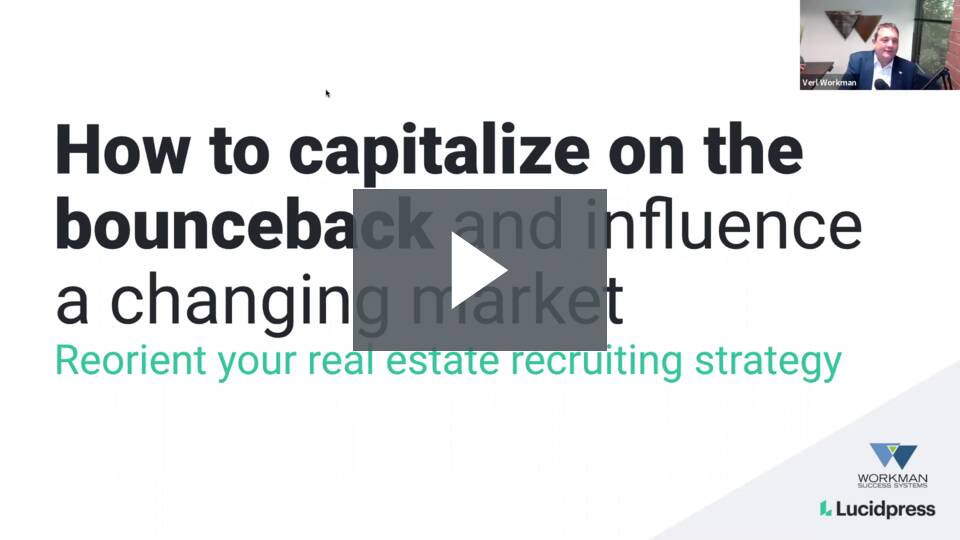 How to recruit and retain real estate agents
Verl breaks his real estate recruiting strategy into four main components he calls the 4 "R's."
The 4 "R's" of recruiting
Recruit — How do we convince new agents that your brokerage is the best to join?
Ramp — How do we keep new agents motivated and empower them to sell?
Reward — How to encourage or empower agents to build their own teams, and reward them?
Retain — How do you keep the agents you have?
Recruit
Verl argues that agents don't join your brokerage because of a list of tools and resources you offer them. They join your brokerage because they are no longer satisfied with where they are currently at. So every recruiting conversation should focus on the broker and how they benefit from the relationship instead of being focused on the brokerage.
As you're building out your recruitment program, remember the following steps:
1. Identify the best sources for new talent
Agents on the other side of transactions
Nurses, school teachers, those in nurturing positions that are underpaid for the work they do
Underperforming agents with less than 10 transactions per year
Over-performing agents with more than 20 transactions per month with no teams or system
2. Identify four pillars of real estate recruiting
Identify four channels your recruits will come from and treat each one like it's the only channel you're using. This will guarantee you hit your recruiting goal since you might fall short in a few channels but together they surpass your original goal.
Common recruiting channels include:
Cold calling or prospecting
Referrals from existing agents
Open houses
Job boards
Lunch and Learns
3. Identify your competitive advantage
When you meet with an agent to recruit for your brokerage, what is it you have that other brokerages don't have? Identify that benefit and learn how to communicate that.
4. Change the way you think about recruiting
Critical questions to ask to help you improve:
Are we giving more value than we are asking in capital return?
What can you do to improve self-worth so it will drive net worth?
How important is it for you to break out of your current state?
Is it more important for you to hang on to that position than it is to have success?
5. Set goals and track your progress
Always be recruiting. Track all of the recruiting conversations and appointments you make in a point system and make a goal to get 61 points a day. This system will help you to be proactive about recruiting rather than reactive.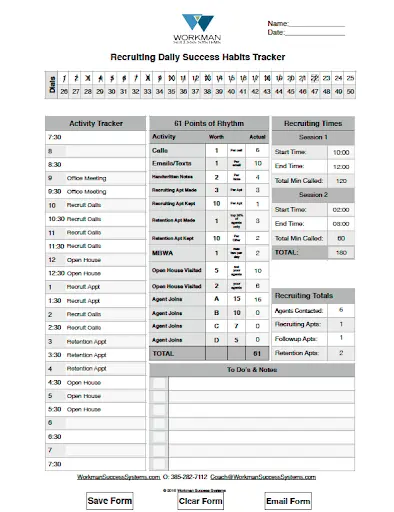 6. Streamline the recruiting and hiring process
In a competitive hiring market, candidates won't wait around while you get your ducks in a role. Have someone dedicated to interviewing and moving candidates through the pipeline. When you've found an agent that's qualified, offer them a contract right away.
7. Develop scripts
Develop scripts for sourcing and interviewing candidates. This will streamline the recruiting process and provide a better experience for agents. Create a list of common objections from potential agents and a response to each objection.
Ramp
Ultimately, the best recruiting strategy is agent success.
Getting agents to sell more and having more signs in yards is the best way to recruit more agents. Use a systemized onboarding and launch plan to set agents up for success. A comprehensive agent orientation day that walks the new agent through all of the systems and materials they need access to will help the agent get up to speed faster and feel supported. Verl recommends breaking every single item down into a spreadsheet with an assigned owner for each task.
Then, there should be a detailed 90-day ramp plan with specific tasks for the new agents, team leads and admins. The more detailed the plan, the easier it will be to automate onboarding new recruits.
Reward
Show new and current agents that you value their work and motivate them with regular encouragement and resources.
Celebrate success
Celebrate the activities that get results. Reward the number of calls made, demos set, contracts signed and net profitability. If an agent is struggling, look at their activities. Are they getting up every day and doing the things that will help them be successful?
Remove roadblocks
Cut down on time spent creating flyers by templatizing content (with a tool like Lucidpress) and giving it to agents, so they can get what they need and get back to selling.
Incentivize agent referrals
Current agents can be a powerful recruiting tool, so be sure to reward the agents that bring in new talent. A cash incentive, gift or charitable donation all work to recognize the additional value the agent is bringing to the brokerage.
Retain
Retention is key to maintaining a great network of agents. In fact, NAR has found that 30% of realtors have been at their current firm for one year or less. Verl recommends doing the following when developing an agent retention strategy.
Identify at-risk agents
If you have agents that have 10 transactions per year or less, provide them an environment where they can be more successful. Provide clear solutions such as a training center, templatized content for marketing, personal coaching for growth and partnerships.
Never do anything for new agents or recruits you don't do for current agents
Find ways to engage with and show appreciation for your current agents from birthday cards to stopping by open houses to ongoing training. At the end of the day, ask agents what you can do to better support them.
Now that you're equipped with the four R's you're ready to build a recruitment plan that will consistently bring in new recruits and retain your top talent.