Competition for customers is fiercer than ever, but a well-planned franchise marketing strategy can make you stand out from the crowd.
However, strategy is quite a complex subject. Can it be condensed into a simple article?
If you ask us, we say yes. We've distilled the most important steps a marketing strategy should contain. You'll see in the examples below that even major brands follow the principles explained in this article.
Whether you're a franchisor, a franchisee or a marketer, this is a great practical resource for you because every principle here is backed with concrete examples to inspire you.
Ready? Let's dive right in.
Segment your audience if you want to maximize your results
You already know that you can have the best product on the planet, the most persuasive sales message, or the most creative ad ever—but if you deliver it to the wrong person, it will never work, right?
This applies whether you're a franchisor looking for franchise buyers or a franchisee who wants to attract more people to your business.
So, if you want to make the most of your marketing efforts, your marketing plans have to start with your core audience in mind.
Below, you can find a few essential questions to ask yourself (or even better, your existing customers) to find out who's most likely to buy from you.
Questions to ask yourself & your team:
What are your product/service's best features, and how does each translate into a benefit for the consumer?
What's special about your product/service in comparison to your competition? Are you unique, cheaper, quicker, better value, safer? The most trusted, the first, the oldest, the most tested?
What could be your customer's main objections?
Which topics are your customers interested in? Who influences your ideal client (books, publications, media, influencers, etc.)?
Where can you catch your ideal customer's attention? Phone, email, social media, TV?
What is your ideal buyer's income?
Questions to ask your existing customers:
Why did you choose us and not a competitor? Is there anything that pushed you in favor of us?
How did you find our website or location?
How would you feel if you could no longer use us? What would you miss?
What's one thing you don't like about a competitor, or that we could improve to better meet your needs?
What would you likely use as an alternative if we were no longer available?
Have you recommended us to anyone? Why or why not?
Prioritize channels
One of the biggest mistakes entrepreneurs make is trying to be on every platform out there.
Trying to tackle every channel available can be a great strategy if:
You have the resources to do this (time + money + knowledge).
Your audience is on every platform.
The first point is pretty clear. Few companies have the resources to go that broad with their marketing efforts. Second, often times, our audience isn't everywhere.
For example, if your target audience is between 18 to 25 years old, you might be better off going for Instagram than Facebook.
Source: Statista
Or, if you want to use Twitter as one of your main marketing channels in Europe, you might reconsider because Twitter hasn't penetrated Europe as much.
There are a lot of effective channels available. How do you prioritize them?
Here's a simple, tested system borrowed from growth hacking marketing you can use. This is the same marketing concept used by startups like Facebook, Twitter, LinkedIn & Airbnb:
Source: GrowthHackers
Cost — how much you expect to spend on that particular channel (check cost statistics beforehand).
Targeting — how easy it is to reach your intended audience and how specific you can be. Does your chosen platform/channel have local advertising capabilities, for example?
Control — how much control you have once you go live. Can you stop it easily or adjust if it's not going well? For example, it's much harder to change a billboard than a Facebook ad.
Input time — how much time it will take to launch the experiment. Filming a television ad, for example, has a much longer input time than setting up a promoted tweet.
Output time — how long it will take to get results once it's live. For example, search engine optimization (SEO) could be a great channel for your franchise marketing, but it has a much longer output time than pay-per-click does.
Scale — how large an audience you can reach with the experiment. Television offers much larger scale than advertising on a niche blog does.
Make sure you maintain consistent branding
Different channels require different creative.
Twitter is more text-based because people use it for news and articles.
Source: Buffer
Instagram is a more visual platform and requires high-resolution photos.
Source: Buffer
On Facebook, a recent BuzzSumo analysis found that videos have higher average engagement than images and links.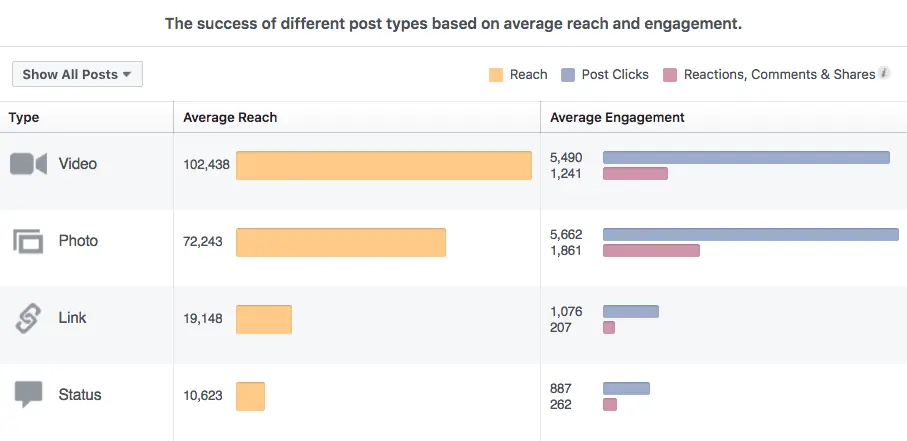 Source: Buffer
Therefore, no matter if you are a franchisor or a franchisee, you have to make sure you:
Maintain consistent branding across all your franchises (as a franchisor).
Maintain consistent branding across all your channels (as a franchisee).
What does this congruent brand identity actually mean? Below, you'll find some real examples.
Communicate your value proposition in the same way across all channels—offline, online, TV, radio, direct mail or anything else. [

]
Your design (colors, logos, fonts, tone) has to be the same whether someone sees an ad on Facebook or landed on your website from a Google ad.
One of the best examples here is Coca-Cola.
As you can see, the color red is always present in one way or another. They also use the same fonts and design elements.
Another important element to a congruent brand identity is tone of voice.
If we continue our Coca-Cola example, we can see that almost all their posts express happiness, joy, fun, or the feeling of enjoying a great moment with friends.
If we take another example, Charmin, you can see that whether they communicate offline or online, they maintain a playful tone.
How can you make sure your franchise brand stays consistent?
First, you'll have to create a brand manual which includes details about your tone of voice, preferred professional terms, and general code of conduct. Every business should have one, no matter their stage in the journey to perfect branding.
(We've handpicked some of the best brand guideline examples for you.)
Then, in order to minimize errors, you can create "best practice" templates that are in line with your brand's ethos and aesthetic.
This ensures no one in your company has to take matters into their own hands, because they can draw on templates that reflect your brand every time they create a new document.
If you're using Lucidpress, you can create & customize templates to easily create stunning content without having to start from scratch every time. And because of its innovative Brand Assets feature, you can make sure everyone is using the latest version of your branding elements. Fonts, colors and logos are all pre-loaded and ready to go.
Before starting your efforts, make sure you can measure them
There's an old adage that says half of the money invested in marketing is wasted. The problem is you don't know which half.
Well, thanks to digital analytics, you can track your results so in-depth that you'd be amazed at how much leverage you have… if you measure the right things.
Here are just a couple of examples. Let's say your marketing team developed two or three video messages for a certain audience, but you don't know which one to choose.
It's super easy. On Facebook, for example, you can check how much of your video was actually watched by a particular group.

If you compare it to television advertising, for example, you don't get this level of accurate data. You can't know whether a person left the room when the commercial started.
But, Facebook isn't the only tool that allows you to track the results of your franchise advertising efforts.
If you run email marketing campaigns, you can see how many people opened your email and clicked on the offer inside.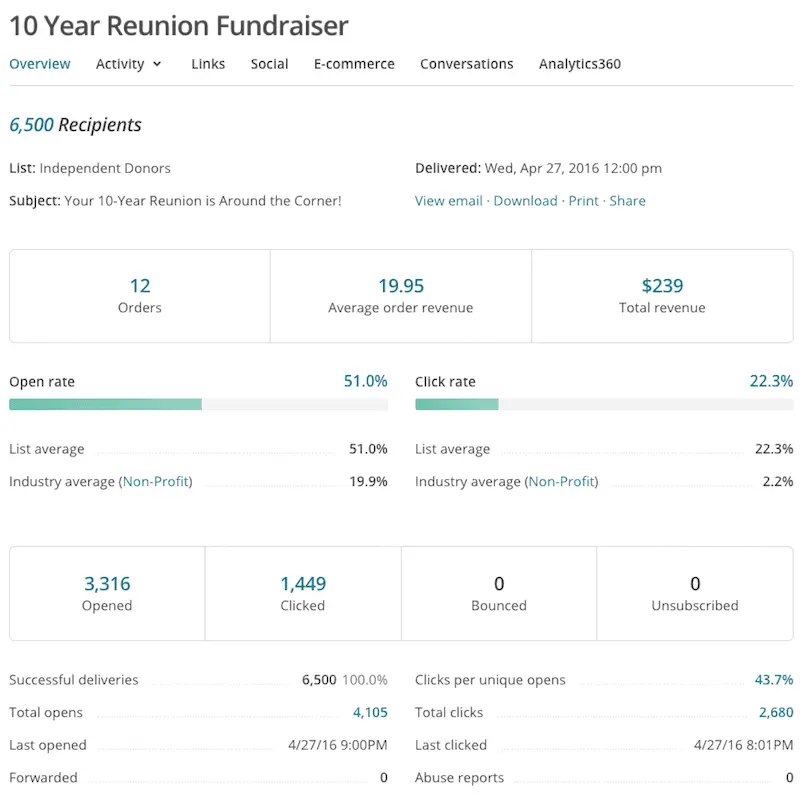 Source: MailChimp
If you run any other digital marketing campaigns, you can check Google Analytics to see how much time people spend on your website, which campaign brought in the best results, where the most traffic comes from, and much more.
Source: Optimize Smart
Or, maybe you just bought a pizza franchise and you're using local Google Ads. You can track how many times people called versus how much money you've invested and see if there's a positive return on investment.
Ultimately, analytics don't have to be limited to the online world. If you're using offline marketing tactics like flyers or coupons, you can use codes to measure whether your campaign was a success.
Always keep an eye on trends
Marketing is first and foremost a battle for attention. If you don't have people's attention, you can't communicate with them. If you can't communicate, you can't sell.
In the 50s, attention was on the newspapers, then on TV and radio.
Today, our attention is on social media. Messaging apps like Facebook Messenger are becoming more powerful.
Influencer marketing is growing, because they have people's attention and they've already earned their trust.
Source: Google Trends
What's next? Voice search & marketing will have a huge impact on consumer behavior. More than 35 million Americans used a voice-activated assistant at least once a month in 2017, according to eMarketer.
Coordinate local & national franchise marketing
There are many methods to handle franchise marketing. Sometimes, the franchisor and a corporate marketing team are wholly in charge. Other times, the franchisee takes on all marketing responsibilities. Most often, it's a mix of the two.
It's easy to see how this arrangement could cause confusion for your customers. But by coordinating your marketing efforts, your brand message will be strong and clear across all franchise locations.
Large-scale, national marketing campaigns
Here are some tips for coordinating large-scale marketing campaigns between the franchisor and franchisee.
Focus on the brand
In a franchise, the brand is often the selling point for customers. They know they can trust a certain brand and will support that franchise, no matter where they are. This is why it's beneficial to focus on the overall brand image in your marketing efforts.
Provide a brand style guide
Franchisors can create a brand style guide for franchisees, to help them create on-brand materials and limit branding mistakes. It you aren't sure how to create a brand style guide, take a look at this blog post for some killer examples.
Here at Lucidpress, we're pretty obsessed with staying on-brand and empowering everyone (even franchise owners who have no design experience) to create visual content. If you're curious how Lucidpress could streamline your franchise marketing, then check this out.
Communicate clearly & frequently
To maintain your brand image across multiple locations, communication is key. Set the precedent that there will be consistent communication regarding marketing efforts between the franchisor and franchise owners.
One area that's often under-communicated is digital marketing strategy. The franchisor should coordinate website and social media creation with franchisees, so there aren't multiple accounts that could confuse or misdirect customers.
Looking at these marketing strategies, the biggest factor is the brand. Build a strong brand identity that will give your franchises a good reputation, then give franchise owners the freedom to create their own marketing collateral using approved brand assets.
Small-scale, local marketing campaigns
Small-scale marketing strategies should focus on specific efforts in the local community. Franchises often have the good reputation of the larger brand, but localized marketing is what will win the community over and create a loyal fan-base.
By empowering franchisees to control their own marketing on a local level (and by giving them the tools to stay on-brand), individual franchise revenue will soar.
Here are more tips for localized, franchise-level marketing.
Find local sponsorships
Talk to local charities, sports teams or schools in the area to find opportunities to donate to a good cause and get some advertising. This is a great way to show community members that you're invested in the area.
For example, when I was in high school, there was a Taco Time that always sponsored the school's football and basketball teams. Their sponsorship included banners hanging up at the football field and inside the gym. They sold food at the concessions stand and had their logo printed on the game rosters. As you can imagine, my friends and I ate a lot of tacos.
This was a worthy investment for this franchisee, as it showed their support for the community and offered unique advertising opportunities. The owner of the Taco Time had a great relationship with the community and people loved going to his location.
Personalize your messages
When you're advertising to a specific community, it's important to personalize your messaging for your audience. Every community is different, and by catering to yours, customers will feel special and more inclined to support you.
A great example of marketing personalization is CrossFit gyms. Each gym (or "box," in CrossFit lingo) has its own website and social media accounts that tailor their messages to the area where the gym is located. Whether it's about the weather or events happening in the city, these gyms create a local identity for themselves that members can be part of.
Keep up-to-date
Encourage franchise owners to stay on top of trends and news as they create marketing for their franchises. Being in tune with the local news can help you spot opportunities and avoid embarrassing advertising mistakes.
Any time you post about current news or trends, make sure you do your research. An unfortunate example of this is DiGiorno. When the hashtags #whyistayed and #whyileft were trending on Twitter, DiGiorno tweeted "#whyistayed You had pizza." The problem: these hashtags were dedicated to discussing and raising awareness of domestic abuse—an incredibly serious cause. Needless to say, many people were offended by the tweet and DiGiorno quickly apologized for its mistake.
Be where your audience is
This, of course, is one of the most important rules in marketing. No matter how clever and wonderful your marketing efforts are, if your audience doesn't see them, then it's a waste.
So, find out where your local audience is: Do they spend time on Facebook, Instagram or Twitter? Do they read the local newspaper? If so, that's where you should be, too.
Be consistent with the brand
Much of the traction and business a franchise location enjoys comes from the brand name that it carries. To continue attracting and retaining that business, it's important to stay true to the brand.
If the franchise brand is known for great customer service, then local managers have to make sure that customer service is a priority for them. Personalize each franchise to the local area, but stay true to the brand it represents. For example, maybe there's a way to provide outstanding customer service that's unique to your community.
A great example of this is Chick-fil-a. It's a well-known fact that if you say "Thank you" to any Chick-fil-a employee, they will reply with "My pleasure." Quality customer service is part of the Chick-fil-a brand, and customers can expect to receive the same level of customer service wherever they go. While each Chick-fil-a has its own concerted marketing efforts, they stay on-brand with their customer service.
Key takeaway
Marketing within a franchise can lead to miscommunication and overlap if the franchisor and franchisee do not coordinate their efforts. However, through communication and a good brand management system, your marketing efforts can complement one another and culminate in more success.
Before you start your franchise marketing strategy…
Everything starts with your ideal client in mind. From there, you decide which channels would bring you the best results, depending on your budget.
Next, you have to make sure your brand identity stays consistent across all channels—from your value proposition to your design elements.
Then, make sure you keep an eye on the latest trends in order to leverage first-mover advantages. This strategy will give your franchise business the best chance at standing out and finding success with your preferred customers.