_
Originally published in 2018 and 2019 and updated in 2021 to reflect updated data.
_
Brand consistency is the key to earning customer trust and elevating your ROI. And alternatively, inconsistent branding dampens brand status and creates confusion in the marketplace.
In an effort to better understand how exactly brand consistency drives revenue and growth, Lucidpress surveyed over 400 brand management experts to ascertain the analytical impact of brand consistency.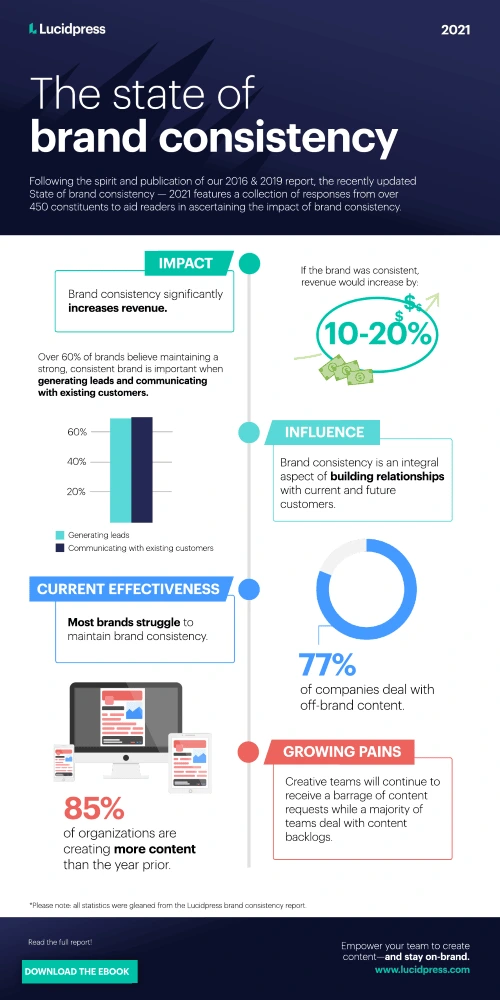 Branding is crucial to every business, but it's so much more than a few colors, nice fonts and a fancy logo. It tells people that you care about what you deliver, that you live up to what you promise, and it shows off a glimmer of your personality — after all, it's the make-up for your public image; an identity that people can relate to.
Managed well, branding can meet customers' expectations and drive your authority through the roof. You'll see a surge in new customers, leads, and conversions if you do one thing to your entire brand: make it consistent.
Here's why brand consistency is important, and four ways you can put your business in the hall of fame for excellent brands.
What is brand consistency?
To be consistent is to be reliable — and when you're reliable, you're also recognizable and more likely to earn new customers or repeat ones because you're front and center.
Brand consistency is the act of delivering the same brand messaging, voice and visual elements in every graphic, and piece of content. This ensures visibility and recognition within your target audience groups, so you stay top of mind, especially when they need you most.
Why is brand consistency important?
Think about one of the world's largest sportswear brands. You see a check and instantly think of Nike, right?
You associate Nike and their logo because they've been consistent with it. After all, you've seen their signature tick on every piece of clothing they produce.
A brand is what people will remember most about your company, so it needs to be representative, strong, consistent and instantly memorable if you want to make a lasting impression.
You want to be their go-to company: customers should feel as though they could recommend you to friends and family, or call on you when they need additional products or services. Plus, your customers expect great design and consistent branding. For today's customers, consistent branding and good design are key components when evaluating whether or not they do business with you.
Overall, constituents from our survey estimated that if their brand was consistently maintained, they would expect to have a 10-20% increase in overall growth, which in turn offers companies the additional revenue required to hire much-needed staff members or access to technology or software they otherwise might not have.
Ultimately, brand consistency has an extensive trickle-down effect that, when implemented correctly, can boost your bottom line, brand status, and employee morale. But unfortunately, inconsistent branding jeopardizes all that.
Impact of inconsistent brand usage
When you're building a brand, the last thing you want to do is confuse the market. Those people could be your perfect customers: ones that drive your business's bottom line and deliver great ROI on your branding efforts.
However, not using a consistent approach to your brand could limit your chances to generate leads or sales. That's because people buy from brands they connect with, and brands which feel authentic. It's hard to connect with a brand that doesn't have a consistent appearance.
Advice from brand managers on maintaining brand consistency
How to maintain brand consistency
So, you're looking to keep your branding consistent at every stage in your customer's journey. But how do you do that, and which elements should you focus on?
1. Set branding guidelines for your company
Branding guidelines include details about your tone of voice, preferred professional terms and general code of conduct. Every business should have one, no matter their stage in the journey to perfect branding.
But once you've created them, don't let them slip.
While 85% of organizations have brand guidelines, only30% are consistently enforced… hence why these companies aren't seeing results. [

] Not only does this mean time creating them is wasted, but staff might not understand your true brand, which will make it hard to stick to.
Treat these guidelines like the core of your entire branding activity. It's a central document that all members of staff should use when creating marketing materials or representing your company.
2. Give staff a branding masterclass
We can all relate to the feeling of sitting in an hour-long meeting which could've been a 15-minute email conversation. That's the beauty of office life, right?
However, as soon as you've created your branding guidelines, you'll need all members of staff to be onboard. You can do this by giving them a brand masterclass meeting, detailing everything they need to know about the business' history, core values and tone of voice.
Once this masterclass is over, everyone will be on the same page. Store your brand guidelines centrally and remind staff to check back on this document if they're unsure about how to represent your brand.
Say goodbye to a mismatch of marketing messages that confuse potential customers, and hello to consistent branding. Whether staff are speaking with a customer or crafting a blog post, each stage in a customer's journey will be perfectly branded when staff understand what you're trying to achieve.
3. Provide staff with branding resources
All staff have been given a branding masterclass and understand what your brand is about… but how can they maintain consistency if they need to create things for external use?
The answer: provide them with branding resources.
Think about the marketing material that your customers will see. Whether it's social media graphics or whitepapers, branding resources can keep these consistent and avoid confusing potential customers.
In the same folder as your branding guidelines, provide staff with:
Font names
Logo variations
Graphics
Color palettes
You can also create branded templates to save time and keep a high level of consistency. Lucidpress offers a large assortment of free brochure templates, social media templates and more.
4. Think wider than your website
Did you know that the average revenue increase attributed to always presenting the brand consistently is 10-20%? You could see a huge uplift in revenue if you're always referring back to brand guidelines—not just for your website.
Many businesses assume that a logo and a website are enough to put the cherry on the branding cake. They think a simple website theme is enough to give a great customer experience, but that couldn't be further than the truth.
That's because every stage in your customer experience should be branded in order to maintain consistency. So, think about the typical journey that your customer has. That might be:
Found your site on social media
Visited your website
Purchased from you
…But if your branding isn't consistent across the first three platforms, a purchase is unlikely to happen. Remember how we said people buy from brands they feel connected with?
On social media, it's easy to just rattle off a series of posts to make it look like you've been doing it for years. But remember: all communications need to be consistent. Consumers are savvy—if there's an out-of-place tweet that doesn't fit your brand, it'll stand out like a sore thumb.
People will wonder what is going on if you don't have a consistent voice. They won't know the team behind your company (or trust them), leading to asked questions and cash spent elsewhere.
Key takeaway
Once you've implemented these five steps into your branding efforts, you'll soon see a surge of results. From paying customers to feedback like, "I love everything about your brand!", remember that consistency is key.
Stop changing your message repeatedly and losing your customers' interest. You want them to remember your brand—not forget it.
For a real-life example of a company mastering their brand consistency, read about Club Pilates and their experience using brand templates here.
Want to know more about the power of brand consistency and the impact it has on your creative teams, brand reputation, and more? Download our 2021 state of brand consistency report and gain insight into helpful analytics and key takeaways to ensure your brand stays consistent and visible.
*Please note that while we provide insights and tangible takeaways, this survey and corresponding ebook are designed to shed light on the intricacies, theory, and data science behind brand consistency rather than provide hard-and-fast facts. Each company, and therefore branding, is bound to encounter unique obstacles relative to consistency.