Customer experience — the summation of every interaction a customer has with your brand — is critical. A great customer experience translates into satisfied customers, therefore boosting customer retention, improving the reputation of your business and elevating your bottom line.
Today's brands have to develop a trusting relationship with their customers to continue to grow, and the majority of CMOs recognize the importance of customer experience (CX). But implementing an effective customer experience strategy that flows seamlessly from touchpoint to touchpoint and department to department is easier said than done.
How to improve the customer experience
Naturally, creating a memorable and good customer experience can feel challenging. But like any large project, you just have to break it down into smaller bits and pieces. To help you navigate it, we've compiled eight tips you can undertake to enhance the customer experience within your company.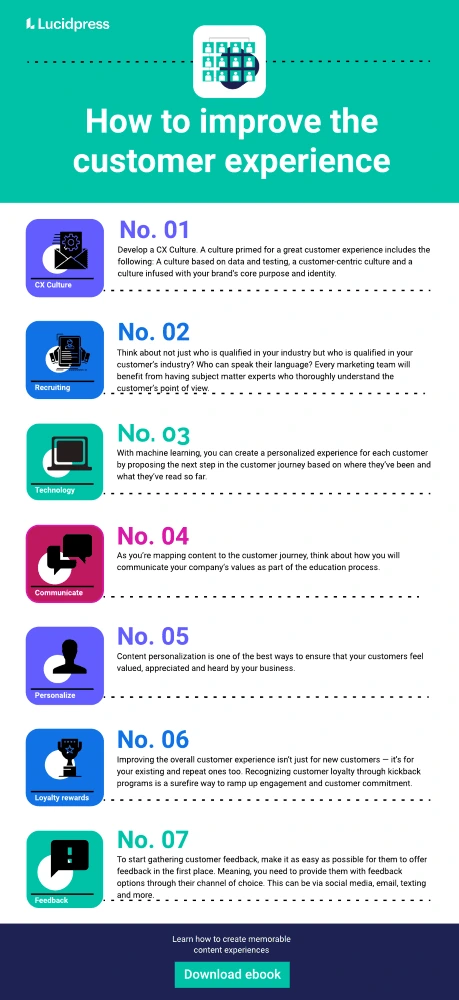 Develop a CX culture
Since every employee is a potential touchpoint for failure in a customer experience program, customer experience has to be infused into the very DNA of your brand. Successful companies develop a culture where customer experience can flourish.
A culture primed for a great customer experience includes the following:
A culture based on data and testing
Gone are the days when a persona based on intuition and sweeping generalities is enough to produce a relevant experience. Instead, every team must learn to collect and use data to understand the customer as people. Then use that data to create experiments to see what experiences best resonate with customers and which ones fall flat.
Creating a culture that embraces diversity and inclusivity for many different perspectives opens your organization up to be more empathetic and understanding of your customers' point of view. Not only does it give your employees the language and tool kit to know how to understand your customers but it also creates an environment where employees feel heard and cared for opening them up to extend that same feeling to the customer through great customer service.
A customer-centric culture
Creating a customer-centric culture sounds like a given for any company prioritizing CX, but according to the CMO Council, "Only 14% of marketers say that customer-centricity is a hallmark of their companies." One reason for this is the majority of metrics and compensation plans still focus on sales or the product rather than customer service and success. Developing trackable metrics for every team that ties directly to the customer experience will put the customer front and center in the minds of every manager and employee.
A culture infused with your brand's core purpose and identity
A great customer experience strategy should be intentional, which means your brand's core purpose should be easily identifiable and should influence every decision made by every department. Adoption of a brand's purpose starts at the top and must be an ongoing conversation to ensure it becomes a part of the company culture rather than a nice saying on the wall.
Shift Your Recruiting Mindset
You also need the right people on your team. These folks are an essential part of making sure that your customer experience is the best that it can possibly be. Because, at the end of the day, if your employees aren't paying attention to the needs of your customers, you're never going to be able to create the kind of customer experience you want.
Think about not just who is qualified in your industry but who is qualified in your customer's industry? Who can speak their language? Every marketing team will benefit from having subject matter experts who thoroughly understand the customer's point of view.
Find people who are right-brained and left-brained– people who can understand the CX data points. A marketing team that's both creative and analytical will be better able to understand and apply customer data.
Beyond the marketing team, every addition to the company should be hired for customer orientation. Make it a mandatory part of the interviewing process for every hiring manager. This not only ensures you're getting the right talent in place but also re-enforces a customer-centric culture.
Use CX technology
CX technology plays a critical role in understanding where people are at in their customer journey. Start by developing a centralized command center to unify global data. Data silos limit your ability to see the entire picture and can create disjointed experiences.
With machine learning, you can create a personalized experience for each customer by proposing the next step in the customer journey based on where they've been and what they've read so far.
Many organizations have experimented with customer-facing bots to provide instant one-to-one interaction. However, agent-facing bots can also be a great tool to help coach customer service agents to answer questions faster and improve customer service.
A brand templating platform democratizes the content personalization process, so anyone on your team can quickly create professional, personalized content.
Communicate values
Creating content that is relevant and insightful is an important part of the customer journey, but today's buyer often prioritize working with companies that share their values over the product's value proposition or price. As you're mapping content to the customer journey, think about how you will communicate your company's values as part of the education process.
Hubspot, for example, communicates openly about their culture code and how they've actively worked to create a place where their employees love to work.
Personalize content to the customer
You know your customers, or at least you think you do, right?
For the most part, yes. Most successful businesses will already have a strong idea of their customer base, but it's not enough to think about this in terms of broad strokes.
Your customers offer unique insights and highly informative data sources — from conversion driver and motivating factors to content funnels and more. You must pay attention to your customers' habits and preferences.
You'll want to create a detailed profile of your average customer. Use reference points like:
Demographics
Occupation
Income
Behaviors and preferences
Goals
Pain points and motivations
Objections to sale or purchase
Channels of choice
Once you've done that, you're in a much better position to personalize the content based on how you can meet your customer's needs. Content personalization is one of the best ways to ensure that your customers feel valued, appreciated and heard by your business.
Unsure how to personalize your content? Try customizing:
A call-to-action
Geolocation pages
Industry-specific content
FAQ or help center content
Personalized email or direct mail campaigns
At the end of the day, this kind of targeted experience makes everything feel much smoother and more effortless for your customers.
Related: How to create a great digital customer experience
Customer loyalty rewards
Improving the overall customer experience isn't just for new customers — it's for your existing and repeat ones too. Recognizing customer loyalty through kickback programs is a surefire way to ramp up engagement and customer commitment.
That said, loyalty isn't just about giving out discount codes: there are other ways you can gather customer loyalty by highlighting that you appreciate and value their opinion, as well as their purchase. For example:
Offers or discounts
Members-only promotions
Customer preferences (based on membership tier)
Early access (based on membership tier)
Customized services (based on membership tier)
Promotional updates to products
Referrals
Surveys
Reviews
Feedback quizzes
Satisfaction quizzes
Loyalty rewards are a wonderfully simple way to make sure that everyone — from a brand new customer to someone who has been connected to your business for years — feels as though they get something in return when they choose to do business with you.
Pay attention to customer feedback
Understanding your customers isn't terribly difficult. But unfortunately, a lot of marketing leaders find themselves wondering what customers do and don't want from them — and how they can acquire that information.
The solution is pretty dang simple: your customers will tell you. But they'll only tell you if you give them that opportunity.
To start gathering customer feedback, make it as easy as possible for them to offer feedback in the first place. Meaning, you need to provide them with feedback options through their channel of choice. This can be via social media, email, texting and more. Find out what makes the most sense for a majority of your customers and customize it from there.
Ultimately you want to ascertain customer opinions — what do they think is going well, what went wrong, and what could be improved. Doing so will give you a solid grasp on the direction your business is moving, and it allows your customers to feel as though they have a great deal more agency in the direction of your business, too.
Pre-empt solutions
Of course, if you want to be sure that your customers are always having the best possible experience with your business, you need to be able to predict and preemptively deal with any and all problems. This means carefully testing your various user experience touchpoints to make sure that they always function properly and dealing with any potential problems as quickly as possible.
A final note on how to improve the customer experience
This might seem like a great deal of effort in a lot of different directions just to focus on one specific element of your business. But the truth is, the experience your customers have with your business is simply too important for you to ignore.
If you're not able to nurture an improved customer experience, then it won't matter how great the other elements of your business are. You could be running the most efficient business in the world with the most incredible product, but that doesn't matter if the experience of interacting with your business isn't a pleasant one for your customers. Without this essential ingredient, your business simply won't be able to reach the kinds of heights that you know it to be truly capable of.