Social media marketing has immense potential for helping you attract brand awareness, website traffic, and even new customers. Even so, many brands remain skeptical of marketing on social media, because they've been unable to achieve their goals with it.
The underlying issue could lie with any one of a host of decisions responsible for social media success, such as content, timing or campaign implementation. To give your brand the best chance at success, here are 7 social media mistakes to avoid.
1. Paying for poor shortcuts
Many marketers fall prey to the game of vanity numbers—a game that's hard to recover from once it's started. Remember: the size of your following doesn't matter as much as the number of real engagements on your social media pages.
The focus of any social campaign should be to engage and delight your target audience. If an agency promises to quickly increase your page's likes or follows, it's likely to rely on underhanded strategies.
Unfortunately, likes purchased in bulk are worthless, because they won't be from authentic fans and followers who buy from you or positively contribute to your online presence.
Instead: Invest in creating great content and organically engaging your audience instead of trying to buy their interest. One great way to do this is to reach out to the experts in your niche, share content created by them, and build a rapport in the community.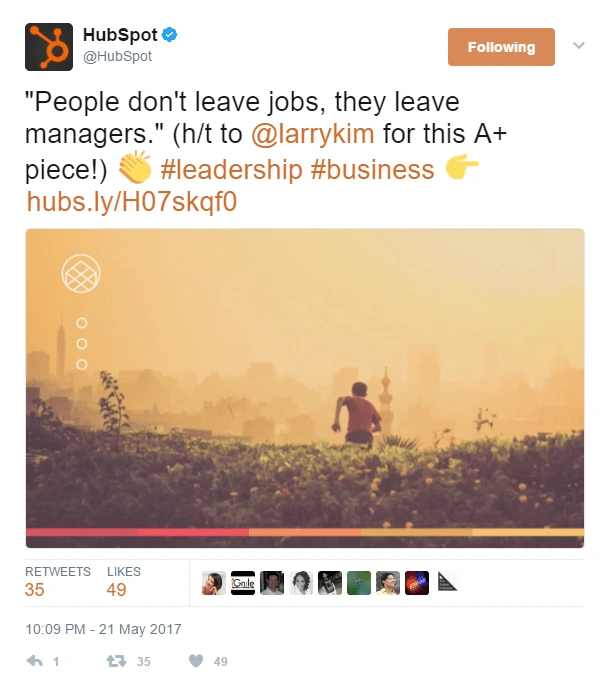 You could use a content curation app to source fresh, organic content that's related to your niche, and then drive engagement with it. (Full disclosure: I work with DrumUp.)
2. Outsourcing without context
Brands who outsource their social media marketing usually do so because they believe it's less expensive and time-consuming than building an in-house team. But is it?
You must totally, fully, completely trust the agency you choose to represent you online. Because if you don't, and your decision backfires, it could be a disastrous mistake.
Even when you're working with a reputable agency that isn't likely to make such a mistake, there's always a risk of being misrepresented, failing to capture your brand's essence, or misunderstanding your expectations.
Instead:
Communicate your brand's vision, feel and personality.
Set firm, clear goals and guidelines.
Establish an approval system.
Keep the line open for communication.
3. Being overly self-promotional
Being openly commercial has nearly become a faux pas in today's online marketplace. Your audience is tired of ads—as the spike in ad-blocking clearly demonstrates. Nobody wants to be sold at anymore. They want to be befriended, entertained and wooed.
Instead, you should curate content and use your social media pages to establish your brand as a source of useful information and entertainment.
For example, Moz both creates and curates SEO-related content, which has made them the ultimate go-to for SEO on Twitter.
Takeaway: Curate entertaining or informational content that your audience will like. It doesn't always have to be created by you. Find the balance, and don't over-share your promotional content.
4. Spamming fans' feeds
There's no universal posting frequency that everyone should follow. Actually, it depends on your posts' reach and impressions. Based on those statistics, you can select your frequency and time intervals for posting.
You can and should share a good blog post more than once. But avoid spamming your fans' feeds with the same content over and over in a short period of time.
Instead:
Create variations of a post with different lead-ins, featured images, and points of focus.
Consider ways to re-purpose your content and share it in different formats.
Share at different time intervals on different days, so your content reaches a wider audience and has a lower risk of showing up in the same fan's feed.
5. Ignoring fan feedback
Studies show that 72% of customers expect a response within an hour when they post complaints on brand pages. When they don't get one, they're likely to think negatively about the brand.
How you handle negative feedback and the time you take to respond both matter.
People are very likely to head to social media to post feedback, ask questions and complain, because it's accessible and easy to do. That's why many brands invest in full-time social media listeners and monitoring tools to help them maintain their brand's reputation.
Takeaway: Never ignore fans on social. Acknowledge how they feel, and do your best to diffuse negative situations quickly. There are several social features like emoticons, GIFs and live video streaming that you can use to make followers feel like they're being heard by other human beings.
6. Operating sans-analytics
Operating without analytics is like speaking without listening. [

] Without analytics, there's no way to know how your content is being received and whether it's helping you move toward any goals.
Every interaction on social media is feedback that you should consider when reviewing and refining your social media strategy. It's also wise to track the flow of traffic, so you can learn which social platform is best for your brand.
Instead of flying blind:
Measure important metrics like referrals, reach, impressions, engagement, leads, conversions, follower growth rate and mentions.
Review your performance regularly, and take remedial measures to increase traction.
A/B test your most important posts to optimize conversions.
7. Not being human
Humans are irrational and emotional beings, and this affects our decisions and how we feel about other people, situations, and even brands.
If you aren't displaying your human side on social, you're throwing away the ability to build lasting connections with your target audience.
Many brands invest in experienced marketing managers who specialize in building brand personalities and ensuring that they're expressed through various channels.
Takeaway: Assign your brand a human personality that you can 'be' on social media. For instance, Old Spice sounds like a confident man with sophisticated, slightly dry humor.
Another great idea is to put the spotlight on team members and customers who make your brand special.
By taking care to avoid these mistakes, you'll give your brand a leg up in the social media scene. Take a look at your social channels today and seize new opportunities to make an impact.