Social media can help real estate agents find a wide audience, in the right area and at the right time.
In fact, according to the National Association of REALTORS 77% of real estate agents use social media. Facebook is by far the most popular platform in real estate, followed by LinkedIn and Instagram.
Even with limited resources, savvy real estate agents can build meaningful relationships and earn more clients with social media.
How do you do it?
The sheer array of social media platforms and real estate marketing techniques seem overwhelming. Here are seven and a half practical tips to get you started in no time.
Social media for real estate tip #1: The basics
If you are already set up on social media, go ahead and skip ahead to the advanced tips below.
Facebook for real estate
To get started, set up a business page on Facebook. This is more professional than posting to a personal account and gives you access to useful business features such as page analytics and the ability to promote posts to your audience. Posts with images and video perform best on Facebook, so be sure to use compelling visuals with every post you create.
The Facebook algorithm favors posts that get a lot of engagement, so ask questions to drive comments or share content your followers will enjoy such as an upcoming local event, so they like and share it. If you're just getting started and don't have a large social media following yet, holding a contest to bring awareness of your real estate page is a great way to build up your follower count.
Instagram for real estate
Instagram is quickly becoming one of the most popular social media sites. As a visual platform, every post will need to be visually compelling. Use the caption that goes with the photo to provide additional details and include your contact information. A single Instagram post can be made up of a series of images, making it a great way to show photos of a new real estate listing.
LinkedIn for real estate
Update your personal profile and if you are running your own business, create a page for the business as well. LinkedIn provides a great opportunity to network with other real estate agents, connect with real estate brokerages and connect with current clients.
Social media for real estate tip #2: Start two-way conversations
A staggering 94% of millennial homebuyers are taking their search online. This creates incredible opportunities for real estate agents to connect with them there—but only if they truly understand their audience's motivations.
It's tempting for real estate agents to promote their business and new home listings relentlessly on social media. After all, isn't that what those platforms are for?
Not exactly. For potential homebuyers, constant, in-your-face promotion has minimal appeal. If they wanted endless advertisements, they could just flip open a magazine or turn on the TV. Treating them this way shows a fundamental lack of understanding about your target audience.
The vast majority of potential homebuyers are searching for information. They have questions. If they're considering buying for the first time, they're probably intimidated, too.
Savvy real estate agents use social media to walk everyone through the process, creating stronger bonds than the constant sales pitch approach. Instead of just posting endless promotional content (a one-way broadcast), you open up two-way conversations. The audience becomes a key creator of the shared experience.
This takes on many forms. It might be searching Twitter hashtags and offering real estate advice to those in your local area. Tomorrow it might be hosting a Q&A session on Facebook Live. Next week it might be something as simple as asking a question in your newest listing photo caption on Instagram. Whenever you can, invite your audience to participate in the conversation.
Yes, you can still find opportunities to promote your real estate listings. But, a commitment to being relentlessly helpful builds trust and authentic relationships.
Social media for real estate tip #3: Choose your social media platforms wisely
Social media is fast-paced, chaotic, and changing constantly. It's easy to get overwhelmed by the sheer number of platforms.
Real state agents new to social media might feel the pressure to "be everywhere." Pressed for time already, they drive themselves crazy trying to maintain a presence on a dozen different accounts.
This approach actually leaves them worse off than before. Because they've spread themselves so thin, it's impossible to get the traction needed to build an audience on any platform.
What could you do instead?
Start by taking a deep breath. Acknowledge there are tons of platforms out there—and a lot to learn. And accept that you'll see the best results for your real estate business by focusing on just a few right now. Begin the journey with proven social networks like Facebook, Twitter and Instagram.
Which platforms deserve the majority of your focus? A lot depends on your audience. Beyond the overall popularity of the platform, consider where your target market spends their time online. You wouldn't want to launch a Snapchat strategy when trying to sell retirement condos—the demographics there skew too young. If you're selling commercial real estate, consider connecting with successful professionals and industry organizations on LinkedIn.
Do some preliminary research to pinpoint where your audience is most engaged. Other real estate agent's and brokerages accounts can be a great place to start. Using those insights as a guide, narrow your focus to a few platforms as availability allows… which brings us to the next point.
Social media for real estate tip #4: Post consistently (and strategically)
A successful social media for real estate strategy is a lot like a successful relationship-building strategy in real life. You need consistent contact—and interactions that provide value and motivate people to keep coming back.
The goal: create enough interactions for your audience to get to know you as a real estate agent without overwhelming them to the point they tune you out.
This is a delicate balance to maintain, but the good news is it's something you can always adjust as you go. Feedback from your networks (whether you're gaining or losing followers, their engagement, etc.) will tell you if you're headed in the right direction.
You can use social media software to schedule posts beforehand. This gives you the freedom to meet with clients, work open houses, and attend closings all while building your presence automatically. It's easy to post multiple times a day this way.
Posting frequency is one thing, but you also have to consider the nature of the content itself. Most content breaks down into three different types:
Time-sensitive/promotional. These posts advertise new properties on the market, open houses, or your brand in general. Think of listing photos, tweets urging prospects to give you a call, and virtual tours with Facebook livestreams or 360-degree photos.
"Evergreen" how-to or informative. This content answers questions, shares tips, or finds alternative ways to provide value. It's just as valuable a year from now as it is today. This could be decorating tips, a checklist to help you see how much house buyers could afford, or cool DIY renovation project ideas.
Fun or entertaining. This content might not be directly related to real estate, but it's a great way for you to showcase your personality. It might be a review of a new restaurant in town, a heads-up about traffic on the way home, or even those viral cat photos. Social media just gets prospects in the door. It's your personality and expertise—real-life relationship skills—that will close the deal.
Understand the goal of each post you make, and mix things up to engage your audience and keep them coming back.
Finally, remember that there's no need to create all this content yourself. Supplement your own efforts by sharing, retweeting or linking to other great content in the real estate industry. Your clients are a great content source—whether it's sharing a quote from their testimonial or a photo of them toasting a new home.
Social media for real estate tip #5: Incorporate storytelling
Every great real estate agent knows how to tell a compelling story. Include that storytelling element in the social media content you create.
Some examples:
Talk about the neighborhood. When posting a new real estate listing, do more than talk about the price and features of the home. Create a compelling story by including details about the neighborhood. Help the potential buyer picture what it would be like to actually live in that home.
A post shared by Dusty Baker (@dustyjbaker) on Nov 14, 2017 at 10:46am PST
Include client testimonials. Ask happy customers if they'd be willing to create a video testimonial. Testimonials make compelling stories that help build trust with your audience.
Share milestones. On LinkedIn, share milestones of your real estate business. This could be anything from 10 years in business to updated branding or a new website.
Using storytelling in your social media campaigns will help drive greater engagement and build trust with your audience.
Social media for real estate tip #6: Use great, on-brand visuals
Social media has transformed the way realtors and agencies connect with potential buyers and clients. Because of the visual nature of house shopping, it's easier than ever for people to go online and find examples of their dream homes.
Ideally, this should make real estate marketing faster and easier… but unfortunately, that's not always the case. If you're unfamiliar with Photoshop or other desktop publishing software, it can be difficult and time-consuming to create content specially for each social media site.
Instagram is a completely visual platform, which makes it perfect for marketing real estate. Photos are nice to have, but it can leave buyers confused as to what to do next—"Is this property for sale or just for show?" they might be wondering. By using this square photo collage, you can show off multiple views of the property and guide folks toward the next step: contacting you for a walkthrough or an offer.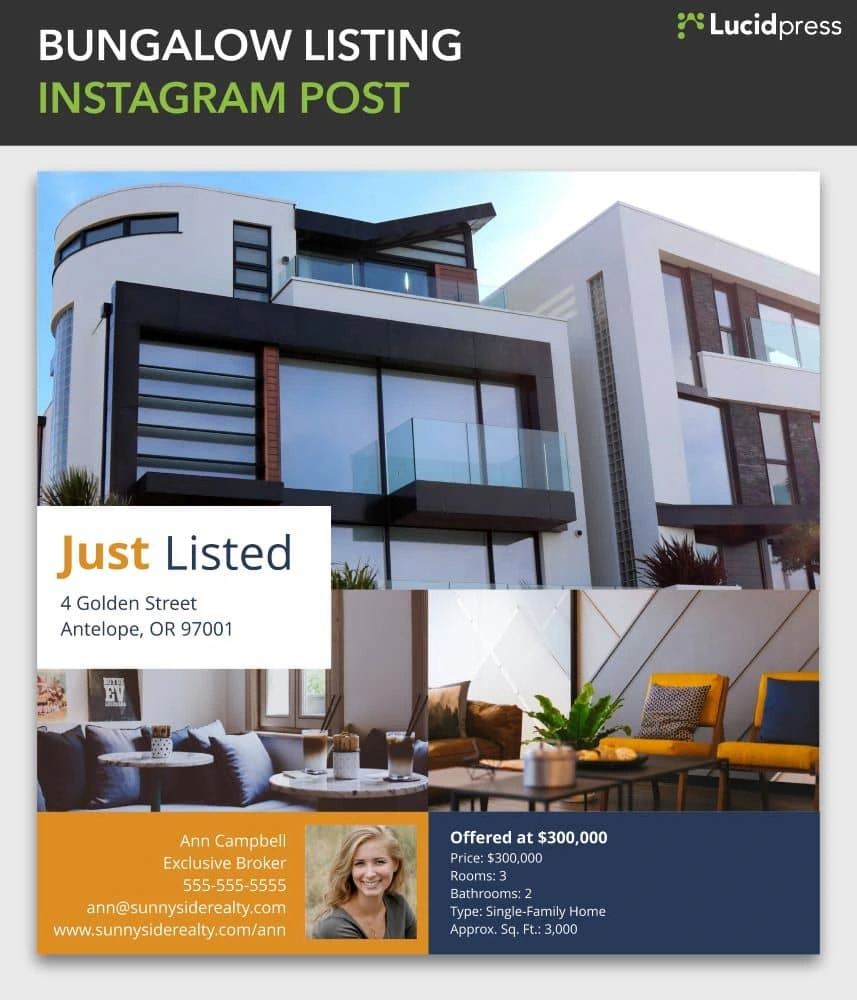 Speaking of visual platforms, Pinterest is a haven of gorgeous home ideas, which makes real estate a natural fit. Pinterest users build boards to house (heh) their pins, all of which come from various sources. It's easy for your name or website to get lost in the shuffle—unless your images themselves are clearly branded. That's what makes this perfectly sized Pinterest template a cut above the rest. The majority of space is reserved for eye candy, but all the important property details are right there, too.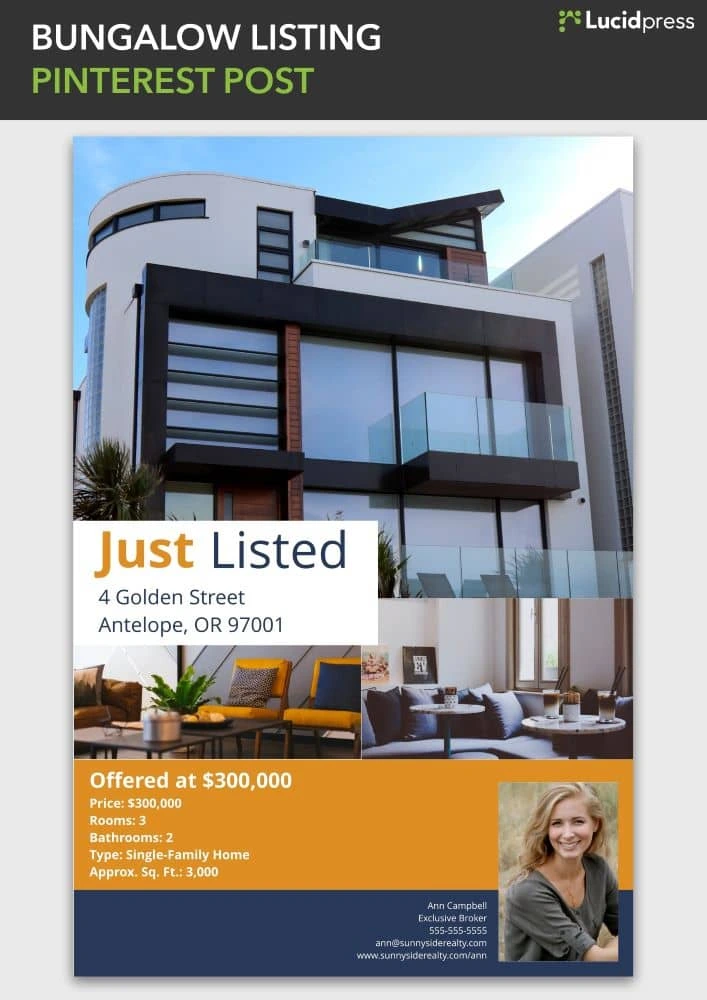 When you want to get a new listing out fast, no platform is better than Twitter. Not only can you keep your followers in the know, you can also target new audiences with paid promotion to get the most mileage. Because things move so quickly on Twitter, it's important to design posts that are easy to digest. This template is oriented horizontally; it's compact and looks great on both desktop and mobile.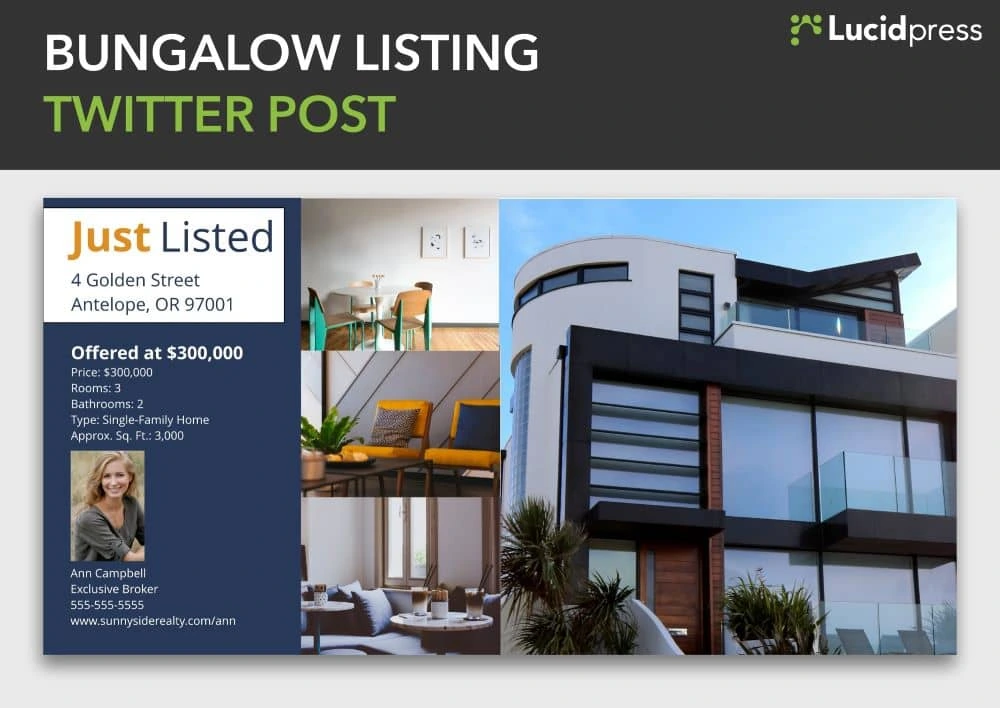 Social media for real estate tip #7: Remember your past clients
Social media is a great tool for realtors to build relationships and land clients. But, that's only part of its appeal. It can also help maintain relationships you've already developed.
What happens when those closing papers are signed? Clients feel a rush of adrenaline, but after a few months, everyday life creeps back in. An incredible 70% of homeowners can't even remember their real estate agent's name one year after closing.
It's a shame to have those relationships slip away after you've spent so much work building them. With a little social media love, it's much easier to maintain them. That way, when clients are ready to move again or recommend a realtor to family or friends, you'll be the first person who comes to mind.
How can you do this on social media?
Release a steady stream of that evergreen content we mentioned earlier. Brainstorm all the things you wish you knew when you moved into a home. Is it design inspiration? Checklists to get organized? Ways to prepare for the winter or save money on utility bills?
You can also broaden your content from real estate itself. Now that your client has moved, they're living, working and integrating into the community. They might be interested in that new restaurant down the road. Or the best summer camps to send their kids. You can become their go-to source for all things local.
Social media for real estate tip #71/2: Measure and keep learning
You're sending emails to clients, working open houses, and putting out yard signs. (Not to mention trying to keep up with your own personal life.)
You don't have endless hours to pour into social media that isn't paying off. How are your tweets performing compared with your Pinterest posts? Should you be posting on Facebook or focusing on Instagram?
These are the questions that can frustrate you to no end. Instincts might give you some indication, but measuring will let you know for sure.
Fortunately, it's never been easier to collect data on social media performance. It's easy to see which posts get the most engagement in terms of likes, retweets and comments. But, if you're looking to see what's really moving the needle in terms of sales, why not create unique landing pages for each platform?
A landing page simply directs visitors whenever they're interested in contacting you, seeing a new listing, and so on. Tailoring them for each social media platform allows you to track where leads come from. You can also find out a lot more about each user's interactions with your brand and their path to becoming a client.
Keep an eye out on which platforms, campaigns and topics perform best. As long as you keep tracking your analytics and tweaking your strategy, it will gradually get more effective. This optimization process never ends, but the payoff increases over time.
Over to you
Social media has become an essential piece in every realtor's marketing toolkit. Thankfully, it doesn't have to be overwhelming anymore. Apply the tips above while launching your real estate marketing strategy, and you'll build an impressive audience, engage them, and bring in more business.
Kickstart your next social media campaign with our free templates for real estate.